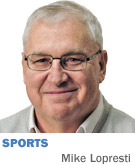 If you think bad traffic and scarce parking are downsides of the holiday season, wait till you get a load of this.
Yes, it's time to put sport to song. Christmas carols, to be exact, slightly altered. So with apologies to various composers and lyricists, let's belt out a few bars concerning local team doings.
__________
SCENE: Butler fans, elated at the quick start for the Bulldogs despite an unsettled coaching situation and last year's shaky record, gather 'round to celebrate their team's returning to standard operating procedure.
TUNE: "It's Beginning to Look a Lot Like Christmas"
"They're beginning to look a lot like Butler.
Everywhere they go.
They've been all over Tar Heel blue, Northwestern and Georgetown, too.
The guy in charge we're starting just to know.
They're beginning to look a lot like Butler.
Votes in every poll.
This resurgence they all can see, be it coaches or AP.
'Cause we're on a roll.
There are postmen who bump and administer lumps like Matt Howard did way back when.
Guards who can shoot and play defense to boot, and their free throws sometimes go in.
And Blue's a happy dog to see the upsets come again.
They're beginning to look a lot like Butler.
Each and every day.
And the next thing they want to do is make trouble for IU.
That's the Butler Way!"
__________
SCENE: As the Colts close in on a division title, it's natural to consider various playoff scenarios. Such as, if they can win the first week, which nemesis and potential party-pooper—New England or Denver, Tom Brady or Peyton Manning—would be best to avoid the second week? Fans, always thinking a little too far ahead, come together and address the issue.
TUNE: "Let it Snow"
"Oh, the AFC South we're winning, and the playoffs soon beginning.
While we ponder our toughest foe.
Where to go? Where to go? Where to go?
Tom doesn't show signs of stopping, and Peyton's stats are dropping.
But we've lost to them both, you know.
Where to go? Where to go? Where to go?
When we finally leave our dome, how we'll hate going out in the snow.
Andrew strugg les away from home, with quarterback ratings too low.
The first week we'll show no pity, but remember Kansas City.
If we look past that game we know.
We won't go, we won't go, we won't go."
__________
SCENE: Notre Dame fans, still baffled why the last Irish victory was Nov. 1, come together to mourn how the season's best hopes slipped away. Once, they dreamed of a playoff spot. Now, they're making travel plans to go to the Music City Bowl. Maybe.
TUNE: "What Child is This?''
"What bowl is this, we're headed for?
This setback is the latest.
The foe, it's true, is LSU.
But Nashville ain't the greatest.
This is the price we pay.
For losing games each Saturday.
One win, we've seen for weeks.
And that was barely with Navy."
__________
SCENE: We call together a choir to sing a therapeutic noel and offer relief to suffering Pacers customers, who have seen 60 percent of last year's starting lineup vanish and are just now getting the idea of where this season might go.
TUNE: "God Rest Ye Merry Gentlemen"
"God help ye battered Pacers fans.
Let nothing you dismay.
No broken bone, nor ACL.
At least not yet today.
With Paul George out, and Lance long gone and George Hill MIA.
Oh, there's only David and Roy.
David and Roy!
Oh, there's only David and Roy.
From Bird, our hallowed leader.
A hopeful statement came.
The team restocked with new spare parts.
Would win games all the same.
But one-fourth in, the losses mount, the record's pretty lame.
Oh, there's only David and Roy.
Try to enjoy!
Oh, there's only David and Roy."
__________
SCENE: Tom Crean is caught by a hidden microphone in his office, crooning his best wishes for getting the Hoosiers back to the NCAA Tournament. Rumor has it he's asked for better post defense for Christmas.
TUNE: "White Christmas"
"I'm dreaming of a March invite.
Just like my Hoosiers used to know.
When we'd have a fun day, Selection Sunday.
And find the place we'd get to go.
I'm dreaming of a good record.
With every win, our hopes get hot.
May our case be strengthened a lot.
And Eastern Washington forgot."•
__________
Lopresti, a lifelong resident of Richmond, was a columnist for USA Today and Gannett newspapers for 31 years. His column appears weekly. He can be reached at mlopresti@ibj.com.
Please enable JavaScript to view this content.