When it comes to country music, I'm one of those in-betweeners. I couldn't tell you any song currently on the Billboard Top 10 Country chart, but I'm not going to object if Hank-FM is playing on the car radio. I get annoyed by the country cliches, but I get equally annoyed by those in pop and rock. (The difference with country cliches, of course, is that you can usually hear and understand them.) And I'll take "Pancho and Lefty" over anything sung on "American Idol."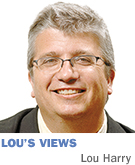 So I approached my first visit to Nashville in years not as a fan, but as an open-minded tourist. And what I found in about 36 hours there was a town that truly embraces the music that made it famous—and knows how to show visitors a good time. One example: Our hotel, the recently renovated Sheraton Nashville Downtown, not only offered a free shuttle to area attractions, it also featured a lobby and bar full of music books.

I experienced the music itself in a range of ways. After a meat-and-three dinner at Puckett's Grocery & Restaurant (the three-vegetable meal is a staple in these parts, and Puckett's delivers), I sampled live music on the Broadway strip. There, honky-tonks house a veritable history of country music, with bluegrass bands, old-timey trios, singer-songwriters and cover bands on stages, supplemented by street performers. At Tootsie's World Famous Orchid Lounge, a local landmark steeped in more than 50 years of history, a nimble female singer had no trouble navigating the crowded bar top on foot and everyone in the packed house seemed to know the words to "You Never Even Call Me By My Name."

So what if Nashville residents tend to stay away from this tourist-focused district? It's welcoming, indigenous fun, and an essential part of the Nashville experience. The quality of the honky-tonk music was made even more remarkable when you consider all of this was available on a Monday early evening. And with no cover charge.

Buck Owens and Merle Haggard are among those celebrated in a temporary Country Music Hall of Fame exhibit. (Photo courtesy of Nashville CVC)
The next day began at the Country Music Hall of Fame, a facility smartly blending celebrity and celebration of the music itself. The requisite guitars and fringed and sequenced outfits are on display, of course, but there's also a thoughtfully created education suite (sponsored by Taylor Swift) and a fun area with interactives—including mini recording studios and mixing areas that are as likely to engage outgoing adults as curious children. (I

emailed my stirring rendition of "Wagon Wheel" to myself, but it's probably best not to share it.)

The Hall is remarkably selective in whom it inducts, with only three granted the honor in a given year—most recently Ronnie Milsap, Hank Cochran (who wrote "I Fall to Pieces") and bluegrass singer Mac Wiseman.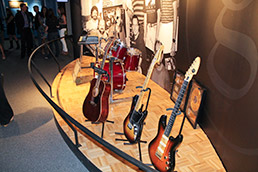 The Musicians Hall of Fame celebrates the talent behind the headliners (Photo courtesy of Musicians Hall of Fame)
I was even more engaged at the Musicians Hall of Fame, a new facility housed at the Nashville Municipal Auditorium. It doesn't have the square footage of the CMHF, but its celebration of studio musicians should resonate with anyone who appreciates the talent behind the stars. Not just Nashville-focused, the Musicians Hall of Fame has areas devoted to Muscle Shoals, L.A., Memphis and more. Fun fact: The Funk Brothers—a group of Motown studio musicians—played on more hit singles than The Beach Boys, the Beatles, the Rolling Stones and Elvis Presley combined. I could have spent the day just watching the smartly chosen videos in which these and other relatively unheralded talents shared stories about the creation of classic songs.

Eager to hear more music, I spent the evening at the Grand Ole Opry. The Opry actually offers two locations. In warmer months, performances take place a few miles from downtown at a facility near the excesses of the Opry Mills outlet mall. In winter, though, its home is the Ryman Auditorium, where it was located long before the other facility was built.

Here, the broadcast-live performance featured eight acts, punctuated by live commercials for the likes of Cracker Barrel and Dollar General. The format is a great way for country dilettantes like me to sample a wide range of styles. Up-and-comers gain exposure, old-timers stay in the spotlight, and stars drop in for quick sets. Highlights from our Tuesday night show included popular duo Love and Theft and intense singer-songwriter Mary Gauthier.

My favorite, though, was the 2006- Grammy-winning Del McCoury Band, whose 75-year-old title guitarist led a team of expert bluegrass musicians, including his two sons on mandolin and banjo. Only one act disappointed: Kelleigh Bannen, who lacked the authenticity of the others on stage and came across as calculated—a quality that perhaps stands out here more than in other venues.

What makes the Grand Ole Opry isn't any individual act, though. It's the curatorial smarts: The Opry's got a format that honors—and gives equal performance weight—to the past, present and future of a uniquely American art form. And it makes me wish every city had a similar way to celebrate its own sound to such popular effect.•