Hamilton County leaders are asking state legislators for relief from a 2008 law that requires all capital projects costing more than $12 million be put to a vote.

County commissioners acknowledge a referendum on their plans to expand the 22-year-old judicial center in downtown Noblesville likely would not pass, even though they say the $20 million project is necessary and would not require a tax hike.

"If we had to get a referendum through for something like the courthouse, which most people don't know anything about, I don't think it would go," Commissioner Steve Dillinger said. "We're trying to do the right thing … not wait until we have no choice and then try to fix it."

Dillinger
Preliminary plans call for issuing a $12 million bond and pulling the remainder from the growing county's savings account. The debt would be repaid with existing revenue after other bonds are retired.

Officials want to build a three-story addition to ease a space crunch at the Hamilton County Government & Judicial Center, which houses the increasingly busy courts along with several other county offices including the prosecutor, clerk, surveyor and planning department.

Just doing the basics—design, construction and building out the first floor to meet current needs—is expected to cost as much as $20 million, which is all officials want to spend at this point. But with the county's population projected to double to 548,000 by 2050, commissioners want the upper floors available for the inevitable increase in demand.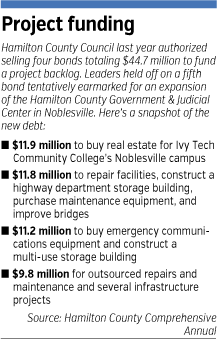 Staying under the $12 million ceiling would change the scope of the project, Dillinger said, and doing the work in phases likely would cost more in the long run.

"We can do it cheaper today than we can tomorrow," he said.

"It is a waste of taxpayers' money to do it this way," agreed Commissioner Mark Heirbrandt, citing construction costs that have been trending up since 2009.

Hamilton County has additional borrowing capacity because the bonds that funded construction of the judicial center and jail complex in 1992 are nearly paid off.

County council members last year approved four bonds totaling $45 million to clear a backlog of work while keeping the tax rate stable. (They held off on a fifth bond, tentatively earmarked for the judicial center expansion.) That debt didn't require taxpayer approval because no single project exceeded $12 million.

Indianapolis Public Library officials used a similar piecemeal strategy this fall when they asked the City-County Council to approve $59 million in capital improvements to library branches—funded by seven individual bond issues over six years.

Although the move drew some criticism, it is allowed because the projects are separate and will come online at different times.

Hamilton County officials can't say the same of the judicial center expansion.

State budget chief Sen. Luke Kenley, a Republican from Noblesville, said the project limits were put in place primarily to keep school districts from overspending.

"The costs just kept going up and up," he said. "It was pretty out of control."

So why $12 million? It seemed like a good compromise on suggested limits that ranged from $5 million to $40 million, Kenley said.

He has talked with Hamilton County leaders about their situation, and plans to work on legislation that would clarify the law—at least as it applies to entities willing to pay for some or all of a project with cash.

"They're not putting the county in debt," he said.

The referendum requirement was part of the 2008 legislation that also created property tax caps. Because funds raised through referendums are not subject to the caps, property owners could see their tax bills increase if a ballot question is successful.

"It's probably actually less costly to taxpayers to do it the way they want to do it," he said. "We ought to give local government a little bit of leeway."

Citizen skeptic Aaron Smith is unconvinced. Smith, who has run a website called Watchdog Indiana since 2001, said tax money is tax money, whether it comes from a savings account or a bond.

He testified against a law change that took effect last year allowing school districts to use donated funds to get a project under the public-spending limit.

"It is game playing with the referendum threshold, and that is not to the benefit of taxpayers," said Smith, who lives in Boone County. "The only lobbyists we have at the Statehouse are the ones we elect."

Smith said it might make sense for lawmakers to weigh whether the spending limit should be changed to reflect rising construction costs, but that conversation needs to be conducted in public.

"That is a direct, open policy discussion," he said, "not a back-door adjustment."

Hamilton County leaders have been upfront about their facility needs and financial conundrum, debating their options in several public meetings for more than a year.

In addition to the judicial center, officials are evaluating capacity and needs at the jail complex, which is expected to see a large influx of inmates next year when the state starts sending counties offenders who are serving sentences of less than a year. Any expansion there likely will exceed the $12 million cap, too.

"We're trying to do what the Legislature requires of us in the most economical and efficient way," Dillinger said.

That said, none of the commissioners wants to squeeze project budgets by lowering their standards. Any addition to the well-appointed Government & Judicial Center, for example, needs to have a comparable finish.

"We want to get it all done and get it done right," Dillinger said. "If we can't build at the same quality, I won't vote for it."•