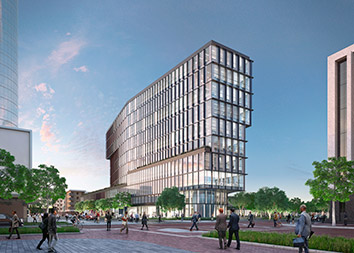 Engine-maker Cummins Inc. would receive a $4.34 million tax break on the global distribution headquarters campus it's planning for downtown, thanks to a 10-year tax abatement it has requested from the city of Indianapolis.
Approval of the deal is essentially guaranteed, as Cummins and city officials together have heralded the project and its potential economic benefit. The Metropolitan Development Commission is scheduled to consider the request at its meeting Wednesday afternoon.
The one-block campus, which is expected to include a 10-story office tower with 15,000 square feet of retail on the first floor and significant public green space, will be built on four acres where Market Square Arena previously stood.
The property is bounded by Market, Alabama, Washington and New Jersey streets. Cummins agreed to buy the property from the city for $4.3 million.
Columbus-based Cummins expects to break ground on the $30 million project in April. The tower is expected to be able to hold about 400 Cummins employees.
The company's plans for the site also include a conference center and a parking garage. The west side of the property would feature extensive green space along the Cultural Trail.
According to Department of Metropolitan Development analysis of Cummins' tax abatement request, the firm would save $4.34 million in real property taxes on the project over the abatement's 10-year duration.
Cummins still is expected to pay an estimated $1.86 million in real property taxes over that time, then about $620,000 per year after the abatement expires.
Cummins has estimated that the project would allow it to retain 90 employees who already work in Marion County at an average wage of $38.46 per hour, and create another 160 positions by 2018 at the same wage.
DMD staff has recommended approval of the abatement. If it receives preliminary approval Wednesday, the abatement request would be scheduled for final approval by the MDC on Jan. 7.
Cummins' distribution business is one of the company's four busines units. The firm's headquarters will remain in Columbus, where Cummins was founded 95 years ago. It currently employs 48,000 people worldwide.
 
Please enable JavaScript to view this content.