A state-owned office building with prime views of the capitol could hit the market soon.

The Indiana Public Retirement System plans to move out of the Harrison Building at 143 W. Market St. and is considering whether to sell the building, which has been under the agency's ownership since 1982.

INPRS would have to consolidate 60 employees into its main office building, One North Capitol, at a cost of $1.48 million, but the agency assumes it could at least recoup that cost by selling the Harrison.

The eight-story Harrison, built in the late 1920s, lacks dedicated parking, and it could require remodeling. There's already an abundance of class "B" and "C" space downtown, said Gordon Hendry, first vice president at CBRE, but few buildings are across the street from the Statehouse.

Hendry
"Proximity to the Statehouse is always a positive, even without parking," Hendry said. He could envision any number of not-for-profits or lobbying firms wanting access to legislators and impressive conference-room views at an affordable rent.

The INPRS board of trustees approved a plan earlier this month to spend $1.48 million consolidating office space and to evaluate the future of the Harrison Building. INPRS will either sell the building, or keep it as an investment while putting more space on the rental market.

"Those two options are still on the table," INPRS spokeswoman Jennifer Dunlap said.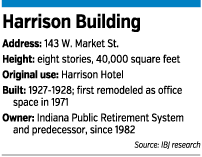 The Harrison has 40,000 square feet in eight floors. INPRS occupies five floors and leases three to the Center for Education and Career Innovation, which has subleases with the Indiana Education Employment Relations Board and the Indiana Charter School Board, Dunlap said.

Gov. Mike Pence created the Center for Education, or CECI, in 2013 but recently announced he'll dissolve it by Feb. 20. Pence is undoing CECI with the hope of easing tension between the Department of Education, led by Democratic Superintendent of Public Instruction Glenda Ritz, and the State Board of Education, appointed by the Republican governor.

INPRS' predecessor, the Public Employees Retirement Fund, bought the Harrison to use as office space, but the agency's headquarters now is One North Capitol, which is treated as an investment asset.

One North Capitol is almost fully occupied, with INPRS taking up five floors and the rest leased to state agencies and non-state tenants, INPRS said.

Consolidating all INPRS staff into One North Capitol is best for the system's finances and its day-to-day operations, INPRS Executive Director Steve Russo told the board earlier this month.

The plan is to gut, reconfigure and re-equip the second and third floors to accommodate the 60 people who currently work in the Harrison. The amount of space per employee would drop from 300 square feet to 200 square feet, as INPRS would spend an estimated $445,000 on flexible work stations.

INPRS estimates the Harrison would sell for $1.8 million to $2.5 million.

The agency could save $183,000 a year on maintenance, utilities and security.

The INPRS investment team is looking further into whether it would be best to sell or continue leasing the Harrison building, Dunlap said. The board could make a decision at its next meeting, scheduled for Feb. 27.

The building's original use was as the Harrison Hotel. It was remodeled for office space in 1971, and was remodeled again in 2004. It's one of two surviving historic hotel buildings in the city's Monument Circle historic district.

At one point, the Harrison was home to a Hallmark store on the ground floor, but INPRS hasn't marketed the street-level space to retailers, Dunlap said. Hendry said the space could be returned to retail, most likely a business like a sandwich or coffee shop that serves downtown office workers.•