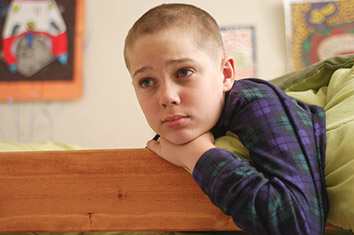 My movie going is consistently inconsistent.
In the spring, I tend to visit the local multiplexes only when hosting an IBJ Movie Night giveaway (keep an eye on www.ibj.com/arts for announcements). In summer, it's the Indianapolis International Film Festival, the occasional must-see blockbuster, and an annual anniversary double feature with my wife. (In 2014, that meant my bride and I sharing popcorn over the odd coupling of "Guardians of the Galaxy" and the James Brown biopic "Get on Up.")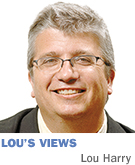 In the fall, apart from full immersion into the Heartland Film Festival, I don't get to many movies. Too much else going on in the arts. But in November and December, I make up for it with a mad rush of films so that I can do due diligence for my voting in the Indiana Film Journalists Association's annual awards. (See sidebar below for our collective bests for 2014.)
Inevitably, I miss some highly praised films. But here are my top movie-watching experiences of the year, along with the results of the IFJA voting: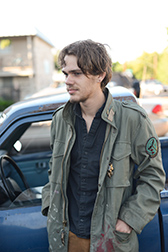 "Boyhood"
Like the IFJA—which awarded it Best Film—I was enamored with Richard Linklater's "Boyhood." Shot over an 11-year period so the main character grows up before our eyes, the device enhances the storytelling rather than coming across as a gimmick. The variables that affected the filmmaking also serve to heighten the relatability. Who among us knows what's going to happen to us in the next 10 years? Who hasn't looked back and wondered at the choices we made?
Also intensely focused on parents and children is "Into the Woods," the movie version of Stephen Sondheim's most produced theatrical musical. I don't think theater buffs who have been cautiously waiting for years for its big-screen appearance will be disappointed—except perhaps for Johnny Depp's misconceived sequence.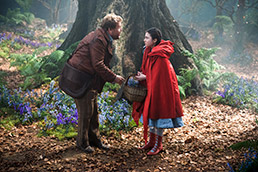 "Into the Woods" (Photo courtesy of Walt Disney Pictures)
I'm more curious how the general public will respond to the show's emotional depth, especially when things turn, well, Grimm. Despite missing one key song and a key character-motivating moment (although understanding why they were cut), I found it one of the best Hollywood musicals in a long time. It hits theaters Dec. 25.
It was a terrific year for documentaries about performers. I was particularly taken by "An Honest Liar," a Heartland Film Fest selection. Focused on magician and professional debunker James Randi, it's really about how easy it is for even the most skeptical, aware people to be fooled when there's something they want to believe. Also from Heartland, "Holbrook/Twain: An American Odyssey" offered a compelling look at an actor's multi-decade commitment to a single role. Earning wider attention, "Glen Campbell: I'll Be Me" and "Elaine Stritch: Shoot Me" also looked at older performers valiantly attempting to keep the magic going.
More terrific documentaries: "Finding Vivian Maier" grows from an unexpected discovery of a box of photographs into a compelling artistic mystery. "The Last Days in Vietnam"—one of the strongest Indianapolis International Film Fest offerings—took an apolitical, achingly detailed look at the logistics of the U.S. withdrawal from the war-torn country.
Among narrative fare, I hope "A Most
Violent Year" doesn't get lost in the Oscar-race shuffle or turn people off because of its title. Starring Oscar Isaac (from last year's underperforming gem "Inside Llewyn Davis") and Jessica Chastain, it's a smart throwback to such 1970s films as "Prince of the City" and "Serpico"—straight-ahead crime stories with riveting characters and not a hint of cinematic trickery.
Don't confuse it with "A Most Wanted Man," in which Philip Seymour Hoffman (in his last major role), plays a schlumpy German espionage agent trying not to capture a terrorist, but to get to the person behind the person behind the terrorist. Based on John Le Carre's novel, it slow-boils to an edge-of-the-seat ending. Both should be on any serious movie lover's "Most" see list.
Potentially off-putting but very rewarding is "Locke," starring—and featuring only—Tom Hardy. It's entirely set in a car, on a single drive, and, well, if you haven't been turned off already, prepare for a dramatic ride.
From the above, it might seem as if there weren't many laughs at the movies this year—or that I have a thing against comedies. Far from the case on both counts. Some of the best laughs, though, came from unexpected places. "The Skeleton Twins" and "Obvious Child" both take difficult situations (attempted suicide and abortion) and manage to create endearing, believable character comedies. The former offered strong performances from "SNL" vets Bill Hader and Kristin Wiig, while the latter kept the camera on goofily nuanced comedienne Jenny Slate.
I would also be remiss if I didn't add a pair of straight-up fun movies to my best-of-the-year mix. The plot could have come out of a Fox Family movie, but the pleasures in Jon Favreau's "Chef" are in its individual ingredients and the pleasurable way those come together. Prepare to be hungry afterward. And as someone who glazes over during most sports conversation, I was surprisingly won over by "Draft Day," Ivan Reitman's film about, yes, NFL negotiations.
And my favorite film of the year?
OK, so "Dawn of the Planet of the Apes" might not prove to be an Oscar contender. But it should. The smart, tense sequel—which holds up on its own—has a lot to say about trust, the complications of negotiations, and the difficulty of managing zealots. That it manages to do that while creating a completely believable set of intelligent ape characters makes it even more of an achievement.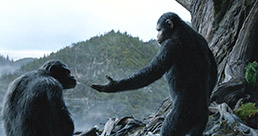 "Dawn of the Planet of the Apes" proved suprisingly rich. (Photo courtesy of 20th Century Fox)
Of course, there are still more films on my to-see list: I haven't yet had a chance to see "Selma," "Wild," "Whiplash," "Nightcrawler," "Big Eyes," "Cake," "American Sniper," "Inherent Vice" or "Still Alice." But even if they all prove outstanding, that doesn't mitigate the power of the 16 listed above. I'd just have to expand my list.•
__________
Indiana Film Journalists Association 2014 Awards
To be clear, these represent the battled-over opinion of the group (of which I am a member), not of any one critic.
Best Film
Winner: "Boyhood"
Runner-up: "Whiplash"
Other finalists (listed alphabetically):
"Dawn of the Planet of the Apes"
"The Grand Budapest Hotel"
"Guardians of the Galaxy"
"The Imitation Game"
"Life Itself"
"Locke"
"A Most Violent Year"
"St. Vincent"
Best Animated Feature
"The LEGO Movie"
Best Foreign Language Film
"Two Days, One Night"
Best Documentary
"Life Itself"
Best Original Screenplay
Wes Anderson, "The Grand Budapest Hotel"
Best Adapted Screenplay
Damien Chazelle, "Whiplash"
Best Director
Richard Linklater, "Boyhood"
Best Actress
Reese Witherspoon, "Wild"
Best Supporting Actress
Jessica Chastain, "A Most Violent Year"
Best Actor
Ralph Fiennes, "The Grand Budapest Hotel"
Best Supporting Actor
J.K. Simmons, "Whiplash"
The Hoosier Award
Eric Grayson, film historian and preservationist
__________
—Lou Harry
This column appears weekly. Send information on upcoming arts and entertainment events to lharry@ibj.com.
Please enable JavaScript to view this content.