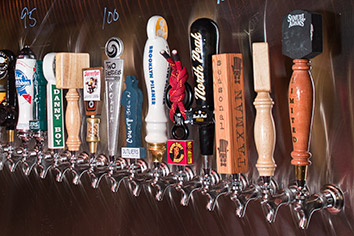 City launches preschool program
Indianapolis will create a $40 million fund for preschool scholarships after Mayor Greg Ballard and Democratic city-county councilors reached a compromise Dec. 1.
Ballard unveiled the preschool proposal, along with an income-tax increase, as part of a strategy to address the underlying causes of violent crime. The council passed the income-tax hike for public safety in a bipartisan vote, but many Democrats remained opposed to the preschool plan because of its proposed funding source.
The plan called for eliminating the homestead tax credit—a small, locally funded subsidy that is separate from the state homestead deduction. Eliminating the tax credit would have raised overall income tax revenue flowing to the city, but it also would have affected school district budgets and homeowners in certain districts, particularly on the north side.
Democrats came up with an alternative way to pay for the plan, which was also scaled back, and the proposal passed 19-8.
Marion County's income tax will be 1.77 percent on Jan. 1. The public-safety portion of the tax, which will pay for additional police recruits and ongoing expenses, will go from 0.35 percent to 0.5 percent.
Republicans rack up victories
Turnout was low, but those Hoosiers who did vote in November overwhelmingly voted Republican.
The GOP increased its supermajority in both chambers of the General Assembly to historic proportions.
House Republicans gained two more seats, so Speaker of the House Brian Bosma now leads a 71-representative majority, the largest since 1973.
Senate President Pro Tem David Long oversees a 40-seat majority, up from 37 seats.
Republicans also kept statewide offices. Auditor Suzanne Crouch defeated Carmel Democrat Mike Claytor, and Secretary of State Connie Lawson defeated Beth White, the Democratic clerk of Marion County.
First-time Republican candidate Kelly Mitchell defeated her challenger for treasurer, Mike Boland. Although Mitchell worked under former Treasurer Richard Mourdock, she was not an incumbent. She had asked Gov. Mike Pence not to appoint her to the seat after Mourdock retired in the fall.
IMA admission fee draws critics
Officials at the Indianapolis Museum of Art, an attraction that's been free for most of its history, faced a torrent of criticism in December after announcing plans to charge an $18 admission fee.
The museum plans to start charging the fee, which includes parking and access to all the IMA gardens, in April. Visiting the museum's permanent collections has been free for seven years, though the IMA charges separately for parking and special exhibitions. Access to the Virginia B. Fairbanks Art & Nature Park, parts of the IMA grounds and the IMA gift shop will remain free.
"A great deal of analysis went into the discussion," said Chairman Tom Hiatt. "We looked at a number of other institutions, including local and in other cities. Even at $18, we are cheaper than the children's museum or zoo."
That was little consolation to hundreds of museum supporters who took to social media to criticize the fee and question whether the move would reduce the enjoyment of art by those of limited means.
Hiatt said the $18 price point was chosen because the admission price must be "sufficient to cause a visitor to the museum to consider a membership purchase." Memberships are $55 annually for an individual and $75 for a family. Children ages 6-17 are $10, and those 5 and under are free.
Hiatt said new revenue from the admission fee will allow the IMA to reduce the portion of its endowment it spends on operations each year to 5 percent.
NCAA's biz model takes hits
It's been a year of change for the NCAA.
More power was granted to a group of the nation's largest colleges to oversee football games and proceedings, and reacting to a lawsuit filed by former UCLA basketball player Ed O'Bannon, a judge in August ruled that the NCAA must allow schools to give athletes some of the money they bring in by licensing an athlete's name, image and likeness.
The judge also wrote that the NCAA cannot cap the value of a scholarship below the actual cost of attendance, which is usually a few thousand dollars more than current scholarships are worth.
The sea change for the NCAA seemed to build momentum in April when Northwestern University football players voted to form a union to represent them before school officials.
The regional director of the National Labor Relations Board in Chicago, Peter Sung Ohr, ruled in April that Northwestern football players are university employees and entitled to an election that will determine whether they can form a union.
The players said they were more interested in talking to school officials about work conditions and requirements to be on the team than they were about compensation.
Microbreweries still on hot streak
Indiana's burgeoning craft beer market continued to bubble up in 2014, with almost 100 microbreweries in operation statewide and countless others still fermenting.
Indianapolis favorite Sun King Brewing Co., one of the local pioneers, is growing so fast it said in December it would discontinue distribution outside central Indiana to avoid running afoul of state limits on beer production.
Already close to hitting the 30,000-barrel-a year ceiling for its downtown facility, Sun King in August announced plans to build a second brewery and tasting room in Fishers. A barrel is equal to two 15.5-gallon kegs.
The $10 million Fishers building, to be constructed in phases on vacant land east of Interstate 69 between 96th and 106th streets, should open in time for a 2015 Oktoberfest celebration, co-founder Clay Robinson said.
Sun King won state and local incentives for the expansion, which is expected to add 55 employees by 2019.
State passes business tax cuts
Gov. Mike Pence sought to eliminate Indiana's business-equipment tax but encountered resistance from local governments that rely on the revenue, an estimated $1 billion.
Pence signed a compromise bill that included another reduction in the corporate income-tax rate and a portion of the reform he wanted on the equipment tax.
The corporate income tax, which was scheduled to drop to 6.5 percent in fiscal 2016, will now be lowered every year through 2022, until it reaches 4.9 percent.
On the equipment tax, formally called the business personal property tax, counties may exempt all personal property worth less than $20,000. Counties may also eliminate the tax on all new equipment. A third option is for local governments to offer extended abatements for a period of up to 20 years.
Pacers, city extend lease
The city's Capital Improvement Board in April agreed to pay $160 million over 10 years on subsidies and stadium improvements for the Indiana Pacers in exchange for a lease extension through the 2023-2024 season.
The pact, which includes up to three one-year extensions, calls for the Pacers to create a separate entity to operate Bankers Life Fieldhouse. CIB would subsidize the new entity to the tune of at least $10.8 million per year.
That breaks down to $3.7 million for direct operating expenses and $7.1 million for "operating reimbursement" payments, according to the agreement presented at a public meeting. The $7.1 million figure would rise 3 percent each year over the course of the deal.
CIB also would provide $26.5 million for improvements to Bankers Life Fieldhouse locker rooms, concession stands and video boards, and another $7 million for new carpet and other capital replacement items.
Irsay arrest puts daughter at helm
Indianapolis Colts owner Jim Irsay was arrested in March after being stopped by Carmel police for driving erratically. Toxicology reports showed Irsay had both hydrocodone and oxycodone in his system.
Irsay had $29,000 in cash and bottles of prescription drugs in his vehicle when he was arrested, according to a police report. The cash was in Irsay's briefcase, wallet and two laundry bags, the report said.
Irsay initially was charged with two counts of driving while intoxicated, but reached a deal to plead guilty to just one charge.
NFL Commissioner Roger Goodell in early September announced a six-game suspension and a $500,000 fine for Irsay, the maximum under NFL rules.
Carlie Irsay-Gordon, 33, the eldest of Irsay's three daughters, led the Colts during his suspension.
Star moves, as spinoff looms
The Indianapolis Star this fall moved out of 307 N. Pennsylvania St., its home for 107 years, and moved to the former Nordstrom space at Circle Centre mall.
It was the latest sign of change at the state's largest newspaper, whose staff has been significantly reduced after round after round of budget cuts in recent years.
More big changes are coming. In August, parent Gannett Co. Inc. said it will split into two early in 2015, with a yet-unnamed company taking the parts that get investors revved up—TV stations and digital properties like Cars.com—while leaving daily newspapers and their websites behind.
Gannett's newspapers remain solidly profitable, though far less so than before the Internet began encroaching on its readership and advertisers in the late 1990s. The Star, like all newspapers, is racing to capture more digital advertising as print advertising continues to decline.
Eleven sells out inaugural season
The Indy Eleven opened its inaugural season in April and sold out IUPUI's track and soccer stadium for all 14 home games.
The expansion professional team led the 10-team North American Soccer League in attendance, drawing an average of 10,465 fans per home game.
In early 2014, team owner Ersal Ozdemir and General Manager Peter Wilt asked state lawmakers for financial assistance to build an 18,500-seat, $87 million multipurpose stadium.
In March, the lawmakers shelved the proposal for a year. Senate President Pro Tem David Long, R-Fort Wayne, said in a news briefing that there seemed to be more questions than answers about the proposed stadium and that it would be better handled in 2015, when the Legislature passes a budget.
Ozdemir and Wilt planned to approach the General Assembly in early 2015, though neither would disclose what they would ask for or where the stadium might be sited.
ITT battles through challenges
ITT Educational Services Inc.'s stock price plunged 75 percent this year as the company dealt with a nightmarish string of challenges.
In February, ITT was sued by the Obama administration's Consumer Financial Protection Bureau over claims it engaged in predatory lending by encouraging students to take loans they would struggle to repay.
Soon after, new enrollment at ITT's technical institutes started to fall.
In midyear, the U.S. Securities and Exchange Commission told ITT to bring onto its books a student loan program that had sustained huge losses. That process involved the laborious work of restating previous financial reports, preventing ITT from filing financial statements the rest of the year, which sparked sanctions from the U.S. Department of Education.
In August, CEO Kevin Modany announced he would resign in early 2015.
But the company ended the year with some good news, securing a $100 million loan that bolsters its finances.
Simon plans Anson outlet mall
Simon Property Group Inc. plans to build an outlet mall on 50 acres of high-profile land it agreed to acquire in Whitestown's 1,700-acre Anson planned-unit development, retail brokers familiar with the deal said in November.
Jacqueline Haynes, a senior vice president at brokerage Cassidy Turley, is listing the 50 acres and told IBJ it's slated for a retail development, but she would not identify the buyer. She said additional information likely would be available when the pre-sale due diligence is completed early next year.
The tract is at the northeast corner of Interstate 65 and Whitestown Parkway west of Zionsville, and is already zoned for retail.
Retail development at Duke Realty Corp.'s $1 billion Anson project has picked up after stalling during the recession. A Hampton Inn, Meijer superstore and Goodwill outlet opened this year.
Indy loses Super Bowl bid
Indianapolis lost out on its bid to host the 2018 Super Bowl despite having what several NFL executives said was the strongest proposal.
The championship game was awarded to Minneapolis by the 32 NFL team owners at their May meeting. New Orleans also made the final trio of candidates. Indianapolis was the first city eliminated in owners' voting.
New Orleans, the most experienced of any Super Bowl host city, had proposed to kick off the city's 300th birthday party with the 2018 Super Bowl, and Minneapolis bragged about a taxpayer-funded $975 million stadium that will be open in time for the game.
In November, Indianapolis rebounded by winning the right to host the 2021 NCAA Men's Final Four Championship.
Lucas Oil Stadium is hosting the 2015 Final Four, and 2021 will mark the eighth time the city has staged the event. That ranks second only to Kansas City, which hosted the Final Four 10 times from 1940 to 1988.
Indianapolis officials said that, with the 2021 Final Four on the calendar, the earliest they'd bid to host another Super Bowl would be 2022.
Angie's sees highs, lows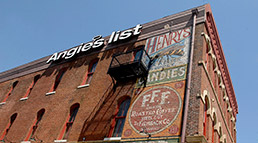 Angie's List closed the year by announcing it planned to add 1,000 jobs as part of a $40 million expansion. (IBJ file photo)
Angie's List experienced a mixed bag in 2014.
The Indianapolis-based company made a name for itself in the consumer review space, but lately has focused on becoming a top local services marketplace.
Its stock is down more than 50 percent to $6.96 as of late December. And it's been missing Wall Street estimates left and right. In September, the Financial Times reported the company was exploring the possibility of a sale—news Angie's List officials declined to comment on.
In October, the company announced it was investing $40 million in its corporate campus just east of downtown and that it would add 1,000 jobs by 2019. The announcement came about two months after the company laid off 97 salespeople.
Angie's List unveiled a mobile app in the fall, an area it said would be fundamental to the success of its marketplace strategy. But soon after, Amazon.com rolled out a home contractor recommendation offering for consumers in three cities, suggesting Angie's List might face competition in a core business.
Analysts polled by Thompson Reuters expect revenue of $314 million and a loss of about 25 cents a share in 2014. For 2015, they project income of $360 million and a loss of about 1 cent per share.
Simon spins off strip centers
Simon Property Group Inc. in May completed its spinoff of publicly traded Washington Prime Group, taking strip shopping centers and smaller enclosed malls out of its portfolio of properties.
Simon, the largest U.S. real estate investment trust, is focused on redeveloping its top regional malls, opening outlet centers, and investing overseas to boost growth. The company, whose strip-center business accounted for 3.3 percent of its net operating income, said the new REIT would be better able to pursue acquisitions and development.
Washington Prime owns 98 retail properties, including 13 in Indiana. Simon announced the spinoff in December 2013 and the Washington Prime name in February.
In June, Washington Prime said it agreed to buy out its partner's 50-percent share in Clay Terrace in Carmel for $22.9 million and assume $57.5 million in debt.
The partner was Bob Lauth, CEO of Carmel-based Lauth Property Group, which co-developed Clay Terrace with Simon.
In September, Simon announced that Washington Prime was buying Columbus, Ohio-based Glimcher Realty Trust for $2 billion. That deal is expected to close in the first quarter of 2015. The merged company will be known as WP Glimcher and will be based in Columbus.
Herff Jones sells after 94 years
Herff Jones, the education products company founded in Indianapolis 94 years ago, was acquired Dec. 15 by an investment group led by Boston-based Charlesbank Capital Partners.
The deal was valued at $1.5 billion in a Reuters report.
Herff, whose name had been changed to Varsity Brands and its headquarters moved to Memphis, Tennessee, in the summer, was known as much for its quiet, traditional ways as for the class rings, yearbooks and cheerleading uniforms it sold for decades.
It also was one of the larger companies in the country owned by its employees. About 4,500 of Herff's 7,000 workers had been with the company long enough to own shares in the employee stock ownership plan.
The vested employees stood to reap a windfall from the acquisition. Herff was appraised at $805 million in 2012.
Boston-based Charlesbank said the acquisition will give Herff the "capital structure, resources and financial flexibility" to expand. Herff had racked up a series of acquisitions in recent years.
IPL to drop coal at Harding Street
Targeted by environmentalists and facing new carbon-emission regulations, Indianapolis Power & Light Co. said it would stop burning coal at its Harding Street power plant.
IPL will convert the aging plant to natural gas by 2016, and the change will add about $1 to the average Marion County electric bill, according to the company's estimate.
IPL received approval in May from the Indiana Utility Regulatory Commission to convert two smaller coal-powered units at Harding Street to natural gas. Until August, however, IPL maintained that continuing to burn coal in its largest boiler, Unit 7, while scrubbing emissions was the least costly option. Coal burning was expected to continue until at least 2034.
Mike's Carwash splits in two
Central Indiana locations of Mike's Carwash Inc. underwent a name change in October as part of a reorganization in which the Indianapolis-based business split into two operations.
Brothers Bill Dahm and Mike Dahm completed what the company called a friendly reorganization in which Bill operates the 26 central Indiana locations under the new name Crew Carwash. Locations in Indianapolis, Anderson, Lafayette, Terre Haute, Columbus and Kokomo switched to the Crew name.
Mike Dahm operates the other 15 locations under the established Mike's name, but with a new look. Car washes in South Bend; Fort Wayne; Evansville; Cincinnati and Dayton, Ohio; and Florence, Kentucky, remained Mike's.
Mike's had 41 locations in Indiana, Ohio and Kentucky.
Mike's was founded in Fort Wayne by Joe Dahm, Bill and Mike's father, in 1948.
Endocyte dealth sudden blow
Endocyte Inc. began the year poised to shift from a purely drug development company to one with products, a sales force and, finally, revenue.
In March, the West Lafayette-based company won a key recommendation from European regulators for its ovarian cancer drug vintafolide to hit the market, along with an imaging agent used to identify patients that would benefit from the drug.
Then in May, Endocyte got additional clinical trial results showing—contrary to all previous tests—that its drug provided no additional benefit compared with an existing cancer drug. That halted Endocyte's launch plans.
Fortunately, just before the bad news, the company had raised $102 million in a stock offering.
That means Endocyte has a healthy pile of cash as it tries again to bring a drug to market. Its best bets currently are using vintafolide as a lung cancer treatment and using a drug known as EC1456 as an ovarian cancer treatment.•
Jared Council, Andrew Muirragui Davis, Kathleen McLaughlin, Scott Olson, Anthony Schoettle, J.K. Wall, Norm Heikens, Greg Andrews
Explore all of our 2014 Year in Review coverage.
Please enable JavaScript to view this content.