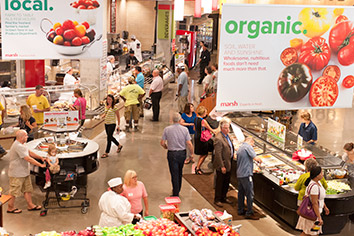 The Indianapolis area's competitive grocery market is becoming even more crowded with the arrival of additional specialty stores catering to the upscale crowd.
Pittsburgh-based supermarket chain Giant Eagle Inc. started the blitz by announcing in January that it would build a Market District store in The Bridges development in Carmel, marking its entry into Indiana. Construction is set to start next year.
Fresh Thyme Farmers Market, a Phoenix-based startup, is hitting the market even harder. It opened three stores this year: at 4225 E. 82nd St. in the Lake Clearwater area, at 8750 U.S. 31 north of Greenwood Park Mall, and at 2342 W. 86th St.
Even specialty grocers with an existing presence in the area are stepping up their games.
Fletcher, North Carolina-based Earth Fare, which has stores in Carmel and Noblesville, opened another, on East County Line Road on the south side and across from the Fresh Thyme store.
On top of that, Whole Foods Market announced in May that it had signed a lease to anchor the downtown Market Square Tower project under development by Flaherty & Collins Properties.
But traditional groceries are becoming more aggressive, too.
Marsh Supermarkets opened a grocery downtown in May at Flaherty's Block 400 mixed-use development.
Wal-Mart opened Neighborhood Markets this year at 131st Street and State Road 37 in Fishers, at 5555 Michigan Road in August, and at 5550 Fall Creek Parkway near East 56th Street in October.
And Kroger started construction this year on Marketplace stores on the south side—on the northeast corners of Emerson Avenue and Thompson Road, and Emerson Avenue and County Line Road.
Explore all of our 2014 Year in Review coverage.
Please enable JavaScript to view this content.