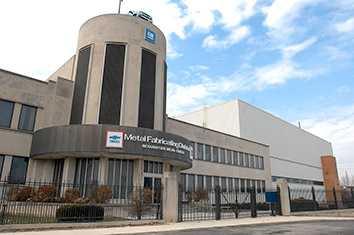 Redevelopment of the former General Motors Stamping Plant site west of downtown began taking shape in 2014, culminating in December with the city's selection of a Paris company to build a criminal justice center on the property.
The city in March designated the property as its preferred site for the center, and the following month asked development teams to submit proposals.
Three teams were asked to design plans that include 34 criminal court/hearing rooms and offices for the Marion County Sheriff's Office and the Probation Department.
On Dec. 12, the city chose WMB Heartland Justice Partners as the winning bidder.
The site became available after General Motors Corp. charged Michigan-based Revitalizing Auto Communities Environmental Response, or RACER Trust, with selling the site.
RACER announced in August that it had reached an agreement with local developer REI Investments Inc. to purchase the entire 102-acre property for an undisclosed price.
REI plans to build a $40 million, 15,000-seat outdoor concert venue. RACER likely won't close on the deal with REI until mid-2015.
Other local developers vying to redevelop the land were Ambrose Property Group, Buckingham Cos. and Keystone Group.
Ambrose and Buckingham primarily suggested mixed-use developments with office, residential and retail components, while the Keystone proposal contained plans for a soccer stadium where the fledgling Indy Eleven could play.
REI has a long track record of developing projects downtown. It developed the JW Marriott-anchored hotel campus on the west side of the Mile Square with Merrillville-based White Lodging, a project that helped the city land the 2012 Super Bowl.
Explore all of our 2014 Year in Review coverage.
Please enable JavaScript to view this content.