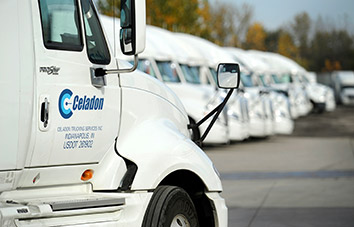 Owner/operator drivers for Celadon Group Inc. do a lot of fueling at Pilot and Flying J truck stops, where they can use a charge card provided by Celadon to buy fuel at a discount to the cash price.
After fueling, drivers get a receipt showing the charge—an amount Celadon later deducts from their pay.
But Celadon does not actually pay the same fuel price it charges back to its drivers, court documents show. The Indianapolis-based trucking giant pays a more deeply discounted rate, as much as 50 cents less per gallon of diesel, thanks to a bulk-purchase agreement with the travel center operator.
A Marion County judge in December said the company's practice of withholding the higher price from its owner/operator drivers and keeping the savings breaches the terms of its agreement with 2,262 current and former drivers.
Marion Superior Court Judge Michael D. Keele on Dec. 12 ordered Celadon to pay $3.8 million—the amount the company over-charged drivers for fuel purchases over a 10-year period—and another $1.7 million in pre-judgment interest. The judgment proceeds would be split among two truckers acting as lead plaintiffs, the other affected truckers, and attorneys at Cohen & Malad LLP who brought the case in October 2013 on a contingent-fee basis.
Celadon spokesman Joe Weigel said the company does not comment on pending litigation.
But a veteran trucking-industry analyst told IBJ that it's standard industry practice for large trucking firms to pass along only some of their bulk-purchase fuel savings to owner/operator drivers.
If contract drivers don't want to buy fuel through the company's program, they don't have to. In Celadon's case, the program offered a 6-cent discount off the cash price for fuel in addition to the relative ease of accounting for the expense.
"An individual owner/operator is not going to get the price Celadon pays, or J.B. Hunt or any other big trucker," explained the analyst, who did not want to be named for fear of being called for a deposition. "If you're buying lower volumes, you don't get the better rate."
The analyst described the suit as a "nuisance" action that at most would lead big trucking firms to rework the fine print of contracts with owner/operator drivers. Rest assured, he said, they won't be passing along more fuel savings to contract drivers.
The Marion County judgment against Celadon cites the company's contractor operating agreement, which allows withholding of compensation to cover "advances and other extensions of credit." The judge ruled that fuel discounts pocketed by Celadon are neither an advance nor an extension of credit.
Celadon does not disclose to drivers that it pays the significantly lower price for gas, the suit says.
"Based on this profit-making scheme—disguised as a fuel-charge-back program—Celadon improperly diverts significant portions of those drivers' hard-earned compensation to its own corporate coffers," the suit argues.
Celadon responded to the judgment by filing a motion Dec. 19 to move the case to federal court, which has jurisdiction in class-action cases where damage amounts exceed $5 million.
Richard Shevitz, the plaintiffs' attorney and a partner at Cohen & Malad, said the $5 million threshold is for actual damages, but Celadon is trying to tack on interest in hopes of finding a friendlier court.
"We view their removal to federal court as a cynical effort to take a second bite at the apple," Shevitz said.
Legal matters with the contract aside, it's not unreasonable for a trucking company to expect a return on what amounts to a credit arrangement with its contract drivers, said Joseph Schofer, a transportation policy expert and professor at Northwestern University's transportation center.
There's a question as to what amount of profit is excessive, but ultimately drivers have the choice of buying from another vendor.
"If owner/operators are not required to but continue to buy this way, there must be some advantage to them," Schofer said.
Pilot Flying J, which is not a named party in the suit, is facing its own legal troubles over alleged fraud in its fuel-rebate program. The privately held company has agreed to pay $92 million to settle a federal criminal case and $85 million to settle a civil case, after the FBI and IRS raided its Tennessee headquarters in 2013.
Celadon does not mention its suit under "legal matters" in its most recent quarterly report, for the period ended Sept. 30.
"We are party to certain lawsuits in the ordinary course of business," the filing states. "We are currently not party to any proceedings which will have a materially adverse effect."
Only about 600 of Celadon's roughly 3,000 drivers are owner/operators; the company pays the fuel bill directly for its salaried operators.
Still, a $5.5 million judgment would be more than a drop in the bucket for Celadon; the company reported a quarterly profit of $8 million for the period ended Sept. 30.
In the Marion County suit, Celadon has filed counterclaims against the lead plaintiffs, Charles Wilmoth and Kent Vassey, alleging they defaulted on their contracts. Wilmoth is from Mississippi, and Vassey is from Arkansas.
About 113 of the class members are from Indiana, Celadon says in court filings. The company on its website says it has 4,000 employees. Its fleet consists of 3,000 tractors and 8,700 trailers.•
Please enable JavaScript to view this content.