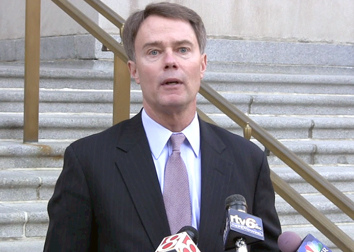 Democratic mayoral candidate Joe Hogsett announced on Monday morning a blistering fundraising pace: $1.4 million since mid-August.
Hogsett has raised many times over what the last Democrat who ran for Indianapolis mayor, Melina Kennedy, raised in the months before the municipal election year. As a challenger to incumbent Mayor Greg Ballard, Kennedy raised about $220,000 in 2010. She then went on to raise $2.5 million in 2011.
Hogsett ended 2014 with $1.37 million on hand, the campaign announced Monday. Spokesman Thomas Cook said Hogsett hopes to start ahead of whoever steps forward as the Republican candidate, even if Ballard donates the remainder of his war chest. Ballard, who isn't seeking a third term, had $699,993 on hand at the end of 2013.
"That's a deep hole for whatever candidate decides to get in," Cook said.
Marion County Republican Chairman Kyle Walker couldn't be reached for comment this morning. Two prominent Republicans, lobbyist Murray Clark and state Sen. Jim Merritt, have said they won't run. Hogsett became the only Democrat in the race once state Rep. Ed DeLaney dropped out in late 2014.
The campaign-finance filing deadline for 2014 is Jan. 15, and full details of Hogsett's report weren't immediately available Monday morning. An earlier filing, however, made it clear Hogsett has no trouble attracting large donations.
One-third of the more than $900,000 he raised through Nov. 21 came from three people each giving at least $100,000, according to a filing last week. The filing was required because the campaign changed treasurers after Hogsett announced his candidacy in November, Cook said.
The list of big-pocketed donors includes an unfamiliar name among the usual heavy hitters. Barnes & Thornburg attorney Jeffrey Mallamad said Hogsett is the first candidate to whom he's given six figures. "It's not typical, though I have been a contributor to innumerable campaigns," said Mallamad, who has been a friend of Hogsett's since 1987. "I have a great passion for the city. I love this town. I think Joe would be just an outstanding leader."
Giving $110,100, Mallamad was the single-largest donor for the period of Aug. 13 through Nov. 21, according to the campaign-finance report. Mallamad gave even more than Simon real estate heiresses Deborah Simon and Cindy Simon Skojdt, who each contributed $100,000.
There's no cap on individual gifts to municipal candidates. Hogsett attracted two dozen donors giving at least $10,000. That list includes the campaign of former Evansville Mayor Jonathan Weinzapfel, real estate developer Joseph Whitsett, architect and former gubernatorial candidate James Schellinger, and Democratic fundraiser Lacy Johnson.
Bose McKinney & Evans, the firm that made Hogsett a partner after he resigned his post as U.S. attorney in July, and Bose partners Jeffrey Gaither, Gregory Hahn and Doug Brown, hit the $10,000 threshold, as did two labor unions—the United Food and Commercial Workers and the Indiana Regional Council of Carpenters.
Mallamad is an employment lawyer who specializes in executive compensation. He first met Hogsett when he went to work at the predecessor firm of Bingham Greenebaum Doll LLP in 1987, as Hogsett was leaving to work full time for Evan Bayh's gubernatorial campaign.
The two attorneys became close friends and trained together for several marathons. Over more than two decades and many long runs, Mallamad became intimately familiar with Hogsett's point of view.
"I've taken away from those conversations a great deal of respect for how he thinks," Mallamad said.
Please enable JavaScript to view this content.