In 1991, while working for Indiana National Bank, Nadine Givens filled a full-time position with a woman who was expecting a child soon.

After delivery, the woman was allowed to work part time, an arrangement that irritated some. Givens said she granted the flexibility in order to retain the woman and her strong capabilities, but the woman's colleagues feared she'd be unavailable for the workload when needed.

The woman went on to be a top performer in the company, now Chase Bank, said Givens, who today leads PNC Bank's local wealth management department.

"You have to have—and it's not just women—leaders in a company who are willing to do things like that," Givens said, "to be flexible and help employees with that work-life balance."

Givens is not on a life mission to enhance gender diversity in wealth management, a sector long dominated by men. And she's not one to wave attention to the fact that she's been the only woman in the room at various points of her 30-year career. She's more concerned about being a servant-leader inside and outside of work with little thought about gender, say those who know her. But it just so happens that she brings a woman's perspective to the top brass of a sector that historically lacked it.

Only about 26 percent of all personal financial advisers in the United States are women, according to 2013 data from the U.S. Bureau of Labor Statistics. For those working in investments, trusts and related products—which Givens' division also deals in—women make up 37 percent. The percentages are even smaller for female managers in those areas.

Givens, 53, is among them and, locally, is one of just a few women leading a large wealth management operation.

"Mrs. Givens is not only a leader within her community and her company," said Sheryl Garrett, the Arkansas-based CEO of the Garrett Planning Network, who's been in wealth management since the 1980s. "She's a leader in the industry."

Industry veteran

Givens was born in Willard, Ohio, in 1961, and grew up in Sanford, Florida. She's the eldest of 10 siblings in a blended family and spent some of her youth working at the convenience store her mother managed. Her father worked for a toy manufacturer.

Givens was the first in her family to enter finance and she began climbing its corporate ladder after graduating from Miami University of Ohio in 1984.

She spent the first 18 years in corporate banking, mostly at Chase predecessors, and the last 12 years in wealth management. She left Chase in 2008 for BKD Wealth Advisors and joined PNC in 2011.

She oversees 42 employees as director of one of PNC Indiana's two wealth management divisions, but hesitates to use the word boss.

"Yes, on paper, they report to me," Givens said. "But if you watched me in action each and every day, you would think I report to them."

PNC officials wouldn't disclose the number of clients or assets under management for Givens' division, but said client portfolios commonly range from $1 million to $20 million.

The division puts five people around each client, many of whom are couples: They include a financial planner, investment adviser and trust adviser. Givens' job is to make sure the machine is well-oiled and running, which involves guiding teams, putting prospects in front of them, and cultivating "bench strength," as Givens likes to call it.

Givens might not have widespread name recognition, colleagues and acquaintances said, but she has extensive connections. She has a knack for quickly identifying people or groups that can help the people or groups she's in a conversation with. Her mental Rolodex has been particularly useful for the various not-for-profits she's been involved in.

"She is the person you want on a nominating committee because she knows everybody," said Janet Allen, executive artistic director of the Indiana Repertory Theater, where Givens previously served a board term.

Givens' civic involvement stretches to the late-1980s and includes board stints with The United Way of Central Indiana and the 500 Festival.

Personable and passionate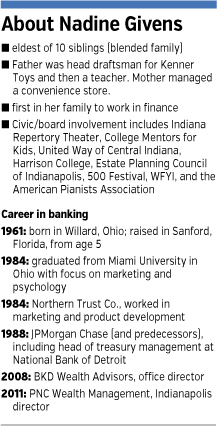 But Givens is not all about business. Throughout much of her career, she raised a daughter, now 23, and a son, now 20, and spent time as the "golf mom" and "lacrosse mom," she said.

She enjoys art, theater and history and has taken the family throughout Europe. She and her son, Benton, have a Jeopardy routine stretching back to his teen years, she said, and they'll likely pick up during his college breaks.

In conversations, Givens moves nimbly between business and personal, Allen said. And Givens' concern is genuine, she said.

Others said she's perceptive, and her sense of humor is never far away. Charlie Morgan, an Emmis Communications Corp. senior vice president who knows Givens through the 500 Festival, said she's "intense, yet approachable."

"There's no question, from the first time you meet her, that she is a presence and a force, but she's gracious and warm," Morgan said. "It's a very rare combination."

People who know her said she's both compassionate and passionate. The latter trait may stem from her first meeting as a senior official at Bank One in 2000, when she was the only woman in a room of about eight.

"My initial fear was, 'People are going to think that I got this job as a token," she said. "So I worked very hard to prove that it was on merit, and not just because we needed a woman at the table for diversity."

Male-dominated sector

The main factor behind the dearth of women in wealth management, particularly executive positions, is unclear.

Givens said it might have to do with the number of women who entered the field a few decades ago, which wasn't many. About 60 percent of civilian women worked full time year-round in 2012. In 1970, that proportion was about 41 percent, according to the U.S. Census Bureau.

"If you're going to rise in the ranks, you need to be full time and focused on a full-time career," Givens said. "So it takes time to build that."

Garrett, who runs the adviser network, said when she entered the field, there were wide stretches where she saw no female financial advisers.

"It felt like years," she said. "If there was another woman, she was either the compliance officer or the secretary."

Another factor might be related to the makeup of clients back in the day. Men were the primary breadwinners and business owners, and women often had minimal input in financial planning discussions.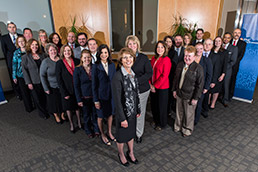 Givens brings a woman's perspective to the top brass at an industry that historically lacked it. (IL photo/Eric Learned)
"So if you're sitting in front of whom you deem as the decision maker, the wage earner," Givens said, "then you have a tendency to hire people that look like the client across the table."

Women driving wealth decisions

The landscape today is far different. More women are earners and they control more wealth than before. A widely cited 2010 study by Boston Consulting Group found that women control a third of U.S. wealth and noted that "wealth managers need to be prepared for an upward migration of women into the" wealthy segment.

Couples today want to look across the table and see a fair representation of themselves, Givens said.

Beyond that, women bring a different set of traits to financial advising, she said. They tend to ask different questions, relate to different experiences, and pick up on different non-verbal cues than their male counterparts.

"I think to really understand what drives decisions by couples," Givens said, "you need a team of advisers composed of both men and women."

When it comes to attracting women to the profession and senior management, seeing a role model helps. Givens said she saw her first example of a female in upper management at Northern Trust, Givens' first job out of college.

Garrett said she was drawn to wealth management by a popular female financial adviser she saw at a chamber of commerce meeting in 1983: "It made all the difference in the world to me."

It also helps when leaders make decisions that can ease the burdens on female employees, some said, including hiring women into flex positions like Givens did in the 1990s.

"I was kind of blazing a trail," Givens said. "It wasn't popular at the time, but their performance proved that it was the right thing to do."

'Sense of achievement'

Givens didn't have to do much to affect gender diversity at PNC. The two people who run the bank's east and west wealth management regions, one of whom Givens falls under, are women. Givens' northern Indiana counterpart is a woman, as are a couple of other Midwestern peers.

"But it was not by design that we wanted to have a predominance of women in the leadership role," Givens said. "They just rose to the occasion."

Beneath her, two of the three people on her leadership team are women. And of the 25 advisers she directs, 13 are female. And her decisions don't just favor women—she's granted men flex-time positions as well.

Overall, Givens' goal is to put the best people in the right positions and help them to lead rich personal lives.

"I have been successful, certainly, in my professional life," she said. "But I think if you interviewed my children and children's friends, they would tell you that 'Mama G.,' as they call me, was a great mom. And I want to help others have that same sense of achievement."•