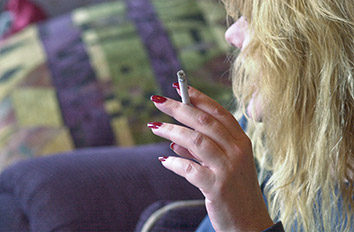 Consumers of e-cigarettes, smokers seeking employment, and Indiana gamblers could experience changes if proposed legislation is made into law.
The bill – authored by Rep. Ed Clere, R-New Albany – would add electronic cigarettes to the definition of smoking, eliminate the state's Smoker's Bill of Rights, and add Indiana casinos into the state's smoking ban.
The proposal incorporates e-cigarette regulation recommended by Indiana Attorney General Greg Zoeller. But Clere added provisions to include casinos in the smoking ban and allow employers to refuse to hire tobacco users. Zoeller declined through a spokesman to comment on the additions to the bill.
The legislation would require the Alcohol and Tobacco Commission to more tightly regulate and license "vape shops" where e-cigarettes and other vapor-based tobacco products are sold. Under the bill, electronic cigarettes would also be taxed the same as traditional tobacco products – 24 percent of the wholesale price – and included in Indiana's statewide smoking ban.
Advocates of more regulation – including Tobacco Free Indiana, American Cancer Society and others – have raised concerns about the increased use of electronic nicotine products by Indiana's youth.
Rep. Charlie Brown, D-Gary, is a co-sponsor of the bill and said there is a need for the state to get involved and take a look at the new e-cigarette products.
"They will be a gateway to cigarettes for youths," Brown said.
Brianna Herndonn, a spokesperson for the American Cancer Society, said she believes the bill will be a great start to help Indiana regulate uninvestigated products and will "ensure that we don't have another generation of Hoosier kids addicted to nicotine."
"We don't want to see anything that could renormalize smoking in Indiana," Herndonn said. "We need to establish some guidelines and regulations for these products."
And Mike Ripley, vice president for health care policy at the Indiana Chamber of Commerce, said the Smoker's Bill of Rights, which is written into state law, gives smokers special treatment in hiring.
"They're given the same status as all of those issues that federal government says you can't discriminate against," Ripley said. "We think they shouldn't have that right. That's a behavior."
But not everyone supports the proposal. Mike Smith, president of the Indiana Casino Association, said it would be "a big negative if the bill was passed" and smoking was no longer allowed at the state's gambling oeprations.
"The result of the bill would be a devastating blow to the business and state revenue," Smith said.
Indiana casinos have been losing business to newer gambling operations in Ohio, but Ohio's casinos already ban smoking.
In fiscal-year 2014, tobacco products brought in more than $447 million in taxes for the state, according to the Indiana Department of Revenue.
Please enable JavaScript to view this content.