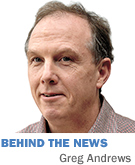 Activist investor Sardar Biglari, who's made a career out of zinging executives at underperforming public companies, is about to get a taste of his own medicine.
Groveland Capital LLC, a Minneapolis-based investment firm, has filed notice with regulators that it will seek to replace Biglari and Biglari Holdings Inc.'s other five directors with its own slate of nominees at the company's annual meeting in April.
The move comes at a vulnerable time for Sardar Biglari, who seized control of Indianapolis-based Steak n Shake in 2008 after publicly bashing management, even going so far as to rent billboards along Interstate 465.
Shares of San Antonio-based Biglari Holdings Inc. slumped 21 percent last year—in part because of a controversial offering that allowed existing shareholders to buy more stock on the cheap. Meanwhile, Biglari Holdings faces a raft of lawsuits from franchisees accusing the company of unlawfully mandating menu prices and from investors angry over governance practices.
Executives at Groveland, which owns only about 3,000 Biglari Holdings shares, aren't saying what led them to turn activist. A Groveland representative did not respond to IBJ's inquiries but told the San Antonio Express-News that because of Securities and Exchange Commission rules it would have no comment until filing a proxy statement, perhaps in February.
Investors who buy shares in Biglari Holdings—which also owns the Maxim men's magazine, an insurance company, Western Sizzlin and a big stake in Cracker Barrel—always have known they were placing a bet with a supremely confident, unconventional entrepreneur.

Biglari
Sardar Biglari, a 37-year-old Iranian-American, makes no apologies for running his company like a fiefdom. As he wrote last month in his annual letter to shareholders, "Capital allocation responsibility is managed exclusively by myself rather than through a committee. We do not employ analysts or advisors. A bureaucracy suffocates decision-making acuity and agility."
But even some investors comfortable with giving Biglari wide latitude balked after he rolled out a super-sized hedge-fund-style compensation package for himself, and when he proposed various maneuvers that expanded his control over company stock.
Several investor lawsuits take aim at a 2013 deal under which he licensed the "Biglari" name to the company for 20 years. Biglari won't receive royalties if he remains atop the company, but if it were sold, or if he were forced out for anything but malfeasance, he'd receive 2.5 percent of sales for five years—a sum that could surpass $100 million.
The licensing agreement "is nothing more than a thinly hidden way for defendant Biglari to further entrench himself. … There was no apparent business purpose in naming the company after Biglari in the first place, other than to aggrandize defendant Biglari," a 2013 lawsuit says.
Groveland said in a notice filed with the SEC that its slate will include that firm's founder and CEO, Nicholas Swenson, as well as Ryan Buckley, a director at the investment banking firm Livingstone Partners, and Jim Stryker, a 37-year restaurant industry veteran who formerly was chief financial officer of the Tennessee-based parent of the Perkins and Marie Callender's chains.
As a matter of policy, Biglari doesn't grant interviews to journalists, and he did not respond to a voice mail message left at his San Antonio office.
Plenty of franchisees may get a perverse pleasure out of watching Biglari squirm a bit, given their animosity over his unilateral 2010 ban on franchisees setting their own prices. The move coincided with the chain's push to ramp up customer counts by offering $4 meals and other bargain pricing.
Franchisees, who have filed at least four lawsuits asserting the ban is unlawful, say it has put them in a financial vise as food prices rose. A band of franchisees has tried to reach an amicable resolution, but to no avail.
"In the end, Steak n Shake made the decision to bully, rather than bargain, and made it clear that it would terminate any franchisee that refused to adopt the policy," according to the latest suit, filed this month by Mobile, Alabama-based Eastern Shore Restaurants Inc.
Biglari made no mention of the legal morass in last month's letter to shareholders, which struck an upbeat tone, albeit one that seemed slightly less cocksure than past letters.
He characterized the performance of Steak n Shake and Western Sizzlin in the latest fiscal year merely as "satisfactory" and he offered no guarantee he would succeed in reviving Maxim, which has rung up $16 million in operating losses since he bought it in February.
Biglari hopes to turn things around by improving the magazine itself and by licensing the Maxim name to a range of consumer products and services.
"We risk being quite wrong," he wrote in the letter. "Nevertheless, our duty is not to avoid discomfiture but to take action after judging we have a mathematical edge. Anyone desiring a 100% probability of success best take Clint Eastwood's advice in the film 'The Rookie,' 'If you want a guarantee, buy a toaster.'"
Money to be made?
One reason Groveland's Swenson might be swooping in is that he views Biglari Holdings as woefully undervalued.
One camp of investors, using a sum-of-its-parts analysis, wholeheartedly agrees.
Consider this: Biglari Holdings bought its 20-percent stake in Tennessee-based Cracker Barrel Old Country Store Inc. from May 2011 to December 2012 for $241 million. Along the way, Biglari Holdings has scooped up $35 million in Cracker Barrel dividends, and the value of its stake has swelled to $639 million.
Biglari Holdings overall has a market capitalization of $831 million, just $192 million more than the Cracker Barrel stake. Some investors say that modest number suggests the market is vastly underappreciating the value of Biglari Holdings' wholly owned businesses, especially Steak n Shake—which posted more than $26 million in operating earnings in the latest fiscal year.
Despite all the franchisee unrest, Biglari has concrete successes he can point to at Steak n Shake. Before he took the helm, the chain weathered 13 consecutive quarters of declining same-store sales. It now is on a run of 23 straight quarters of increasing same-store sales.
In his letter, Biglari wrote that relentless cost-cutting has allowed the chain to hold the line on prices for core menu items, even though beef costs alone were $19 million higher in the latest fiscal year than in 2009.
"Our pricing philosophy is not to maximize profit per customer but to offer products at the lowest possible prices to an ever-increasing number of customers," he wrote.•
Please enable JavaScript to view this content.