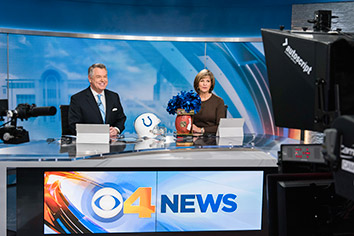 The addition of CBS at WTTV-TV Channel 4 gives Tribune Broadcasting a rare one-two punch in the central Indiana market.
WTTV and sister station WXIN-TV Channel 59, a Fox affiliate, can now deliver more sports to viewers than any other local broadcaster, by a wide margin. Those offerings could be used to raise revenue directly—especially if Tribune decides to sell ad packages across both stations—but also as a springboard to boost ratings and sell advertising across all its programs.
"What Tribune has there is pretty unique," said Tobe Berkovitz, associate dean of Boston University's College of Communications and a noted TV programming expert.
While it's not uncommon for a broadcaster to have two stations—a duopoly—in one market, Berkovitz said, it is unusual for one company to have two stations in one market with major network affiliations.
"You just don't see this much, not in either smaller or much larger markets," Berkovitz said. "It undeniably gives them some leverage with advertisers and viewers."
To no surprise, WTTV-TV Channel 4—now branded CBS4—has lost no time in touting its added live-sports programming.
Since the station took over the CBS affiliation from WISH-TV Channel 8 on Jan. 1, it has touted its sports programming on billboards and through other external advertising. And with good reason.
"Not only is sports programming very popular, it's one of the few DVR-resistant programs," Berkovitz said. "People want to see it live."
Viewers intent on watching a live game also are more apt to sit through ads, Berkovitz said, which means the two Tribune stations will have ample opportunity to promote other programs—including local news—during the games.
Good now and later
The sports-programming powerhouse has both short- and long-term benefits. Short term, Tribune's timing couldn't be better, said Bruce Bryant, president of locally based Promotus Advertising.
"They bring on CBS' NFL lineup right as the [Indianapolis] Colts and NFL are ramping up their playoffs," Bryant said.
CBS owns the contract to air the NFL's AFC games, meaning WTTV will now air most Colts games. With third-year quarterback Andrew Luck ascending to stardom, the team is a hot commodity.
The Colts' Jan. 4 playoff game against Cincinnati carried on WTTV was the highest-rated show of the day, with a 42.3 rating, according to New York-based Nielsen Media Research. That means about 455,000 central Indiana TVs were tuned in.
TV experts predict the Jan. 11 game—against the Peyton Manning-led Denver Broncos—will score a 50-plus rating in this market. That would mean 50 percent or more of all TV households would be watching WTTV.
That's good news for the station in two ways. While CBS controls most of the ad spots during national telecasts—and keeps the revenue—WTTV gets 10 to 15 spots during each NFL game. The station can either sell them or use them to promote its own programming—especially lucrative local newscasts.
The local spots quickly sold out for the first two Colts playoff games, Tribune officials said. Media buyers said those spots can fetch around $30,000 each. Or they could be sold as part of a package to induce advertisers to buy more ads during local programs.
Even if the Colts lose their divisional playoff game at Denver, it's not so bad for WTTV. WTTV carries the AFC Championship game and if ex-Colt Manning is playing, that will drive local viewership.
One game Tribune doesn't have this year is the Super Bowl. The big game will be broadcast locally on WTHR-TV Channel 13 through its NBC affiliation. CBS and Fox, however, are on a three-year rotation with NBC, meaning the local Tribune stations will air the Super Bowl two of every three years.
Paul Rennie, general manager of WTTV and WXIN, said Tribune is using more spots than it usually would during this month's NFL playoff games to promote its local shows.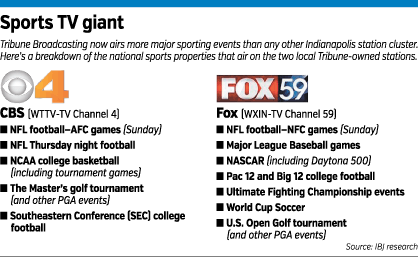 Typically, ad sales during local newscasts make up 45 percent to 65 percent of a local station's revenue, so promoting those programs is critical.
"Media buyers and ad agencies are going to be keenly interested in the February sweeps numbers," Bryant said. "So I expect [WTTV] to use these highly rated [sports] broadcasts leading up to that period to promote their local newscasts like crazy."
Year-round bounce
The national sports broadcasts through Fox and CBS give Tribune's local stations year-round opportunities to pump up their own shows.
"They can literally leap-frog from one sweeps period to another using their sports broadcasts as a springboard of promotions," Berkovitz said.
Promotus' Bryant expects WTTV to continue to promote its local programming through NCAA basketball games—especially the men's tournament in March and April leading up to the critical May sweeps.
"By May, you'll have a deeper set of data advertisers will want to see," Bryant said. "You'll get a better idea of where the ratings are going to settle and where [WTTV's] newscasts rank compared to the other local stations'."
The Masters, broadcast on CBS during the second week of April, also could be a key promotional vehicle for WTTV heading to May, Bryant said. While The Masters attracts an audience one-third to one-fourth the size of a typical NFL game, Bryant pointed out that the golf audience is "very well educated and has above-average earnings."
In the fall, heading into the November sweeps, CBS carries Thursday night NFL games in addition to Sunday games. It also has a contract to carry popular Southeastern Conference college football games.
NBC airs the NFL's Sunday night games, and ESPN broadcasts Monday night games.
"Those NFL games are a big hammer to wield in terms of driving ratings," said Rick Doyle, media director for Indianapolis-based Z Marketing Partners. "No sporting events get higher ratings on a consistent basis. For one broadcaster to have [that many] games is a big deal."
Fox's contracts also allow WXIN to carry Pac 12 and Big 12 college football games, NASCAR races including the Daytona 500, Major League Baseball games, World Cup soccer contests and the up-and-coming Ultimate Fighting Championship.
If Tribune chose to, Berkovitz said, it could offer "a stellar combined advertising package" on WTTV and WXIN.
But Rennie said for now there are no plans to sell advertising packages across the two stations.
"There are two separate sales teams for CBS4 and Fox59, and we're selling those spots on those stations independent of one another," Rennie said.
Each station has its own identity and its own audience, he said, with CBS4 being more attractive to baby boomers and Fox59 appealing more to millennials.
Bryant thinks that demographic combination is what makes a Tribune combination buy attractive. During the NFL season, Bryant said, many advertisers will seek out such a deal.
"You can grab the attention of almost all the NFL fans in the market and combine that with other programming on both stations and you get eyeballs across a wide demographic range," he said. "That would be a powerful offering."
Early success
Tribune officials' promotional strategy seems to be working early on. WTTV's 11 p.m. local newscast is already battling for the No. 2 spot. While WTTV is in close competition with WISH, WXIN and WRTV-TV Channel 6 at 11 p.m., WTHR remains the ratings leader at 11 p.m. and most other times by a fairly wide margin.
During the morning hours, when WTTV has less-known news personalities and doesn't have the benefit of CBS' lead-in programming, it is lagging further behind.
Adding local anchor Debby Knox, formerly of WISH, and veteran weathercaster Chris Wright, formerly of WISH and WTHR, has helped WTTV get off to a fast start, media buyers said.
While WTTV has many of its own anchors, it relies heavily on WXIN's field reporters and sports staff to cover the news. No additional hires are planned to bolster WTTV's reporting ranks, Rennie said.
WTTV also shares a Web page dedicated to sports coverage, Indysportscentral.com, with its sister station.
Rennie wouldn't detail WTTV's promotional plans, but said a campaign "educating and introducing" audiences to the station's new offerings would continue through much of the first quarter. After that, he said, WTTV will continue to pound home its message of "people you know, trust and respect gathering and delivering the news."
"Right out of the gate, we've been competitive not only at 11 p.m. but also at 5 [p.m.] and 6 p.m. We've proved in the first week that we've changed the landscape in local TV news," he said. "We think with continued promotion, those numbers are only going to get stronger."•
 
Please enable JavaScript to view this content.