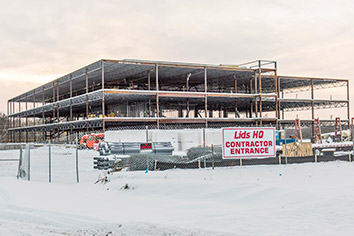 Lids Sports Group is grappling with growing pains as it strives to expand its product line beyond hats.
Sales for the Indianapolis-based division have been so disappointing that parent Genesco Inc. within the past six months has twice cut its fiscal 2015 full-year earnings, from a high of $5.55 per share to a low of $4.75 per share.
Shares in Nashville, Tennessee-based Genesco fell 13.2 percent after the latest guidance cut announcement, in December, but have recovered most of the lost ground to about $78 per share.
Lids is a big sales driver for Genesco, which snapped up the company once known as Hat World for $164 million in 2004. In fiscal 2014, Lids generated $821 million in revenue, accounting for 31 percent of Genesco's total sales.
But attempts by Lids to diversify the core hat business are falling flat. Company sales for Genesco's fiscal year starting Feb. 2 increased just 1 percent in the first quarter followed by a 2-percent dip in the second quarter.
The company is responding by slowing store growth, discounting some merchandise and investing to capitalize on fast online sales growth and the upcoming appearance by Ohio State University (Columbus, Ohio, is a key market) in the national championship football game.
The challenges come as Lids expands its operation in central Indiana with a new headquarters under construction in Zionsville.
"While we believe there are still solid growth opportunities ahead, we plan to significantly slow the growth for a period of time to allow the team to capitalize on what has been built," Genesco CEO Robert J. Dennis said in a conference call with analysts.

Dennis
"So, for the next year," he continued, "Lids will focus less on adding stores and more on driving sales and realizing the opportunities that all the omni-channel initiatives, technology upgrades and strategic acquisitions provide."
The company declined an interview request from IBJ.
Rough quarter
For the third quarter ended Nov. 1, Lids reported another 1-percent increase in sales. However, the figure was down from a 5-percent gain for the same period in 2013. At the same time, it registered lower-than-expected gross margins due to heavier discounting.
"We had entered the quarter with expectations of year-over-year operating income growth," Dennis said in the conference call, "but instead, came in well below last year."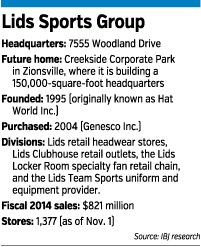 The culprits: Lids Locker Room and Clubhouse divisions.
Lids Locker Room stores sell a broader array of merchandise than just hats, and its Clubhouse locations serve as single-team fan shops. In addition, its Team Sports unit aspires to dominate the highly fragmented business of providing uniforms and other equipment to youth organizations, high schools and universities.
Lids is betting particularly big on its Locker Room outlets by placing stand-alone departments within 200 Macy's stores nationwide. The deal closely follows Macy's arrangement to make Indianapolis-based The Finish Line Inc. its exclusive provider of athletic footwear.
The development of the new stores is presenting challenges for Lids. Locker Room and Clubhouse have struggled to have merchandise available during appropriate sports seasons because older inventory is not selling quickly enough, Genesco executives said in the conference call.
On top of that, third-quarter sales for the Team Sports unit were lower than expected.
Lids' core hat business has not been immune to the problems, either. It's confronting competition from a host of new players stocking "snapback" hats, those with a plastic size-adjustment strip in the back. They're back in style, wiping out the need for non-hat-focused stores to stock more than one size.
But the trend appears to have run its course, and Dennis told analysts during the December conference call that the core Lids hat business is positioned for modest sales and profit growth.
Crowded market
The sports-apparel market is highly competitive, said Richard Feinberg, a Purdue University professor of consumer sciences and retailing.
"There's an over-saturation of stores like that where you can buy the same type of merchandise," he said. "There's nothing compelling about it."
The challenges confronting Lids come as the company moves its headquarters from Indianapolis to Zionsville as part of a $22 million expansion expected to create 758 jobs by 2025.
Construction on the 150,000-square-foot office at Creekside Corporate Park is under way. Lids also will lease more than 600,000 square feet of additional warehouse space in Indianapolis. The company now operates out of 225,000 square feet of leased space in Park 100 on the northwest side, and another 285,000 square feet of leased space on West 76th Street.
Despite the pains, analysts note some good things. Sales are soaring in Lids Sports Group's online business and should continue to grow, thanks to a new system that gives Lids the ability to access merchandise from 170 Lids and Locker Room stores, in addition to warehouse inventory.
The New York-based Jefferies investment firm thinks the problems facing Lids are fixable.
"We believe the core hat business has stabilized insofar as inventory and margins," Jefferies said in a report. "While trends aren't stellar, we don't expect the biz to worsen from here."
Lids expects a lift, albeit temporary, from the Ohio State football team's appearance in the inaugural national championship game Jan. 12 at AT&T Stadium in Arlington, Texas. The Buckeyes face off against the University of Oregon Ducks.
The chain operates five Buckeye Clubhouse stores and one Lids Locker Room in the Columbus, Ohio, area.
Birmingham, Alabama-based investment firm Sterne Agee thinks Lids could receive a bigger boost in sales from an Ohio State victory than when the St. Louis Cardinals baseball team won the World Series in 2011. Then, Lids operated 16 locations in the St. Louis area, including seven Cardinal Clubhouse stores and two Lids Locker Room outlets.
"We believe the effect [on sales] will be greater than 1 percent in 4Q15 as the fan base for Ohio State is larger, and more starved for a win, than that of the Cardinals," Sterne Agee wrote in a report.
Besides Lids, Genesco operates the youth-oriented Journeys, and footwear retailers Schuh and Johnston & Murphy.•
Please enable JavaScript to view this content.