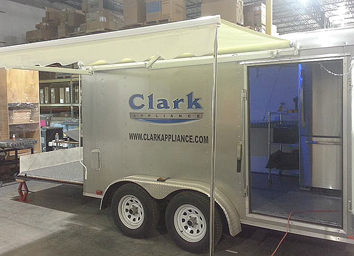 High-end retailer Clark Appliance is in the process of liquidating its inventory after closing its lone remaining store at 5415 E. 82nd St. in Castleton.
Parent company Clarks Sales & Services Inc. ceased operations Dec. 16, terminated every employee except one, and now is set to liquidate its assets, according to court documents. A date for a liquidation sale has not been set.
The liquidation follows the company's failed attempt to reorganize under the protection of bankruptcy.
Clark Appliance owes nearly $5 million to its two largest secured creditors–$2.7 million to First Business Capital Corp. and $2.2 million to General Electric Co.
Clark Appliance began experiencing financial troubles in 2008 during the recession but recently suffered more setbacks, including a flood of its south-side store that wiped out its inventory; and First Business Capital Corp.'s decision to terminate the loan.
"This Chapter 11 filing was precipitated by disagreements and alleged defaults with its primary lender, First Business Capital Corporation," lawyers for Clark wrote in the October reorganization filing. "Despite efforts to informally resolve matters at dispute, FBCC elected to initiate litigation against Clark."
Courtney Chilcote of Indianapolis-based Tucker Hester Baker & Krebs LLC, one of the lawyers representing Clark Appliance, declined to comment on the liquidation, saying she didn't have authority from her client to speak about the matter.
The century-old company started as a small appliance sales and repair shop in downtown Indianapolis. In the 1980s, the fourth-generation family business expanded into the homebuilding distribution market and had three locations prior to the bankruptcy filing.
The Castleton and south-side stores, in addition to the Mount Comfort warehouse, employed a total of 61 workers among them, according to court documents.
Owner Bob Clark, who bought out his parents' stake in 1986, had hoped to keep the company operating.
"After all this, many people might expect us to just fold up shop and walk away," he said in an October letter to customers. "But I'm here to tell you now; we have no intention of doing that."
 
Please enable JavaScript to view this content.