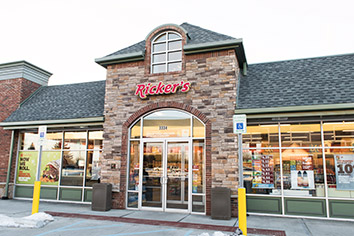 Forget gas station pizza or hot dogs off the roller grill.
Ricker's new convenience store at 146th Street and Carey Road in Westfield offers made-to-order burritos and self-serve frozen yogurt to motorists looking to fill up more than their fuel tanks.

It's the second Ricker's location to rev up its product mix, but it won't be the last. The growing Anderson-based company plans to use the Westfield site as a model for its next generation of stores.
Founded in 1979, family-owned Ricker Oil Co. owns and operates 50 convenience stores—most in central Indiana. And it has four more on the drawing board: two in Hamilton County and two off Interstate 65 near Edinburgh and Columbus.

Ricker
"We are always looking for new locations," company founder and Chairman Jay Ricker said, citing the appeal of areas with growing populations and heavy traffic.
With land acquisition, Ricker's spends about $3.5 million on each new store, he said.
In the past three months, the company has opened two along 146th Street in booming Hamilton County: the Westfield location, part of the city's high-end Bridgewater development; and another a couple of miles east at River Road in Carmel.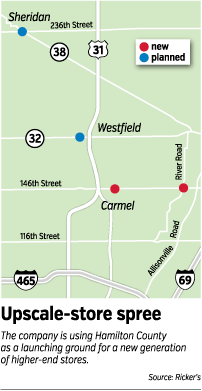 It's also planning a store at the junction of State Road 38 and State Road 47 in Sheridan—which is drawing traffic from visitors headed to Westfield's Grand Park Sports Campus—and another south of the park at State Road 32 and Wheeler Road in Westfield.
When construction is complete, the company will have nine locations in Hamilton County, Ricker said.
"There are lots of things going on," he said, "but it's difficult to find good spots there."
Indeed, Ricker's had hoped to build at 146th Street and Gray Road in Carmel, but the company shelved those plans in early 2013 amid protests from neighbors. The Bridgewater Center parcel already had proper zoning for a fueling station.
That was among the uses allowed when the entire development went through the approval process in 2006, but the city worked with neighbors and the developer to set a high bar for the architecture, landscaping and other details.
"We want to bring high-quality development to Westfield," said senior city planner Kevin Todd, explaining that the zoning ordinance included a myriad of details—including an artist's rendering of what the future building might look like. "Ricker's got pretty close."
Todd said the company was amenable to the city's zoning restrictions, which bodes well for the as-yet-unfiled State Road 32 project. That area also has special development rules, he said.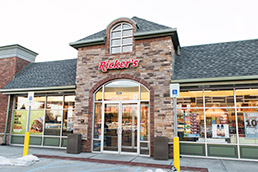 Ricker's is opening four convenience stores in Hamilton County that serve up made-to-order burritos, frozen yogurt and brewed-by-the-cup coffee. (IBJ photo/Eric Learned)
"We may not end up with the exact same building," he said, "but it could be very similar."
Ricker said one unusual design feature at the 146th/Carey location likely will carry over to other new construction: a chandelier hangs above the store entrance, visible to passersby through an arched window over the door.
"It's a trademark thing," he said, citing the company's desire to create a welcoming atmosphere.
That's also the rationale for the burritos, frozen yogurt and premium brewed-by-the-cup coffee Ricker's plans to roll out to all its stores. The company is doing all it can to stand out in the highly competitive industry, he said.
Convenience store operators nationwide started upping their game more than a decade ago when retailers began selling gas as a loss leader to attract shoppers, said Scot Imus, executive director of the Indiana Petroleum Marketers & Convenience Store Association.
And with gas margins in Indiana already well below the national average, he said—13 cents per gallon in 2013, compared with 20 cents per gallon—they don't have much wiggle room at the pump.
"Competition forces them to sell their No. 1 product at a price outside their comfort level. If they didn't, they'd be left with an empty store," he said. "They have to rely on strong inside sales to survive."
So modern gas stations are better lit and cleaner (Ricker touted the Westfield location's "touchless" rest rooms, for example), and they offer a diverse selection of products in hopes of getting motorists inside.
"Everyone wants the best coffee, the cleanest rest room," Imus said. "They all want to produce a very enjoyable experience when they do go in, and they hope customers get into the habit of visiting."•
Please enable JavaScript to view this content.