Taki and Jeanette Sawi's Santorini Greek Kitchen has been a staple of the Fountain Square neighborhood for nearly 15 years.

Now the local restaurateurs are branching out to open a large banquet facility in a nearly century-old warehouse on the southwestern edge of downtown just across the White River and not far from Lucas Oil Stadium.

The Sawis bought the vacant, three-story building in November and plan to invest about $2.5 million in the project.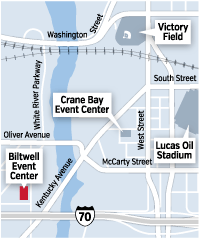 The couple already has begun working to strip layers of paint from the brick exterior and return the 102,000-square-foot structure to its past glory. They've also installed a new roof and several wood pillars on the top level as they strive to get the facility open this summer.

"It's a very, very unique building," Taki Sawi, 49, said. "It's got a lot of windows, it's very convenient to get to, and it's got a great view of downtown."

The 1922 structure at 950 S. White River Parkway, just north of Interstate 70, originally was used as a manufacturing facility for Biltwell windows and doors. It's been vacant about eight years and was last occupied by Tipton Restaurant Equipment Co.

The Sawis are calling their facility the Biltwell Event Center.

The first floor, built into a bluff, sits below ground level in the front but is accessible from a rear parking lot. It will serve as a kitchen helmed by a full-time chef once the center finds its legs. Until then, wedding parties will have the option of ordering from preferred caterers.

A bar area will occupy much of the main level, with a banquet hall seating 400 to 500 guests on the top floor. Space also will be available on the two upper levels for corporate meetings.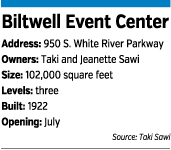 Ultimately, the Sawis want to construct a 400-seat patio on the upper level at the north end of the building, atop the roof of the first floor, where a portion of it extends out from the rest of the structure.

The building sits in an area on the fringe of downtown that has been slow to attract redevelopment dollars.

Across the street to the east sits Riley Park on the banks of the White River, bounded by the Key Learning Community school and a fire station. To the west are a series of diagonal-running streets lined by working-class homes.

But the Sawis are encouraged by major developments in the works one block to the north.

The city is seeking to build a criminal justice center on the former General Motors stamping plant site, and private developer REI Investments Inc. is proposing an outdoor concert venue.

The official announcements of the justice center in April and concert venue in August came as a nice surprise to the Sawis, who had been eyeing the building. They're hoping the developments will give the neighborhood a boost.

The area also is home to The Crane Bay Event Center. Even so, at least one local meeting planner thinks the facility will find a market, despite its proximity to Crane Bay.

Former Indianapolis Colt Gary Padjen opened the 18,000-square-foot facility at 551 W. Merrill St. as the city prepared to host the Super Bowl in 2012.

Padjen's center is performing well, said Debbie Locklear, president of the local Meeting Services Unlimited Inc.

"They'll have some competition," she said of the Sawis. "But there's a period in the time of year where everybody's looking for a wedding facility. Everybody is still spending money in that market, and always has been."

The Sawis opened the original version of Santorini Greek Kitchen in 2001 at 1112 Shelby St., after Taki met his future wife in 1996 while she was traveling through Greece.

A native of Egypt, he left the country following the death of his parents to help support his extended family in Jordan and developed a love for restaurants, working his way up from dishwasher to chef.

They moved to their current, larger space at 1417 Prospect St. two years later, in 2003.

In October 2010, their hard work would go up in flames, as fire destroyed the restaurant, causing nearly $1 million in damage. The blaze started in the building's electrical wiring and was discovered by a neighbor who lived behind the building.

Meanwhile, the couple envisioned operating an event center next door to complement their restaurant.

Taki even bought four properties directly east of the restaurant to pave the way for a 1,000-seat banquet facility. But a lack of parking quashed the plans. Building an underground parking garage proved too costly, so they began searching for existing buildings.

Their banker at PNC Bank's Fountain Square branch suggested the building on South White River Parkway, put on the market by a Florida investor.

Parking at the location should be no problem. There's enough room on the three-acre lot for more than 300 cars.

The architect on the project is Schmidt Associates.•