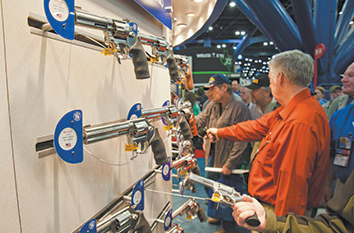 The National Rifle Association's annual convention is returning to Indianapolis—twice.
Visit Indy signed a deal in December to bring the NRA's massive annual show back to the Indiana Convention Center in 2019 and 2023, city tourism officials confirmed.
Indianapolis hosted the NRA event for the first time last April, and the convention drew 75,267 attendees, the second highest in the convention's history, following a record of 86,228 in Houston in 2013.
"We had one of our best meetings ever last year in Indianapolis," NRA spokesman Andrew Arulanandam said. "I can't say enough about the convention center and Visit Indy staff. They have a world-class operation there, and our members had an absolutely great time. This was an easy decision for us."
Visit Indy officials are confident the future NRA conventions will be even larger than 2014's. The events are scheduled for April 26-28, 2019, and April 14-16, 2023.
"We think the fact that they booked for both 2019 and 2023 says a lot about the city and the convention and hospitality package we have to offer," Visit Indy CEO Leonard Hoops said.
It's unusual for the NRA to bring its convention back to the same city so often. NRA officials said it's the first time in four decades that they've booked their event three times in the same city within 10 years.
It's even rarer for the NRA to award two conventions to one city at one time. "We haven't done that in recent history, and maybe not ever," Arulanandam said.
The city's effort to land its first NRA convention took considerably longer than it took to reach the latest deal.
Visit Indy first began calling the NRA about the convention as early as 2003. Those talks heated up in 2006 when plans to expand the Indiana Convention Center and construct the 1,005-room JW Marriott Indianapolis hotel were being rolled out.
It took five more years to get the deal hammered out. Personal lobbying from former Gov. Mitch Daniels a few years later helped seal the deal.
The NRA event is one of a handful of shows that will use the entire convention center since a $275 million expansion was completed in early 2011. That space includes 11 exhibit halls and 71 meeting rooms totaling more than 650,000 square feet.
The convention draws more people and rings up more visitor spending than the Big Ten Conference's men's basketball tournament and football championship game combined.
The 2014 event drew 5,000-plus more attendees than anticipated by the NRA and Visit Indy and had a regional economic impact of more than $55 million, officials said.
The economic impact was more than $6 million greater than the city's second-biggest regular convention—GenCon—and more than double any other convention outside the city's top three in 2014, according to Visit Indy. The NRA convention drew almost 20,000 more attendees than GenCon did last year.
The 19,482 hotel room nights had local hoteliers smiling. And news of return shows does as well.
"The NRA show was a very solid piece of business not only in terms of hotel room nights, but food and beverage revenue as well," said Jim Dora Jr., CEO of General Hotels Corp., which owns 11 Indiana hotels including Crowne Plazas downtown and at the airport. "Having this event back so soon is absolutely fantastic, not just for hotels, but the entire hospitality industry."
NRA officials were eager to return to Indianapolis due to its compact downtown, hotels connected to the convention center and the city's central location, Visit Indy officials said.
"They immediately wanted to talk about future years after concluding their 2014 show," Hoops said. "They really liked our convention package, the type of host this city was—its overall hospitality—and they were very pleased with attendance from last year. All those things convinced [NRA officials] it was a good idea to come back."
Citing competitive reasons, Visit Indy officials said they wouldn't disclose specifics of the deal they reached with the NRA to bring the convention back. But conventions with bigger economic impacts are likely to get deals with more favorable financial terms, Hoops said.
NRA events are frequently targeted by anti-gun protesters and often draw criticism from residents concerned about the mass of gun-carrying NRA members. Hoops, however, said there were few if any problems with attendees or protesters at last year's show.
"We had very positive feedback from our hotel and restaurant operators and other service providers about the [NRA] event," Hoops said.
Dora agreed guests were well-behaved.
"It was a very smooth convention," he said. "It's just the type of return business we hope comes back often."
NRA spokesman Arulanandam said the organization's annual convention has been held "for many, many years without incident."
State law allows people to carry a firearm as long as it's licensed in Indiana or another state. Indiana law also stipulates that firearms can be carried in the convention center and Lucas Oil Stadium unless the renter or user of that space stipulates guns not be allowed at the event.
Thousands of guns are on display at the annual show—the NRA requires their firing pins be removed for safety purposes—but no guns are bought on the spot, "primarily for logistical reasons," Arulanandam said. It would be difficult to transport and store the number of guns needed to meet demand.
Instead, he said, orders are taken at the show, and equipment is shipped to buyers. That method also gives gun dealers a chance to perform mandated background checks.
Despite whatever controversy the NRA might generate, there is no shortage of cities clamoring for the convention.
"This is the type of show that almost any city with the capabilities to host it would clamor for," said Jonathan Day, a professor of hospitality at Purdue University. "Intense competition [for this event] is an understatement."
The 2014 convention drew 700 exhibitors displaying a variety of firearms, as well as hunting, camping and other outdoor gear and equipment. The show also featured big-name speakers and other entertainment. Last year's event featured former Republican vice presidential candidate Sarah Palin and music acts Alabama and Sara Evans.
Arulanandam said "attendees run the gamut from blue collar to white collar."
In 2013, 81 percent of the show's attendees were men, 58 percent were hunters, and 71 percent said they spend more than $500 a year on shooting and hunting equipment, according to the NRA.
Arulanandam said NRA show attendees come from "around the world and the four corners of the U.S." A study conducted at the 2013 event showed that 43 percent of attendees traveled more than 200 miles, he said. The majority will spend at least two nights in a hotel, Arulanandam added.
Please enable JavaScript to view this content.