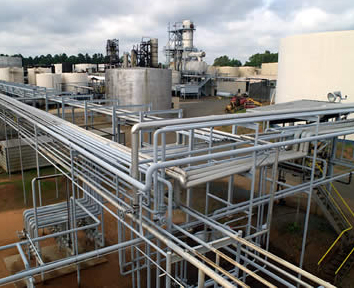 Many energy stocks have tumbled, driven down by investor anxiety over falling crude oil prices. The pain has extended to shares of Indianapolis-based Calumet Specialty Products Partners—which, even with a recent recovery, are down 26 percent since July.
Calumet operates refineries across the country that churn out vehicle and jet fuel, along with solvents, waxes and other specialty petroleum products. As its shares have fallen, the dividend yield (the annual return investors would earn from quarterly payouts if they bought at the current price) has zoomed higher and now stands at an eye-popping 11.7 percent—155th-highest among the more than 3,000 issues trading on NASDAQ.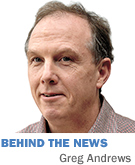 That's mighty alluring—if company management can earn enough in the coming quarters to cover those dividends. The alternative, a dividend cut, would send investors to the exits, further deflating the stock price.
Whether the depressed stock price (shares fetch around $24.50), combined with the rich quarterly dividend (68.5 cents per share), create a buying opportunity is the subject of intense debate among investors these days.
Calumet eased nerves in the third quarter, when its better-than-expected results yielded a dividend-coverage ratio of 1.4.
In an early November conference call with analysts, Executive Vice President Jennifer Straumins said the results "proved our standing thesis that Calumet's core existing businesses are more than capable of generating sufficient" cash to maintain the current dividend.
She said quarters when the coverage ratio fell below one—meaning the company had to dip into other funds to cover dividends—have been a rarity. The outlook is even brighter, Straumins said, if you factor in the earnings power of a spate of expansion projects—including a $350 million refinery it is building with a partner in North Dakota—that are slated to come online in the next 15 months.
Straumins noted that Calumet has "a minority of detractors whose principal criticism of Calumet has been its sub-one-times distribution coverage registered in a handful of quarters during the past few years."
She added: "Our response … has been to highlight that in seasons of planned refinery maintenance—during which our facilities do not operate at an optimum rate—we expect coverage to be impacted. … Temporary bouts of sub-one-times coverage are not a symptom of structural weaknesses in our market."
When Straumins made those remarks, the worst of the oil price plunge was yet to come. Calumet officials were not available for an interview on how the decline since has affected the company's outlook. However, in an email, company spokeswoman Noel Ryan said: "Suffice it to say, Calumet remains well positioned for continued growth in the current commodity price environment."
Oil prices began falling over the summer after markets recognized demand was waning, even as shale producers in the United States were increasing output. Then, in late November, OPEC voted to maintain current production levels, despite the apparent glut.
The upshot: Over the last six months, West Texas Intermediate, a popular market benchmark, has fallen from $109 a barrel to $48—a decline of 58 percent.
Such a shift in the price of raw materials—and the domino effect it has throughout the production and selling process—would be a jolt for any executive team to navigate. That must be so for Calumet, as well, despite the array of hedging techniques top brass employ to manage volatility in crude oil prices.
Yet analysts say refiners like Calumet are in a far stronger position than companies focused on oil exploration, which have canceled scores of projects in the face of plunging prices.
In fact, falling prices in some ways are easier to manage than increasing prices, since cheaper oil stokes demand, and the prices for the specialty lubricants, solvents and waxes Calumet sells are unlikely to fall as quickly as oil has. Calumet's specialty products—sold under such brands as Royal Purple and Bel-Ray—accounted for just 33 percent of the company's $5.4 billion in sales last year but generated 80 percent of profit.
"Refiners remain favorably positioned to weather the oil price storm, though wind has been taken out of the sails near term," Raymond James analyst Cory Garcia said in a report.
Calumet has won over doubters in the past. In 2008, the company did cut its dividend amid the global financial crisis. But over the next six years, management increased the payout 52 percent.•
Please enable JavaScript to view this content.