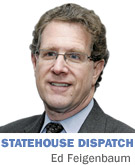 Lawmakers—particularly freshmen—are drinking their legislative water through a water hose running at full blast right now, and the steady flow won't contract to a trickle until conference committee time.
Many of the new House and Senate members ran on limited, simplistic campaign platforms, and—because few had seriously contested general election campaigns—they had little opportunity to educate themselves or engage voters on more than a handful of big-picture matters: taxes and government funding and spending, economic development, education, and road-building and repair, to name some top-line items.
But when the bill-filing deadline hit on Jan. 13, the newbies discovered that a four-figure number of bills had been submitted. More than 1,000 bills were released for review by the end of the following week.
Legislation was drafted on the issues that were common to most campaigns, but we doubt anyone campaigned for "equine therapy," studies of "ethnic history," Department of Natural Resources "sale of nursery stock and wildflower seeds," or the need for a state "Office of Marriage Promotion."
But these are among the issues the 50 senators and 100 House members will be asked to cull through, learn about, prioritize, and decide what is appropriate to add to the laws of the state in what form.
And while the new members might have spoken in general campaign terms about some big-picture items, they certainly didn't find an opportunity to delve into the policy nuances of each.
In the education realm, for example, some ran on opposition to Common Core standards, but didn't talk much about funding mechanisms; some talked about the need to increase education funding, but didn't take a deep dive into the school funding formula; some decried the impact of the funding formula on their local school districts, but didn't discuss school vouchers; others pointed to how vouchers were affecting their public schools, but didn't talk about improved standards; some pushed for higher standards, but didn't mention costs of testing (we've now seen a hearing on a new civics test) and teacher quality; and some pushed for aiding teachers through bonuses, tax help or increased pay, but didn't specify from where such assistance would emanate.
And all those issues don't even touch on the big state education governance issue likely to generate a political firestorm in coming weeks.
The new legislators are quickly learning that each issue has many layers, and that even if Newton's theory of physics about equal and opposite reactions doesn't apply to each prospective new law, patching one place on the statutory equivalent of a bicycle tire frequently increases pressure elsewhere on that tire (education funding and charter schools are a case in point).
They also will soon come to find out that legislating often becomes a zero-sum game, with unanticipated winners and losers, and that they can't always base their votes on perfect information. (For example, can Sunday sales of alcohol be expected to increase tax revenue for the state?)
And those eager lawmakers who thought they would commit to read every bill? Good luck.
Even the most intrepid will find it difficult to cruise through merely the summary information on each measure. For any who would dare to parse all legislation on a line-by-line basis, the language will prove daunting, the information often useless in isolation (references to other Code sections abound), and the impact (and sometimes intent) difficult to discern.
Legislative leaders will help limit the pain by assigning bills to appropriate committees as an initial filter, making it clear, for example, that some will not be worth members' wasting time reviewing because they will not even be heard in committee. Committee chairs will further funnel the flow by limiting what bills will be the subject of hearings—but just when the new solons start to get comfortable and focus on bills in their respective committees, there will be floor amendments to tackle.
Work now begins in earnest, as House budget hearings proceed even as panels in both chambers begin sifting through assorted proposals.
As the end of January approaches, so will the level of activity in committee and on the floor on high-profile measures.•
__________
Feigenbaum publishes Indiana Legislative Insight. He can be reached at [email protected]
Please enable JavaScript to view this content.