New tenants, including Granite City Food and Brewery and Firehouse Subs, helped boost Circle Centre mall's occupancy to nearly 90 percent in 2013, but sales per square foot and revenue slipped.
Non-anchor retail occupancy for the downtown Indianapolis mall increased to 89.6 percent from 88.3 percent in 2012, mall manager Simon Property Group Inc. said in an annual operating report to the city.
Meanwhile, sales per square foot slid from $354 in 2012 to $326 last year. Simon attributed the decrease to an inability to match the vast amount of foot traffic from the thousands of visitors who converged on downtown for the 2012 Super Bowl.
The mall lags behind Simon's portfolio average: Simon's 222 U.S. shopping malls and outlet centers averaged 96-percent occupancy and $582 in sales per square foot in 2013.
Retail experts say it's unfair to compare the performance of urban malls with the typical shopping center. Unlike suburban malls, Circle Centre relies heavily on visitors and conventioneers to drive sales.
Circle Centre reported earnings of $7.8 million on revenue of $21.1 million in 2013, an earnings decrease of $471,719 that Simon blamed on "an increase in property operating expenses and real estate taxes."
The mall accounted for $7.2 million in sales taxes paid to the state, $3.2 million in real estate taxes, and $834,060 in food and drink taxes paid to the Capital Improvement Board.
Simon owns Circle Centre's parking garages and the land under the mall. While the city paid more than half the cost of building the mall, most of the mall itself is owned by a partnership of 20 mostly local companies, including Simon, which collects fees for management and leasing.
Simon spokesman Les Morris declined to comment on the Circle Centre report.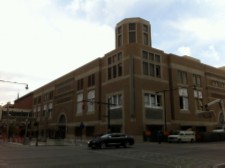 The mall opened in 1995 and is undergoing a significant renovation in part of the space formerly occupied by Nordstrom, one of two mall anchors along with Carson Pirie Scott. Nordstrom vacated its 210,000-square-foot space in July 2011, after the chain added a second Indianapolis location in 2008, at The Fashion Mall at Keystone.
Construction crews at the south end of the mall at Meridian and Georgia streets are readying part of the former Nordstrom space for the Indianapolis Star.
Simon has leased about 100,000 square feet to the newspaper, which plans to move from its longtime headquarters at 307 N. Pennsylvania St. to the mall in July.
Bobby's Burger Palace, a restaurant chain developed by celebrity chef Bobby Flay, along with beer-focused Yard House and Bonefish Grill, have talked with Simon about taking the first floor of the former Nordstrom space, IBJ reported in January. Yard House is close to finalizing a lease deal, brokers said.
"We are continuing to be diligent in our leasing efforts to fill the remaining [Nordstrom] space with unique-to-the-area restaurants and small-shop retail," Simon wrote in its Circle Centre report.
The mall last year renewed leases with The Limited, Children's Place, Andrews Jewelers, Subway, Chick Fil A, Things Remembered, Talbots and Nick's Café.
Simon has signed Charley's Grilled Subs and Lite on the Mayo to take two of the three vacancies in the food court. Lite on the Mayo opened late last month.
 
Please enable JavaScript to view this content.