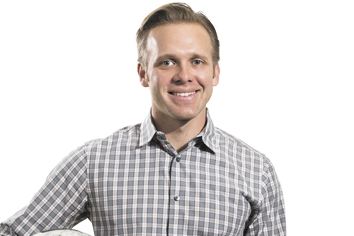 co-owner, CFH Racing
Starting his engines: Spending time during his first eight years on his grandfather's farm, Ed Carpenter knew something about four-wheeling. When, after moving to Indy, his stepfather, Tony George—a member of the family that owns the Indianapolis Motor Speedway and the IndyCar series—gave him a chance to race quarter midgets, not only did he love it, but he won his first eight races. "Having early success furthered my enjoyment of it," Carpenter said.
Driven to education: Carpenter zoomed throughout high school and was tempted to pass on college to race full time. "Fortunately, my parents were much wiser than I and heavily encouraged me to continue my education." He opted for Butler University primarily because it was parked 15 minutes from his race shop. In hindsight, though, the business education helped considerably. "I don't think I would have ended up where I am without that experience," he said. "Working toward my degree and racing full time really prepared me for being in an owner/driver situation."
AGE 33
Hometown:
Marshall, Illinois, but has lived in Indy since age 8
Family: wife, Heather; children Makenna, 7; Ryder, 5; Cruz, 2
Team playing: When his family-owned team closed after losing sponsorships, he wasn't sure if his driving career could continue. "Racing is a hard and volatile business," he observed. A one-race deal with Fuzzy's Vodka led to three more and Carpenter joining Sarah Fisher's team. With his first IndyCar series win, the idea arose of another team with George. "I didn't know if I wanted to go through the stress and effort," he said, "but as we thought and prayed about it, it seemed a good opportunity and a way to be involved in the sport I love beyond driving." After three years, Ed Carpenter Racing merged with Fisher's team to form CFH Racing (standing for Carpenter, Fisher and Wink Hartman).
In the family: "I'm fortunate and blessed to have parents to learn from," he said. '"Watching Tony probably did more to teach me how to be a leader in business than anything else." One of the things it taught him was to involve family—Carpenter's wife and kids travel with him whenever possible. "Being able to do this as a family and giving them a whole lot of life experience is something really cool. It's something I was fortunate enough to get as a kid and sharing it with my family makes it even more fun."•
 
Please enable JavaScript to view this content.