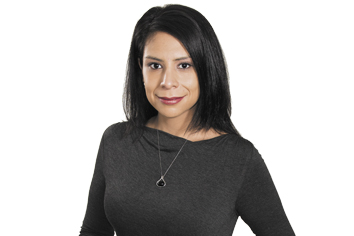 inspector general, state of Indiana
Language intensive: Growing up bilingual in a home where her mother spoke only Spanish, "the idea of advocating came natural for me," said Cynthia Carrasco, Indiana's new inspector general, a post that serves as a watchdog for fraud in state government. "As I grew older, law was a natural path for me to take." Her father—an electrician who died when she was 21—was an ongoing mentor. "He didn't necessarily guide me into law, but into following whatever my passion was. He always reminded me that I needed to shoot for the moon and dream big."
New ground: The first in her family to graduate from college, Carrasco credits a pair of University of Texas professors who developed a program to help students prepare for the LSATs even though her hometown, El Paso, didn't have a law school. "Every single person accepted into the program got into at least one law school." She chose the Indiana University Robert H. McKinney School of Law in part because she was "ready for a change. I was very far from family and it forced me to become my own person."
AGE 34
Hometown:
El Paso, Texas
Family: husband, Robert; daughter, Sarah, 2
Fast rise: In Indianapolis, she found "there was a need for Hispanic women lawyers, more so than in El Paso." She opted to stay and quickly found a job as staff attorney for the Office of the Inspector General, soon rising to executive director. "A lot happened right after law school," she said. As executive director, she staffed the state's ethics commission and served as its legal counsel. "I was really fortunate to come into the office when I did," she said. "Being a part of shaping the office has been the best professional experience I could have gotten."
Giving back: "Indiana has been amazing to me," she said. "I work every single day to make sure my work is meaningful and to give back to it what it's given me." Active in the IU Latino Alumni Association, Carrasco also works with the Patient-Family Advisory Council for Indiana University Health, having lost an infant daughter to the heart condition hypertrophic cardiomyopathy.
Cake boss: An avid runner, Carrasco also enjoys baking, calling her tres leches cake her "signature cupcake," adding, "The office goes crazy when I make them. But they are labor-intensive, so that's few and far between."•
Please enable JavaScript to view this content.