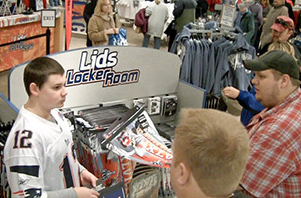 The Indianapolis Colts this month signed a deal making Indianapolis-based Lids Sports Group its local retailer, handling sales of team and NFL merchandise at the team's online and brick-and-mortar stores.
 
Lids replaces Indianapolis-based MainGate Inc., which has been with the team since it moved into Lucas Oil Stadium seven seasons ago.
Team officials declined to reveal financial terms of the deal with Lids, but the Colts, fueled by up-and-coming quarterback Andrew Luck, are expected to be among the league's leaders in merchandise sales for the next few years. This season, the team lost in the AFC Championship game, one step short of the Super Bowl.
The team's deal with MainGate expires at the end of this month, and as a result, the Colts' store in Circle Centre mall closed recently.
Colts Chief Operating Officer Pete Ward explained that the mall shop closed because MainGate held the lease. The team's store at Lucas Oil Stadium remains open, and Lids and Colts officials are in discussions about opening one or more new stores in central Indiana.
"We're working through all that," Ward said. "We'll have a new store open some time this off-season, definitely before next season begins."
He added that he wasn't sure if a store at Circle Centre was in the plans.
Although Ward declined to discuss why the Colts changed vendors, he said leaving MainGate was not an easy decision.
"MainGate did a great job for us. They're a great group of people," Ward said. "We just did what we felt was best for the franchise. It was a tough decision."
MainGate, founded in 1963 and bought by Dave Moroknek just over a decade ago, has made a name for itself in NFL circles. In the last decade, the company has done merchandising for a growing list of teams including the St. Louis Rams, Detroit Lions and Minnesota Vikings.
MainGate is the only company that has handled merchandise sales at every Super Bowl since 2011.
"The new technology, the new merchandising techniques and the new sales and data reporting" demonstrated by MainGate during recent Super Bowls left a positive impression on NFL officials, Leo Kane, the league's vice president of consumer products, told IBJ last year. Kane added that MainGate's "customer service philosophy aligned perfectly with the NFL's."
At this year's Super Bowl, MainGate has been commissioned by the NFL to sell merchandise at more than a dozen Phoenix-area hotels.
Moroknek and representatives of Lids could not immediately be reached for comment Thursday morning.
Ward declined to specify what attracted the Colts to Lids, which runs more than 1,000 retail stores nationwide.
But Lids, too, has made a name for itself in NFL circles, having run a 23,000-square-foot Super Bowl-centric store in part of the vacated Nordstrom's space at Circle Centre during the 2012 Super Bowl in Indianapolis. It also landed a contract to sell merchandise during the 2013 Super Bowl in New Orleans.
While this is Lids' first deal that includes managing merchandise operations at an NFL stadium, the company has contracts with the NFL's New York Jets and Ohio State University, which just won the college football national championship.
"Lids has a great reputation and great people," Ward said. "Like MainGate, Lids is local, and we're used to dealing with them. There are a lot of factors that go into a decision like this, but we really liked Lids' experience and they really impressed us with their proposal."
 
Please enable JavaScript to view this content.