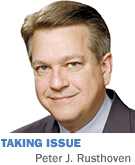 It's hard to root for a Pete Carroll team to win a Super Bowl. For me, that's like cheering for a John Calipari team to win March Madness. Yet I'll be pulling hard for Carroll's Seahawks on Feb. 1, and suspect most of Indy will do the same.
I do have one positive reason. One of my law school friends was Ben Wilson, who made his way from Jackson, Mississippi, to Harvard Law. Ben, who's first class in every way, is now managing partner of Beveridge & Diamond, a highly respected national law firm.
What's this got to do with football? Well, one of my own partners, who also knows Ben, told me after last year's Seattle Super Bowl win that Seahawks quarterback Russell Wilson was Ben's nephew. No wonder Russell Wilson's maturity, class and poise had reminded me of my friend Ben. Hard not to cheer for such a great family.
But like most Colts fans, I'm not so much hoping for Seattle to win as for New England to lose, preferably in a humiliating thumping. And no, that's not because "humiliating thumping" describes the Colt loss to the Patriots two weeks back.
It's because the Patriots under Coach Bill Belichick epitomize the "win at any cost" mind-set that's despicable whether context is business or politics or sports.
We all remember Patriot Willie McGinest faking a knee injury to get the Pats an "extra" timeout in the closing minute of a key 2003 game against the Colts. A few plays later, miraculously healed McGinest stopped the Colts a yard from the end zone on fourth down—then ran in celebration as if auditioning for "Chariots of Fire".
I particularly remember my two younger sons, then 14 and 10, stunned that anyone could get away with something like that. Thanks for the lesson, Willie.
Then, 2007 gave us "spygate," with the Patriots illegally videotaping New York Jets defensive signals. Belichick, Aristotelean ethicist that he is, pleaded the "everyone does this" defense. Another great lesson for youth, just as when Nixon uber-loyalists said the same about his using the IRS and FBI to harass political enemies.
Now there's "deflategate," with footballs supplied and used by the Patriots on offense in this year's AFC championship mysteriously inflated below NFL standards. Seems to help in cold, wet weather. True, the Colts would have lost had the game been played with curling stone. But maybe not the Baltimore Ravens, losers to the Patriots in a nail-biter the week before.
Belichick, all outraged innocence, insists the Pats obey the rules and suggests the temperature did it. Funny how this affected Patriot footballs but none furnished by the Colts. Bill Nye the Science Guy labels Belichick's theory nonsense. A spokesman for Wilson Sporting Goods, maker of the balls, calls it "B.S."
More interesting is a study by numbers-cruncher Warren Sharp of fumble statistics since 2007, the first season teams supplied their own balls on offense for all games. Before, the Patriots were in the middle of the non-dome team pack, fumbling once every 42 touches.
Overall averages are unchanged. But from 2007 through 2014, the Patriots fumbled only once every 74 touches. The odds of this occurring randomly, says Sharp, are one in 5,842, like hitting on a 0.00017 shot of winning a lottery.
That's some great coaching, Bill. Contemptible means worthy of contempt. You've earned it.•
__________
Rusthoven, an Indianapolis attorney and graduate of Harvard College and Harvard Law School, was associate counsel to President Reagan. Send comments on this column to ibjedit@ibj.com.
Please enable JavaScript to view this content.