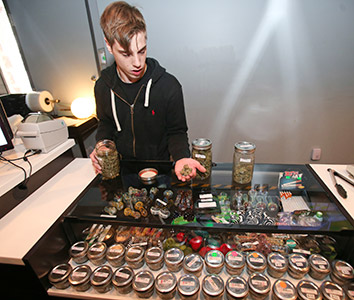 Call it a green rush.
Retail sales of medical and recreational marijuana in the 23 states where it's legal are worth an estimated $2.1 billion, according to Marijuana Business Media. The industry has spurred all kinds of ancillary goods and services, from startup consulting to hydroponic growing supplies.
Indiana won't put itself on the marijuana-friendly map this year, as a medical marijuana bill authored by Democratic Sen. Karen Tallian is unlikely to go further than a committee hearing. If Indiana does take that step in the future, a thirst for business opportunity like Colorado is experiencing could be a driving force, said Joseph Losco, co-director of the Bowen Center for Public Affairs at Ball State University.
"Many people are finding their fortunes in the Rockies," he said. "If it does look like there's money to be made, people will move into that arena."
Advocates for legal marijuana hold Colorado up as the ideal free market. Colorado has "robust" front-end regulations, which protect consumers, but there's no limit on the number of dispensaries, cultivation sites, or producers of marijuana-infused products, said Chris Walsh, managing editor of Marijuana Business Media.
Most of the recent medical marijuana laws limit the number of businesses that can participate.
"It's like a competition these days to see who can have the strictest program," Walsh said.
In Illinois, which is still rolling out the program under a law passed in 2013, growing will be limited to 22 cultivation centers, which are subject to a $25,000 application fee and $200,000 one-time registration fee, according to information compiled by the Marijuana Policy Project.
Maine limits the number of dispensary licenses to eight not-for-profits. In New York, five organizations, not-for-profit and for-profit, may manufacture medical marijuana, which cannot be smoked. In Minnesota, two companies are licensed to grow marijuana and create liquid, oil or pills from it. Similarly, New York prohibits patients from smoking marijuana.
The National Organization for the Reform of Marijuana Laws, or NORML, believes its traditional opponents—including law enforcement groups and pharmaceutical companies—are seeing the shift in public opinion and altering their strategy toward restrictions, rather than total prohibition, said Erik Altieri, NORML communications director.
Indiana's pharmaceutical heavyweight, Eli Lilly and Co., does not have a position on Tallian's Senate Bill 284, spokesman Ed Sagabiel said.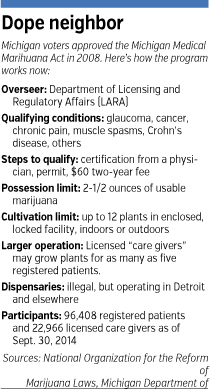 Tallian and her supporters know they have almost no chance of passing a marijuana bill in the Republican-controlled Legislature.
A lawyer from Portage, Tallian said Indiana's penalties for possession are too harsh. In the past, she has authored bills that would decriminalize small amounts. Decriminalizing typically means the offense is treated like a traffic violation—no jail time, no criminal record.
Unable to get her decriminalization bills heard, Tallian said she was advised to take a different tack with medical marijuana.
Tallian's bill would create a Department of Marijuana Enforcement, but she purposely left out other specifics, such as how it would be supplied or sold.
"I wanted to get support for that concept before I get lost in the weeds of the details of how it's going to happen," she said.
Tallian's bill permits research by Indiana universities, drugmakers and agriculture interests.
Registered patients could grow as many as 12 plants. Licensed "care givers," the term used in Colorado and Michigan for medical marijuana growers, also could grow as many as 12 plants.
The possession limit for patients and care givers would be 8 ounces, or an "adequate" 30-day supply, whichever is greater.
Tallian's bill contains no provision for care givers to sell their product and no dispensaries, so there would be no sales tax collected.
Dispensaries have been controversial in Michigan. The state supreme court deemed them illegal, but they remain in business in Detroit and other cities.
There are 96,408 registered patients and 22,966 licensed care givers in Michigan, which allows each care giver to grow and sell marijuana to as many as five patients.
Dispensaries make it easier to connect with patients, and they make growing marijuana more profitable because it's sold a few grams at a time at higher prices, said Thomas Lavigne, a partner at Cannabis Counsel in Detroit. He's one of two lawyers in the firm who changed his practice from criminal defense to business consulting.
Care givers hoped the Michigan Legislature would legalize dispensaries, Lavigne said. Instead, lawmakers created an "enhanced" medical marijuana option that would benefit Prairie Plant Systems, which supplies almost all the medical marijuana in Canada, he said.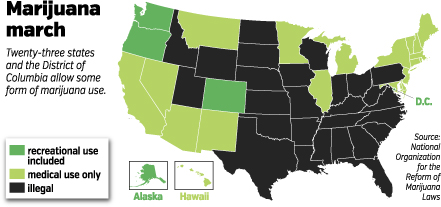 Under the new law, if the federal government were to remove marijuana from the list of Schedule I, or "most dangerous" drugs, the state would allow patients to obtain it through pharmacies.
"The entire industry is moving toward a commercial model," making marijuana-infused products that aren't smoked, said Michael Mayes, a Chicago-based marijuana business consultant who is also a partner in a Colorado dispensary and 90,000-square-foot growing operation. "It's beneficial to patients more than anything."
Mayes' Colorado firm is focused on isolating marijuana's chemical compounds for treating specific diseases without psychoactive effects.
Mayes said he's aware of Tallian's bill, and he even has a relative in Indiana who reached out to the Democratic senator in support. He declined to identify his relative, who he said works in politics. 
Although a majority of Hoosiers have expressed support for regulating marijuana like alcohol and tobacco, Losco at the Bowen Center for Public Affairs doesn't foresee a groundswell of support anytime soon.
Indiana's population is older than in states that have loosened laws on marijuana, he said.
"Without some kind of grass-roots push, or some event, it will take a few years," he said.•
Please enable JavaScript to view this content.