Indiana's first Bitcoin ATM, which recently debuted at an Irvington e-cigarette emporium called World of Vapor, is either a glimpse of Indiana's cyber-money future or an anachronism. Or perhaps both.

The smallish device, positioned at the back of the store, has more in common with a vending machine than a true bank machine. Instead of performing myriad monetary transactions, it merely dispenses a product. Pump in U.S. dollars and (instead of, say, a candy bar) you get something called Bitcoin, a borderless, non-governmental digital currency that's as liquid as mercury and as anonymous as a Swiss bank account.

The ATM accomplishes this paper-free procedure by asking for your "electronic wallet"—basically the phone app that allows you to handle bitcoins. After it scans the appropriate information from your phone, it performs the transaction and sends you a confirmation notice. If you're paranoid about it, you also can leave the machine your email address, to which a confirmation can be dispatched.

The currency—which does not have the backing of any central bank or government—debuted in 2009 and has slowly gained a footing with everyone from criminals to legitimate businesses to investors. To its fans, the appearance of an ATM is just one more sign of its wider public acceptance. To its detractors, the fact that an entire city can be serviced by one such device is a sign of just how fringy it remains.

Mitchell
The ATM's owner, accountant Kieron Mitchell, was one of the currency's earliest early adopters. Hoping to teach his daughter about money management, several years ago he gave her $100 to invest however she saw fit. After much research they (but mostly he) elected to buy bitcoins, which at the time were trading for a relatively paltry $5 each. Mitchell bought 20 for his daughter and a small pile for himself.

It was the financial equivalent of strapping into a roller coaster. Over the next year or so, the value of their holdings climbed to more than $1,000 per digital coin, then collapsed to about $160 before recovering to around $266 today. Mitchell realized a tidy profit by selling a portion of his pile. The experience turned him into one of the nascent currency's leading local proponents.

"As the price skyrocketed, my interest did as well," he said.

Bitcoin believers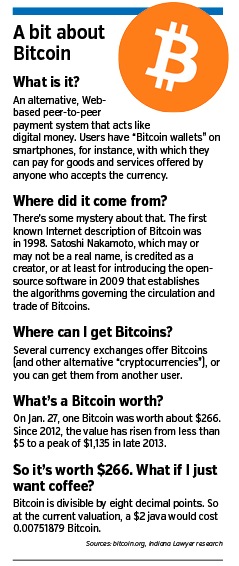 Today, he's part of a small cadre of Indianapolis-area boosters who see Bitcoin as the future of currency. He said its chief traits—that it's anonymous, unregulated and flows easily across international borders—make it appeal to a wide range of constituencies.

Those interested in buying bitcoins could do so online and avoid a trip to the ATM, though doing so would create a credit card charge—a paper trail some users would prefer to avoid.

Mitchell sells his ATM bitcoins for a roughly 9-percent markup over their current value. He moves about $100 a day, but he usually doesn't know what they're used for. Which is sort of the point. The single client who actually volunteered information said he was a small-businessman who needed them to pay a ransom. A virus had encrypted his computer files, and he had to fork over two bitcoins to the perp to get his data back.

Mitchell guestimates that maybe 30 percent of Bitcoin traffic comes from budding Heisenbergs engaged in shady activities. The rest is fueled by more prosaic ventures, including foreign workers sending remittances to their home countries, plus other types of money transfers, which can be accomplished with few or no fees.

There are also lots of speculators hoarding bitcoins in hopes the currency catches on in a big way. But they may have to wait a long time to realize a profit, according to Kyle Anderson, economist at Indiana University's Kelley School of Business.

"I think that the adoption of a new currency is a very difficult thing," Anderson said. "Right now, there's potential for appreciation, but that value is basically from speculation. There's always going to be something appealing about an anonymous digital currency, but I'm not sure that's the path to mainstream acceptance."

Among other things, Anderson wonders how it's possible for retailers to price things in Bitcoin when its value can fluctuate quickly and wildly. And though some national merchants, including computer maker Dell and TV provider Dish Network, have begun accepting the currency, there still are precious few hold-in-your-hands items you can buy with it. If that doesn't change, confidence could collapse.

"Once people start having doubts about a currency, it unravels very quickly as everyone tries to get rid of it," Anderson said.

Early adopters

While even the store Mitchell owns that hosts his ATM doesn't (yet) accept Bitcoin, a handful of local businesses do, including a chiropractor and a dentist. But things get tricky if you want to, say, buy lunch with your electronic money. The closest restaurant is D.T. Kirby's Lafayette Bar, which will serve you a plate of its famous Friggin Fries for Bitcoin. But if you want a cup of java, you'll have to visit the Groove Coffee House in Covington, Kentucky.

Tea drinkers have it easier. Stop by the Beautiful Taiwan Tea Co. in Zionsville and owner Paul Adamson will happily sell you a bag of Dayuling Premium High Mountain Oolong for Bitcoin.

Or, rather, a small fraction of one. The value of individual bitcoins can be subdivided all the way down to the eighth decimal point. So if your tea costs, say, $20, Adamson has the necessary software to shave that relative pittance off of one of the coins in your electronic wallet.

He started offering this service not because tea drinkers clamored for it, but because, like so many Bitcoin adopters, he's a fan.

"I got into it about a year and a half ago, when Bitcoin was barely on the public radar," Adamson said. "I got into it mainly because I thought it was really interesting."

Though walk-ins occasionally pay with the digital currency, most of the real action happens online. About 15 percent of his business is done in Bitcoin. He's even started paying some of his suppliers with it.

Trouble is, the supply of bitcoins is limited. Many are in the hands of speculators, a good portion of whom bought at a high price and are still waiting to recoup their investment. To no surprise, they aren't interested in frittering their hoards away on tea and Friggin Fries.

"Because of the price fluctuation, people are holding onto their bitcoins," Adamson said. "They probably bought them at $300-plus, and they want to wait until they go back up before they start spending them. So the market is a bit tight."

Another local businessman who takes the coins is Paul Overhauser of Overhauser Law Offices, which specializes in intellectual property litigation and patent and trademark protection. A Bitcoin booster, he started offering the service last spring, after clients asked about it.

"It was pretty easy to start," he said. "There are some processing providers out there that make it very easy to add a chunk of code to your website so clients can pay via Bitcoin."

So far, perhaps 10 clients have gone this route. But Overhauser has found other uses for the currency.

"One of the real benefits of Bitcoin is that the transaction fees for transferring funds are next to zero, whereas it's not unusual to see an extra 5 or 6 percent added to payments using other methods," he said.

The uses for the currency are growing, though slowly. A few days ago, a U.S.-based, regulated Bitcoin exchange called Coinbase Exchange opened in 23 U.S. states, including Indiana. And it's no mom-and-pop operation. The company has raised more than $100 million in funding from backers that include the New York Stock Exchange.

At this moment (according to an iPhone app that tracks such things), there are 13.8 million bitcoins in circulation, with an individual value of around $266, and a cumulative value of $3.67 billion. A mere pittance compared to the U.S. economy, but not chicken feed, either.

"We're going to see a lot more of it as the years go by," Overhauser predicted. "More businesses are adopting it, particularly for international transactions."•