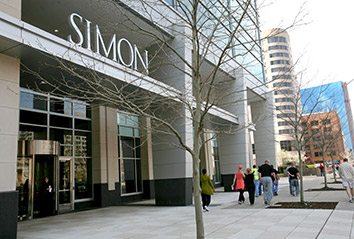 Indianapolis-based Simon Property Group Inc. on Friday morning said its fourth-quarter profit grew as occupancy in its properties increased.
Quarterly profit rose by 6.1 percent, to $405 million, or $1.30 per share, compared with $381.6 million, or $1.23 per share, in the same period of 2013.
Funds from operations, a measurement of a real estate investment trust's ability to generate cash, increased 12.3 percent, to $896.7 million, or $2.47 per share.
FFO was in line with analyst expectations.
Revenue was flat, at $1.3 billion.
"We had a very strong fourth quarter concluding an exceptional year," CEO David Simon said in a prepared statement. "We produced strong financial and operating results in the fourth quarter, led by growth in comparable net operating income and record year-end occupancy."
Occupancy in Simon malls increased to 97.1 percent in December, up from 96.1 percent in the year-ago period. Total sales per square foot increased from $582 to $619. Average rents also grew, to $47.01 per square foot, up from $42.34 in the fourth quarter of 2013.
For the entire year, profit grew to $1.4 billion, or $4.52 per share, compared with $1.3 billion, or $4.24 per share in 2013.
Funds from operations was $3.2 billion, or $8.90 per share, essentially unchanged from 2013.
Annual revenue grew 7.2 percent, to $4.9 billion.
Simon increased its quarterly dividend by 10 cents, to $1.40 per share, payable on Feb. 27.
Company shares have risen 12 percent since the beginning of the year, to $204.76 at the start of Friday trading.
 
Please enable JavaScript to view this content.