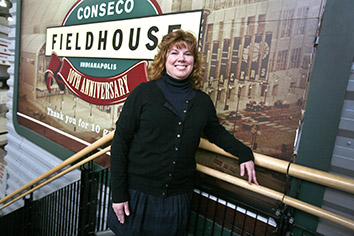 After seven years on the city's Capital Improvement Board—the last five as president—Ann Lathrop is stepping away from the organization that owns Bankers Life Fieldhouse, Lucas Oil Stadium, Victory Field and the Indiana Convention Center.
Lathrop, who is also chief marketing officer for Crowe Horwath LLP, presided as CIB president as the organization faced one of its most serious fiscal crises and renegotiated a deal to heavily subsidize the Indiana Pacers' operation of Bankers Life Fieldhouse. While CIB under Lathrop's leadership dug out of a serious post-recession financial hole, her replacement as president will still face significant fiscal challenges.
Mayor Greg Ballard is expected to appoint Earl Goode to replace Lathrop. Goode served as Gov. Mitch Daniels' chief of staff from 2006 to 2013 and was chairman of the Indiana Sports Corp. from 2001 to 2005. Before serving in state government, Goode worked for 39 years at GTE, now Verizon, from which he retired as president of information services.
IBJ: Why are you stepping down?
Lathrop: Honestly, it's my workload [at Crowe Horwath]. It's been a wonderful seven years and I've been blessed to have an employer who has given me the time to serve. We have a new CEO coming on at Crowe in April, and I'm working with him on strategy and vision. And I'm spending more time internationally.
IBJ: Who will be CIB president and how is that determined?
Lathrop: The mayor conveys his preference, and then on Feb. 9 the CIB will hold an election of all its officers. I would anticipate Earl [Goode] replacing me as president.
IBJ: What do you think Earl Goode brings to the table?
Lathrop: He has a wealth of experience—all the work he did for Gov. Daniels, the relationships he's had with the General Assembly, his work with the Indiana Sports Corp., Visit Indy and Downtown Indy. He really has an understanding of what the CIB does.
IBJ: You had mentioned your workload. How many hours a week are you working?
Lathrop: There were times that I was spending 20 hours a week working for the CIB. I work 50-plus hours a week at Crowe. I'm hoping my work week at Crowe doesn't go up too much. Stepping away from the CIB will just allow me to work a little more consistently [at Crowe].
IBJ: What was your biggest accomplishment during your tenure with the CIB?
Lathrop: 2008 and 2009 was an unprecedented time, not just within the CIB, but the financial crisis that reverberated nationally. We lost our revenue stream overnight as people stopped traveling and going to conventions. Our biggest accomplishment was putting the CIB on stable financial footing. They didn't know if it could continue financially. We're now on solid footing. That came with a tremendous amount of collaboration with the mayor, City-County Council and General Assembly. I've been in municipal finance a long time. When I look back now, 2008 and 2009 was a wild ride.
IBJ: The CIB has been criticized and praised for crafting a deal that pays the Indiana Pacers tens of millions of dollars to operate the city-owned Bankers Life Fieldhouse. Looking back on that, what are your thoughts?
Lathrop: I'm very proud of the Pacers transaction. We were very thoughtful about it and took our time to come up with the right solutions. I think paying for a facility we own just like Lucas Oil Stadium and keeping our long-term tenant in place was the right thing to do. It was huge.
IBJ: Do you have any regrets about your time with the CIB?
Lathrop: We're the most transparent CIB there's ever been, but you can always continue to do more community outreach.
 
Please enable JavaScript to view this content.