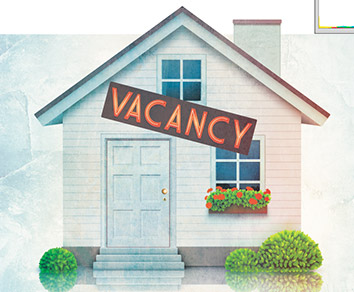 To many, staying at a stranger's house—out of town, no less—might seem a little creepy if not downright dangerous.
Not to Andrea Homoya.
Since 2011, the 30-year-old Indianapolis entrepreneur with a master's degree has rented space in strangers' houses and apartments in Miami; Brooklyn, New York; Napa Valley, California; Louisville; Tempe, Arizona; and even Barcelona, Spain.
And Homoya is far from the only traveler with such a habit.
A growing number of people are using online listings of Airbnb, a San Francisco-based company linking people looking to rent their home—or at least part of it—to short-term visitors who don't mind bunking under a stranger's roof.
Experiences like Homoya's are sending chills down hotelier spines.
"We don't look at hotels anymore," she said. "If we travel, we go straight to Airbnb."
Airbnb listings vary widely, from $20 a night to sleep on someone's sofa to $5,000-
plus for an entire five-bedroom house. Some Airbnb hosts are on premises with the guests and others leave to give guests more privacy. Some hosts require damage deposits, but most don't.
Like the Uber ride-sharing service, Airbnb takes reservations through its website. Airbnb handles payments with users' submitted credit card information, then hosts and guests are left to arrange, usually via email, key pickup and drop-off.
Started in 2008 by a trio of millennials, Airbnb now has 800,000 listings worldwide—more than any hotel brand—and its annual revenue is estimated at more than $1.5 billion. New York City alone generated nearly $300 million last year, according to a report by the New York Attorney General's Office.
The Airbnb bandwagon has no shortage of would-be investors.
Inc. Magazine in April valued the company at $10 billion following its latest round of funding—$475 million from the likes of private equity firms TPG Capital and Dragoneer Investment Group and investment management firms including T. Rowe Price. This fall, the Financial Times put the value at $13 billion following an employee stock sale.
Popular with millennials
Kim Kreuzman is another big Airbnb advocate. The 25-year-old communications manager for Girl Scouts of Central Indiana paid less than one-third the amount a hotel would have cost her in Germany during Oktoberfest. Kreuzman was charged about $175 a night for a one-bedroom house with a full kitchen and living room. Hotels were going for $685 a night.
Homoya, who has a master's degree in public health and owns startup hard-cider maker Ash & Elm Cider Co., also found cheaper accommodations through Airbnb.
"We've grown to know how nice it is to have a kitchen," she said. "You can save a lot of money eating your breakfast or lunch in."
Homoya paid $100 a night for a one-bedroom apartment in Brooklyn with a "beautiful view" of the New York City skyline. She paid $1,500 for five nights in a three-bedroom house in Napa Valley.
Price isn't the only reason travelers like Airbnb.
"It was much less structured than a hotel. It was unique and you really got the feel for how people live in the places you visit," Kreuzman said. "It's fun to meet a local and get their perception of a city."
To no surprise, Airbnb has proved popular with 20- and 30-somethings. The same generation that has embraced the Internet, Uber and online shopping with gusto is flocking to Airbnb.
But fans cross generational boundaries.
Indianapolis resident Mark Eble was turned on to Airbnb by his millennial children. He used it to book a one-bedroom apartment with a kitchen in San Francisco's Knob Hill area last year. He paid $130 a night, about one-third the price of the nearest Hilton Hotel.
As Midwest regional vice president for PKF Hospitality Research and a well-traveled hospitality insider, Eble sees plenty of pluses to Airbnb.
"For us, it was great to get up and have a refrigerator," Eble said. "It was cheaper and better than a hotel. It was a combination that is difficult to beat."
Inconsistencies
Eble, however, also sees downsides. Accommodations are unpredictable, despite online critiques from guests.
Moreover, there is no front-desk attendant to answer questions or offer assistance. During Elbe's stay in San Francisco, his toilet overflowed, and he had to hunt around in the garage to look for tools to fix it.
The problems can be much worse, cautioned Patrick Tamm, Indiana Restaurant & Lodging Association president.
"You have to realize, if you have any kind of personal-injury accident or if your items are lost or stolen, people listing their place on Airbnb aren't going to have the kind of insurance a hotel is going to have," Tamm said.
Still, Eble said the Airbnb allure is undeniable. His son has used the service to find accommodations in cities and locales he otherwise never could afford to visit, including a place in New York for $20 a night. "He's traveled all over sleeping in people's spare rooms or on their sofas."
Local hoteliers have a long list of complaints against Airbnb. Tamm pointed out that most of the listings don't meet Americans with Disabilities Act requirements, their kitchens don't undergo health inspections, and the vast majority pay no taxes.
In Indianapolis, hotels—including bed and breakfasts—pay 17 percent in sales and innkeeper taxes.
"We're simply arguing for a level playing field," Tamm said, pointing out that part of those taxes are spent on marketing to leisure travelers, conventions and events that benefit the hospitality industry.
"They're taking a slice out of the pie," Tamm added, "but they're not putting anything in with respect to taxes."
Airbnb on its website counters that it tells hosts to comply with all local and federal tax regulations, and sends them tax forms that are copied to the IRS.
Tamm also said some violate zoning ordinances by running a commercial business in a strictly residential area or by turning apartments into de facto hotels.
Government officials in other communities have voiced concerns about Airbnb host locations. Notably, the New York Attorney General's Office last year reported that 72 percent of the Airbnb listings in New York City violate zoning laws.
"Where supporters of Airbnb and other rental sites see a catalyst for entrepreneurship, critics see a threat to the safety, affordability and residential character of local communities," the NYAG's report concluded.
Airbnb, meanwhile, has removed about 2,000 New York listings of hosts breaking various laws. New York Attorney General Eric Schneiderman promised to monitor the problem and go after hosts who break the law.
Airbnb officials declined to comment for this story, but in recent years the company has taken steps to shore up its business. It now employs more than two dozen lawyers, 20 communications specialists and three outside public relations firms to spread its message, fight legal battles, and deal with problems between hosts and guests.
On local radar
Visit Indy officials have "vetted" Airbnb, but stopped short of taking a position on its offerings here, said CEO Leonard Hoops.
Hoops doubts that many people traveling to Indianapolis for conventions and corporate events will use the service.
"The demographics don't line up," he said.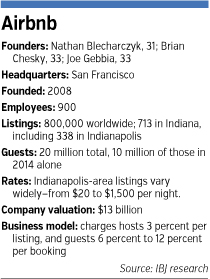 But for some events—such as the massive GenCon gaming convention and Final Fours—and for leisure travel, he admitted, "it's going to come into play."
The evolution of Uber offers hotel operators a valuable lesson, said Jim Dora Jr., CEO of General Hotels Corp., which owns 11 Indiana hotels including Crowne Plazas downtown and at Indianapolis International Airport.
Airbnb, like Uber, is easy to use and meets the demand of a customer base—millennials—with growing purchasing power, Dora said. But hoteliers shouldn't follow the example of taxi and limousine companies, he said, which were slow to react to Uber's presence.
"As people's buying habits change, sure, Airbnb can be a threat," Dora said. "This [hotel] industry better make sure it's up-to-date with what people want or we're going to lose market share."
Partly in response to Airbnb, Dora's company is looking into improving online reservation and payment systems as well as keyless entry "for people who don't want to wait in line or deal with someone at the front desk."
Leesa Smith, who owns Nestle Inn bed and breakfast near Mass Ave, has seen rapid growth of Airbnb downtown the last two years.
"We now have 25 listings within two miles of Mass Avenue," Smith said. "I know my customers are checking on them, and I'm quite certain more listings are coming."
As of IBJ press time, Airbnb had 713 listings in Indiana, 338 of them in Indianapolis. Spurred by Airbnb's massive marketing efforts and word-of-mouth marketing by hosts and guests, hospitality experts think the local number could triple within three years.
New York City has more than 25,000 listings, and bookings expanded 12-fold from 2010 to 2014, according to Airbnb data recently turned over to the New York attorney general.
Smith's solution was to start listing Nestle Inn rooms on Airbnb a year ago.
"Airbnb can be a good service for travelers. I just wish all the [hosts] were playing by the same rules," she said.
Regulatory wrestling
Municipalities nationwide are still struggling with how to deal with Airbnb.
San Francisco, for instance, has been more eager to embrace the emerging company in its own back yard. City officials there have met with Airbnb executives to discuss creating a legal framework for the company's business. Portland, Oregon, has done likewise. Cities like New York, however, have been less receptive, insisting Airbnb yield to current laws.
Locally, what hoops Airbnb hosts must jump through, and what liabilities the company faces, are not clear.
City officials said someone renting space in his or her house wouldn't necessarily be required to have the same license as a hotel operator. State officials said the owner of that property might, however, have to register with the secretary of state as a for-profit business.
Indiana Department of Revenue officials said those who list their places on Airbnb would be expected to pay all applicable sales and innkeeper taxes.
But the practicality of chasing down small-time offenders makes it unlikely Airbnb hosts in Indiana will be harassed much by government officials.
"We often rely on counties and cities to report these problems," department spokesman Bob Dittmer said. "That doesn't mean we couldn't go to an online service like Airbnb, pull up a sample and do an audit."
Despite controversies surrounding the company, Airbnb was named Inc. Magazine's 2014 Company of the Year.
"Some might find it unsettling for Inc. to champion a company that continually disregards the rules," Senior Contributing Writer Burt Helm wrote. "But that is often the cost of disruption. Not all laws are equal. Some make sense in a 21st-century context, some are vestiges of outdated regulatory regimes, and some are simply reflexive protectionism."
Helm has little doubt that, despite growing pains, Airbnb has staying power.
"With a few notable exceptions, prohibitions on economic activity between consenting adults do not long stand," he wrote. "Legislators and regulators may move slowly, but they are unlikely to completely block activities that people want."•
Please enable JavaScript to view this content.