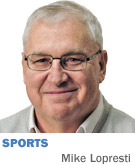 So the day after the Super Bowl, the groundhog saw his shadow. Does that mean six more weeks of deflate-speak?
Let's hope not. Matter of fact, it's time we take a break from the NFL. The last straw was probably Rex Ryan getting his tattoo recolored from New York Jets green to Buffalo Bills blue.
But to say goodbye to the season and keep fond thoughts of the Colts through the rest of winter, we should remind ourselves of the assorted woes of the other teams. Thirty-one reasons why it's better in Indianapolis.
ARIZONA: They're still wondering how the injury-ravaged Cardinals went from 9-1 to easy meat in the playoffs. First off-season move: Find out who has the Arizona voodoo doll with pins stuck in it.
ATLANTA: If you can't win the NFC South, you have a lot of work to do.
BALTIMORE: Here's a story you don't see every day. The Ravens now have a former player accused of abusing an alligator. Just how do you do that?
BUFFALO: They keep talking about how much the Bills need a new stadium. So that's supposed to make you want to go to the old one?
CAROLINA: A conspicuous domestic abuse case. Cam Newton's car accident. Lots went wrong.
CHICAGO: Something always seems to be amiss with the Bears, in season and out. They remind you a lot of the Cubs.
CINCINNATI: The Bengals have come to be known for meowing in the playoffs.
CLEVELAND: Johnny Manziel is in rehab, Josh Gordon is suspended over a failed drug test and now there's a team texting controversy. And you wonder why Cleveland fans are neurotic.
DALLAS: Each passing year without a Super Bowl, Jerry Jones gets chattier. Can you imagine what might happen if he ever pulls Jim Irsay aside at an owners' meeting and asks him how to set up a Twitter account?
DENVER: Peyton Manning is showing his age. So then what?
DETROIT: Another year, and the Lions can still proclaim themselves the oldest NFL team never to have played in the Super Bowl. Banner optional.
GREEN BAY: Hallowed landmarks are great, but if it's a game in December, do you want the Lucas Oil Stadium roof or the Lambeau frozen tundra?
HOUSTON: They've got a defensive guy who beats locomotives and leaps his stadium in a single bound. But there is a question to settle at quarterback, and that's never good.
JACKSONVILLE: Given the usual ticket sales for the Jaguars, anything said here will be subject to a 50-mile blackout.
KANSAS CITY: Let's see if we can find the last time the Chiefs went to the Super Bowl. There it is, back in the first Nixon administration.
MIAMI: The Dolphins were 8-8, 4-4 on the road, 4-4 at home. They were 8-8 the season before. Welcome to Average-ville.
MINNESOTA: Once upon a time, the Vikings were ridiculed for going 0-4 in the Super Bowl. They found a foolproof way to cure that. They just stopped playing in them.
NEW ENGLAND: Not that anyone is accusing the Patriots of chicanery—well not more than 100 million people or so—but just look at Bill Belichick and Tom Brady in all their Super Bowl glow. Don't they make a swell Butch Cassidy and the Sundance Kid?
NEW YORK GIANTS: In the capital city of What Have You Done For Us Lately?, it is a minor miracle Tom Coughlin still has a job after the Giants have missed the playoffs five of the past six seasons.
NEW YORK JETS: When they talk about the glory days, they mean Joe Namath. And Joe Namath is 71.
NEW ORLEANS: After the NFL is done studying New England's footballs, maybe it can investigate how the Saints lost five consecutive home games. They left 'em booing in the Superdome.
OAKLAND: Can you remember the last time the Raiders had a contending team? Can you remember pay phones?
PHILADELPHIA: If Chip Kelly's system has all the answers, why weren't the Eagles in the playoffs?
PITTSBURGH: The Steelers defense never seems to need revival. But now it does.
ST. LOUIS: This just in. The Rams have been named the Team Most Likely to Wake Up One Morning in Los Angeles.
SAN DIEGO: The Chargers finished a close second.
SAN FRANCISCO: Tell us again, what happened to the Jim Harbaugh era?
SEATTLE: You have to feel a little sorry for the Seahawks. But not for long. At the end of the day, they're still as likable as a skunk wandering into your kid's birthday party.
TAMPA BAY: This coastline area has more or less disappeared from the NFL map. Must be either bad football … or global warming.
TENNESSEE: Who's the quarterback for the Titans? What day is it?
WASHINGTON: Unless the horses of America unite in protest, the Colts will never go through what the Redskins are with their nickname.
The Colts have their off-season issues, too. For one, Andrew Luck needs to upgrade his beard. And D'Qwell Jackson allegedly assaulting someone over a parking space is no joke. But at least, the alligators of Indiana seem safe.•
__________
Lopresti is a lifelong resident of Richmond and a graduate of Ball State University. He was a columnist for USA Today and Gannett newspapers for 31 years; he covered 34 Final Fours, 30 Super Bowls, 32 World Series and 16 Olympics. His column appears weekly. He can be reached at mlopresti@ibj.com.
Please enable JavaScript to view this content.