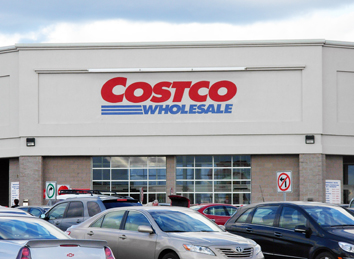 Costco Wholesale Corp. has filed plans with the city of Indianapolis to build its first store on the south side—near the northwest corner of County Line Road and Emerson Avenue, west of Interstate 65.
The Issaquah, Washington-based retailer wants to construct the store on nearly 11 acres of land between Smock Golf Course and a Kroger store.
Costco is asking the Metropolitan Development Commission's hearing examiner to rezone the property to make way for the store, fueling center and tire center. The average size of a Costco store is about 145,000 square feet, about the size of three NFL football fields without the endzones.
The hearing examiner had been set to consider the request March 12. But the meeting has been continued until March 26 because the Greenwood Municipal Airport, located on the south side of County Line Road across from the site, didn't receive 60 days notice of Costco's plans, said John Bartholomew, spokesman for the Department of Metropolitan Development.
Costco has two stores in Indianapolis, on Michigan Road on the northwest side and on East 86th Street in Castleton. The company operates more than 670 stores worldwide.
A Costco store could bring more competition for bulk retailing to the area. A Sam's Club is located less than two miles to the south, at Emerson Avenue and Windhorst Way in Greenwood.
 
Please enable JavaScript to view this content.