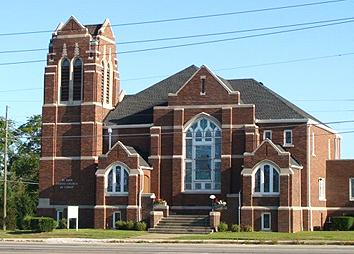 The company that wants to demolish a 101-year-old church on the city's far-east side to make way for a convenience store and gas station has won a crucial victory.
Pittsburgh-based grocer Giant Eagle has an agreement with leaders of the St. John United Church of Christ to buy the property at the northeast corner of Washington Street and German Church Road.
On Thursday afternoon, Rex Joseph, the hearing examiner for the city's Metropolitan Development Commission, recommended granting Giant Eagle a zoning variance to construct the 6,100-square-foot building on the 4.8-acre site.
The MDC is set to vote on the variance March 4.
Joseph said the church faces "a myriad of problems" that are far too expensive for the tiny congregation to afford.
"If the church can't maintain it, and it's going to take $750,000, and in four years' time no one has come forward to purchase it, from my standpoint you have to wonder where that $750,000 is going to come from," he told the large crowd, many of them church parishioners supporting the variance.
Giant Eagle operates the GetGo convenience stores in addition to its self-named supermarket brand. The company is building a grocery at The Bridges development in Carmel.
Perhaps expecting a favorable outcome to the lengthy dispute, the church already is building a new and smaller place of worship at the northwest corner of East Prospect Street and Carroll Road, on part of a 50-acre tract the church owns. A family in the 1970s donated the land to the church, which has leased it to a farmer.
The town of Cumberland wanted to save the church and had started exploring the possibility of purchasing the land itself. A Facebook page launched by preservationists had generated more than 2,000 "likes"
Indiana Landmarks supported saving the church. Its vice president of preservation services, Mark Dollase, said before Joseph's decision that the granting of a variance would be a "death knell" for the building.
 
Please enable JavaScript to view this content.