Indianapolis developer Mike Wells won't soon forget the day in 2011 that a Nordstrom executive informed city officials the department store chain would be leaving Circle Centre mall.

Wells was helping develop the JW Marriott as the city prepared to host the 2012 Super Bowl when he sat in on the meeting. The mood turned somber when city officials realized their attempts to persuade Nordstrom to stay were falling on deaf ears.

Years earlier, in the late 1980s, it took arm-twisting from the likes of Herb Simon to get Nordstrom to commit to Circle Centre. But no amount of pleading could get the company to stick around after opening a store at the Fashion Mall at Keystone at the Crossing in 2008 and a Nordstrom Rack nearby two years later.

Wells
"The die was cast," Wells said. "That was the beginning of the end that downtown would close."

Now, as Circle Centre turns 20 without a retail replacement for Nordstrom, there are fresh concerns about the mall's future as a retail destination. Sales per square foot are down, the building itself is aging, and persuading the lone anchor, Carson Pirie Scott, to stay another three years required generous incentives.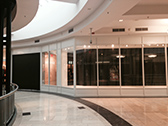 Circle Centre now has 11 vacant storefronts. (IBJ photo/Greg Andrews)
Mall manager Simon Property Group reported Circle Centre's occupancy at 90 percent in a May 2014 report to city officials. But the percentage appears to have dropped significantly after a rash of post-holiday store closings. A stroll through the mall shows 11 empty storefronts.

Non-anchor sales per square foot have slumped, from $406 in 2007 to $326 in 2013. Circle Centre outperforms many of its urban peers, but it lags far behind Simon's portfolio as a whole—which produced sales per square foot of $582 and was 96-percent occupied in 2013.

Circle Centre supporters acknowledge the mall might not be the big downtown draw it once was. But as the retail landscape shifts, and more shoppers gravitate toward online outlets, the mall needs to change with the times, said Adam Thies, director of the city's Department of Metropolitan Development.

Thies
"I think Circle Centre will still be a destination; it will just be different," he said of its future. "It's going to take efforts that are smart, and I wish I could say otherwise, but that's probably the truth."

Mall supporters struggle for solid ideas for boosting Circle Centre's fortunes, but hope an influx of downtown residents provides support for an evolving lineup of tenants.

Since opening in 1995, the mall has slowly morphed from a pure-play shopping center. Part of the fourth floor, where bars once entertained revelers, is now occupied by students of Brown Mackie College. IndyStar in September took about half of the former Nordstrom space.

David Contis, president of Simon malls, put a positive spin on the backfilling of retail space with office-type tenants.

"It's different than a suburban mall," he said. "Downtown is becoming more live-work-play, and the mall is evolving that way."

Mall still profitable

Despite ominous trends and a high level of debt, the mall does not appear to be in immediate financial trouble. It's profitable, and its bonds boast investment-grade ratings.

The city, which owns the land on which the mall sits and the building itself, leases the property to Circle Centre Development Co., a partnership of Simon and 19 other local companies that provided $75 million toward the mall's $320 million cost. Circle Centre Development has $67 million in debt on the property, according to Simon's annual report, which lists the company's ownership stake at 14.7 percent.

That means Simon likely put in $11 million of the $75 million in equity. The city invested $187 million in the project, and Lilly Endowment Inc. kicked in another $12 million to build the Artsgarden. In addition, a group of European lenders, led by Union Bank of Switzerland, provided a loan of $45.5 million.

To fund its share of the project, the city sold bonds and set up a tax-increment financing, or TIF, district spanning much of downtown. Under the arrangement, property taxes generated by new development in the district go toward debt repayment.

The city still owes $145 million on the mall via bonds that come due in 2020.

Indianapolis Bond Bank Director Greg Clark said the bonds, which were refinanced in 2009, are set to be "paid off in full" in February 2020 with banked tax revenue generated from the downtown TIF district. The payoff schedule shows annual principal payment amounts as high as $24.7 million.

Separately, $81.5 million of debt is left on the mall from outstanding bonds that include another project, Clark said. That will be paid in full in February 2030.

The Standard & Poor's, Moody's and Fitch rating agencies rate the 2009 debt that matures in 2020 as "high grade."

So much new development has sprouted downtown since Circle Centre opened, however, that the city doesn't need to rely solely on the mall's success to repay the bonds, mall supporters say.

"The mall is no longer the sole attraction, but that doesn't mean it's not important," said Adam Collins, the city's deputy mayor of economic development. "It was an investment that was well made, because it really created the stage for our current successes."

Other projects built within the downtown TIF—including CityWay and the parking garage for the Axis at Block 400 apartment projects—have swelled the amount the city owes to $660 million. In 2014, the taxable value for real and personal property in the TIF stood at nearly $2.7 billion, which generates $75 million annually in tax revenue.

Circle Centre Development Co. paid Simon $4.1 million in fees for developing the mall and for arranging the initial leases. Simon also receives a cut of tenant rents for managing the mall.

For Simon and the other investors, including OneAmerica, IndyStar and Marsh Supermarkets Inc., Circle Centre remains profitable, just not as much as it once was, according to mall reports.

Since 2007, profit generated by the mall has fallen 17.9 percent, to $7.8 million in 2013.

Under terms of their financing agreements, corporate investors are entitled to an 8-percent annual return on their initial investment before other backers get a cut.

Several insurers, including the predecessors to OneAmerica and CNO Financial Group, are investors. According to their annual statements for 2013, each of their investments in the mall is valued at nearly $1.1 million. For its 7.7-percent ownership in the mall, CNO received $90,097 in 2013 and OneAmerica $54,018 for its 4.6-percent stake.

OneAmerica's investment in the mall is unusual for the company, said Jim Freeman, the company's vice president of community affairs.

"It's not an investment we would have normally made," he said. "But based on where the city was going in the early '90s, we decided it needed some unique thought as a community investment."

'Hudnut's fishing hole'

Hudnut
This is not the first time the mall has faced an uncertain future.

Bill Hudnut, who served as Indianapolis mayor from 1976 to 1992, had the vision as part of his quest to revitalize downtown, which had begun to lose its shine to newer, suburban destinations.

In his State of the City speech in 1980, Hudnut urged the private sector to "join hands" with government to launch a downtown shopping mall.

Hudnut's call took on renewed urgency after he persuaded Robert Irsay to move the Baltimore Colts to Indianapolis in 1984. Not everyone was convinced, though, that the city could pull off the mall project.

Building it even became somewhat of a political liability for Hudnut, he recalled in an interview from his suburban Washington, D.C., home. During his run for re-election in 1988, opponents called the project "Hudnut's fishing hole."

"It was not exactly a political asset for me," Hudnut told IBJ. "But you don't want your city to become a doughnut. You want it to be a cookie—solid all the way through."

Hudnut said he was disappointed when he learned Nordstrom was leaving, but thinks the city and Simon made the right call to lease to the Star, given today's tough retailing environment.

Construction officially started in 1989, but the mall immediately suffered a succession of setbacks. Saks Fifth Avenue backed out. L.S. Ayres and Lazarus, downtown's only remaining department stores, said they weren't interested. And no one wanted to finance a mall with Nordstrom as the only anchor.

Parisian, one of the few U.S. department stores expanding at the time, stepped in to save the day. Not only did it open a store at the Fashion Mall, but it agreed to come downtown. In 2008, Carson's replaced Parisian, which was acquired by Carson's parent The Bon-Ton Stores Inc. two years earlier.

When Hudnut decided not to run for re-election in 1991, construction crews had begun digging the holes for the mall, leaving his successor, Stephen Goldsmith, to put the final pieces together.

Goldsmith, who had concerns about the project, met with Herb Simon and Wells every week for more than a year to hash out details, Wells remembers. Now at REI Investments Inc., Wells then was a developer with Browning Investments Inc. and was a confidant of Goldsmith's, volunteering on his mayoral campaign.

"If it would have made sense to fill the holes, we probably would have done it," Wells said. "We were basically pregnant at the time."

Plugging the gaps

After all the negotiating and posturing, Circle Centre opened to fanfare in September 1995.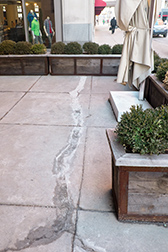 At age 20, Circle Centre is showing wear. But the mall still performs well enough to generate profits for its investors, and its lone anchor, Carson Pirie Scott, says it's committed to staying. (IBJ photo/Eric Learned)
The city's lease with mall ownership runs 103 years: an initial 33-year term that expires in 2027, with seven options of 10 years each.

The group could opt out of the lease in 12 years. But that seems unlikely, said Herman Renfro, Simon's vice president of development during Circle Centre construction.

Circle Centre still performs better than many Midwestern downtown malls, despite the loss of Nordstrom and the city's recent deal with lone anchor Carson's that allows it to pay less in rent.

But it doesn't take much for a mall's fortunes to turn south.

St. Louis Centre, also developed by Simon, opened in 1985 as the largest urban shopping mall in the country, with over 150 stores and 20 restaurants in 1.5 million square feet of space.

During the 1990s, however, the mall lost traffic thanks to the redevelopment of another shopping center. It closed in 2006. Four years later, work began to convert part of it into a parking garage.

Columbus City Center in Columbus, Ohio, also faltered. It opened in 1989 near the state capitol. At the time, the 1.2-million–square-foot shopping center was central Ohio's largest and most upscale mall. A combination of factors led to its closure in 2009, including the opening of three shopping centers across the northern edge of the city.

Still, Contis at Simon thinks urban malls can be shopping destinations.

"It depends on the city and what's happening," he said. "When you look at Circle Centre, it's still an evolving component of the [central business district] and changes to reflect the needs of its customers."

The popular restaurant and bar chain Yard House plans to open in part of the former Nordstrom space March 25.

Simon also is nearing deals on three more leases that it plans to announce soon, he said. IBJ has reported that Syracuse, New York-based Dinosaur Bar-B-Que and Cincinnati-based Nada are two of the three tenants.

The deals will leave one remaining 20,000- to 30,000-square-foot hole. A health club, drugstore or boutique grocery might make the most sense, Contis said, to serve the growing downtown population.

At the same time, Simon is grappling with tenant losses on the second and third floors. Teen retailer Wet Seal closed in early January and competitor Delia's closed this month following a going-out-of-business sale.

Also, the Colts Pro Shop abruptly closed late last month after team merchandising vendor MainGate Inc. lost its contract to Lids Sports Group.

Carson's vital to mall

The biggest challenge for Simon and the city is keeping Carson's as an anchor.

The city in early December struck a deal with Simon to keep it from leaving. Under terms of the contract, Carson's will save $300,000 in rent annually through Jan. 31, 2018.

It's unclear how much Carson's pays for rent under the deal. Spokespeople for Simon and Carson's parent, Pennsylvania-based The Bon-Ton Stores Inc., would not say. And city spokesman Jen Pittman said officials "do not have access to that information."

All the city would say is that the amount Carson's will save in rent is about equal to how much mall ownership would pay in annual property taxes for the Carson's space. Records show the Carson's space is valued for tax purposes at $10.8 million.

To compensate for the lost tax revenue, mall ownership will assume responsibility for $150,000 in additional annual parking garage operating expenses paid by the city.

Overall, mall ownership paid nearly $3.2 million in property taxes in 2013, Simon reported to the city. Carson's occupies 145,000 square feet, or about one-fifth of the 800,000-square-foot mall.

Under its lease arrangement, Carson's had the right to vacate when Nordstrom left. For the city, the deal bought it time, Thies at DMD said, allowing it three years to develop a plan "for the long-term viability of the mall."

In a statement announcing the deal to retain Carson's, city officials underscored the tenuous situation they were facing.

"Retaining [Carson's] at the mall is of heightened importance because [Simon] has been unable to find another anchor tenant that is willing (without tens of millions of dollars of cash incentives) to operate a department store in the mall," the statement said.

With that deal struck, Carson's is committed to staying downtown, said Bon-Ton CEO Kathryn Bufano.

"I see no reason why we would leave," she said. "As it stands today, we're excited about Indianapolis. We see great potential in that building."

Bon-Ton plans to upgrade the store to remake it into what the company considers a "showcase" location, by adding more upscale merchandise to better appeal to the growing and affluent downtown demographic, Bufano said.

The company will reintroduce men's tailored suits, expand its women's contemporary and men's designer denim lines, add more designer brands like Polo and Ralph Lauren, and increase its Colts team merchandise.

Whatever the mall's future, few would doubt the lasting impact it's had on downtown, Renfro, the former Simon executive, said.

"I think the mall did what we needed it to do," he said. "The mall isn't the primary driver it used to be. But it's still a great amenity for people visiting and for people living and working downtown."•