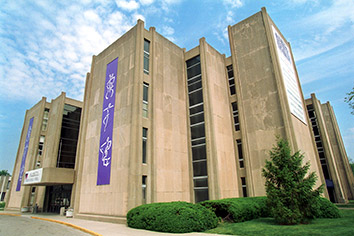 Scene changes are in the works at Clowes Memorial Hall.
Executive Director Elise J. Kushigian plans to retire after 20 years, and Butler University plans to reconfigure her position to align it with a larger strategy aimed at increasing Butler's presence as an arts destination.
Her replacement will oversee not just the 2,200-seat performing arts landmark, but three additional theaters as well—allowing for economies of scale on ticketing, booking and other support services.
Kushigian's successor will manage the 450-seat Schrott Center for the Arts, along with the smaller Eidson-Duckwall Recital Hall and Black Box Theatre, which are now treated as individual entities, said Ronald Caltabiano, dean of Jordan College of the Arts.
 

Kushigian
According to Kushigian, the idea to put all the Butler arts venues under one administrative umbrella has been around for a long time.
"When I was hired by [then-Butler President] Geoffrey Bannister, it was to be the executive director of Clowes and the executive director of the Center for Arts and Culture," said Kushigian, a former Broadway producer, agent and company manager who returned to her home state to run Indiana University Auditorium before taking over Clowes in 1995.
The idea was back-burnered for years, resurfacing with the opening of Schrott Center in 2013.
"It took the opening of the Schrott to enable that vision to really be ready to be launched," Caltabiano said. "It's about more than just having the right combination of venues, which we do. It's also a maturity at Butler, a vision that we see for ourselves as being an arts leader."
Potential venue users today look at separate price lists for each facility, Caltabiano said. Negotiations are handled separately, resulting in performances not always finding an ideal fit. In the new configuration, he said, a show that previously attracted only 400 people to Clowes Hall might be moved to the more intimate Schrott.

Likewise, a show that sells out three performances at the Schrott might be better accommodated by a one-night stand at Clowes.
"We want to consider Butler arts as a whole," Caltabiano said. "We're thinking holistically—thinking grander than a 'Clowes season' or a 'Schrott season.'"
Under the new structure, said Matt Mindrum, Butler's vice president for marketing and communications and the person to whom the new hire will now report, "We'll be able to do the right thing for Butler and also do the right thing for our collaborators and audiences."
Mindrum noted that 180,000 people attended Clowes Hall events from 2013 to 2014 and another 30,000 visited the other three theaters. He compares that to the 140,000 who crossed Hinkle Fieldhouse's threshold in the same time frame.
"Oftentimes, people talk about Hinkle Fieldhouse being Butler's front porch," Mindrum said. "That's true, but it's also true that the arts venues are, in some ways, a more significant front porch."
A national search is under way for the person to take the position. Caltabiano's hope is to have someone in place by summer, when a new parking garage with street-level retail and restaurant prospects are also expected to enhance Butler as a cultural destination.
Kushigian, 70, said she was ready to step down. She will remain on board as long as proves necessary to aid in the transition and will remain involved in the industry, including serving as a Tony Award voter.
"She's done so much for this place," Caltabiano said. "She brought a great vision to the hall and has done so much for the infrastructure, which is very strong."
"Now is the time for a new guard to come in," Kushigian said.•
Please enable JavaScript to view this content.