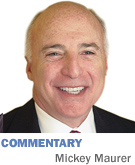 Brain drain. It sounds like Dracula's after-dinner cocktail, and purportedly it has a nightmarish effect on Indiana. Politicians and some educators tell us our colleges and universities train Hoosiers only to see them tearing across the country in search of the glamorous and high-paying jobs they cannot find at home. But is it so?
Purdue University is testimony to the fact that our institutions of higher learning have recognized Indiana's vulnerability to brain drain and have vigorously responded.
Purdue has reported success with a number of programs designed to assist students finding post-graduation jobs in Indiana. Purdue's Center for Career Opportunities is on the front lines of this war. Its initiatives include career fairs and collaborations with the Purdue Engineering Alumni Association and Indiana Auto Innovation Expo to connect students with Indiana-based alumni/employers. Particularly innovative is Purdue's Just-in-Time Job Fair, which is helpful to companies requiring a quick turnaround on hiring needs. Purdue is also an active participant in OrthoWorx, a community-industry initiative supporting the orthopedic industry in northeast Indiana.
With the support of Lilly Endowment, Purdue established the Purdue Interns for Indiana program, a new approach for keeping Indiana's college graduates at home. This program matches high-quality student interns with Indiana startup companies. Purdue reports that nearly 650 students have honed their skills through internships at more than 200 Indiana startups, and at least 27 percent of those students have been hired by their internship company after graduating. Likewise, the Purdue Research Park averages 250 Purdue student interns working in many of the 265 park-based companies, where upon graduation an intern becomes a full-time employee at the company.
Another Lilly Endowment grant funded a Purdue program that promotes educational collaborations focused on retaining STEM talent in Indiana. Purdue, which produces a significant number of STEM grads, discovered while working on the program that although most of the previous focus had been on startup companies, the data demonstrated that second-stage companies actually offered more job growth opportunities and that a majority of those businesses are in high-tech areas. The grant allowed Purdue to reach out to second stage high-tech companies and connect them with Purdue STEAM students (the "A" stands for Ag).
An effective tool for Purdue University is the Purdue Foundry. It is an entrepreneurship and commercialization hub in Purdue's Discovery Park led by Dan Hasler, who established an enviable track record at the Indiana Economic Development Corp. Purdue President Mitch Daniels recruited to Purdue a few high performers from his gubernatorial administration, one of whom was Hasler.
The Purdue Foundry professionals help Purdue and community innovators create startups, help entrepreneurial-minded students stay in Indiana to pursue their startup goals, offer a summer program called the Purdue Entrepreneurship Academy for Indiana's high school students, and provide networking opportunities where Purdue entrepreneurs can meet Indiana venture capitalists and investors. Productive collaborations with successful Hoosier entrepreneurs such as Bob Laikin also encourage these companies to remain in Indiana.
Cleveland State University recently completed a study titled "A Newer Geography of Jobs: Where Workers with Advanced Degrees are concentrating the Fastest." According to this study, the most common measure of human capital is educational attainment, or the percent of the population with a college degree. The study states that the most highly educated workers are likely to be job creators, not just job consumers.
Indianapolis is one of the five metros experiencing the fastest growth in concentration of workers with advanced or professional degrees and now ranks ninth nationally in the percentage of its labor workforce with a graduate or professional degree.
Highly educated students often discover what we already know. The quality and pace of life in Indiana is far better than in L.A. Coupling education with solid job opportunities in an environment with strong quality of life attributes is the best path to combat brain drain in Indiana. It seems to be working.•
__________
Maurer is a shareholder in IBJ Corp., which owns Indianapolis Business Journal.  His column appears every other week. To comment on this column, send email to mmaurer@ibj.com.
Please enable JavaScript to view this content.