Lawyers for Indianapolis power couple Steve and Tomisue Hilbert are slinging "ludicrous allegations" of witness tampering just to cover up their own wrongdoing, according to the latest broadside from the attorneys representing John Menard, the Hilberts' former business partner.

Menard
In new court documents, attorneys for Menard, the CEO of Wisconsin-based hardware store chain Menard Inc., denied the Hilberts' accusations that Menard tried to buy favorable testimony from a witness in exchange for settling a lawsuit for $204,000.

Menard's attorneys also argued that, because the witness is the former general counsel for New Sunshine LLC, a company Menard now controls, his cooperation with the Hilberts' attorneys and their solicitation of his help are violations of attorney ethics—because those actions involved the disclosure of information that should have been protected by attorney-client privilege.

"In fact, the Motion, which wrongfully accuses others of criminal misconduct, should rightly be viewed for what it is—a subterfuge to hide their own wrongful conduct," wrote Menards' attorneys in documents filed Feb. 13 in Hamilton Superior Court. They asked a judge to remove the Hilberts' attorneys from the case.

Menard's attorneys also called the accusations of witness tampering "a cheap shot to try to sully the reputation of Mr. Menard's chosen legal team and another attempt to gain an unfair litigation advantage by creating sensational and unfounded headlines."

Hilbert
But Linda Pence, an attorney for the Hilberts, said she neither requested nor received anything from the witness that falls under the protections of attorney-client privilege.

It's the latest burst of fire in the ongoing legal battle over the companies owned by MH Private Equity, a private equity fund financed by Menard and managed by the Hilberts. John Menard won a court order in February 2013 ousting the Hilberts from their position as managers of the companies, and the two sides have been waging war in court since.

The largest company owned by MH Private Equity is Indianapolis-based tanning products company New Sunshine LLC, with about 230 employees. In 2013, it was valued at $111 million, according to new court documents.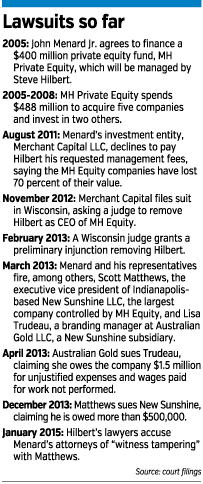 Days after Menard took control from the Hilberts, the company fired Scott Matthews, the company's executive vice president and general counsel, and Lisa Trudeau, a branding manager at a New Sunshine subsidiary, Australian Gold LLC.

Matthews was Trudeau's boss at New Sunshine and Australian Gold. However, several current New Sunshine employees claim Trudeau worked by "her own set of rules" at New Sunshine—coming into the office only once or twice a month, sometimes while wearing pajama pants—because she was "best friends" with Tomisue Hilbert. Trudeau is the wife of former Indianapolis Colts quarterback Jack Trudeau.

Soon after Trudeau was fired, New Sunshine sued her for $1.5 million, claiming she failed to perform the work for which she was paid and that she was reimbursed for improper expenses.

At the end of 2013, Matthews sued New Sunshine for failing to pay him more than $500,000 he claims he was owed as part of his employment agreement.

In the summer of 2014, one of Matthews' former mentors at the Indianapolis law firm Ice Miller LLP started representing Menard's interests in the litigation with the Hilberts. That attorney, Mike Wukmer, met Matthews for coffee at Starbucks in July 2014, where he offered to broker a settlement for Matthews.

In exchange, Wukmer said, Matthews would need to provide an affidavit stating what he knew about Trudeau's work for Australian Gold. The Menard attorneys want to show that Trudeau did little to justify her salary because it would help their larger case against the Hilberts—that they were mismanaging the MH Private Equity companies and using Menard's money to benefit themselves and their friends.

But during a more than three-month process from early September to mid-December, Matthews objected to a series of false statements he says Wukmer tried to include in the affidavit for Matthews to sign.

"I vehemently denied the veracity of such allegations to Mr. Wukmer," Matthews stated in the affidavit he did sign for Pence, the Hilberts' attorney, after persistent requests from her.

Wukmer contends he was just trying to "zealously advocate" for Menard by exploring what facts Matthews could agree to. His emails include multiple statements that he did not want Matthews to sign anything that was false.

"There was no tampering or attempt to tamper with witness testimony; rather there was an attempt to document truthful testimony," Wukmer said in his 15-page affidavit. "There was no obstruction of justice, only an attempt to convince the former General Counsel and Officer of New Sunshine to acknowledge and live up to his ethical responsibilities of confidentiality and loyalty that he owed to New Sunshine and to obtain his cooperation, if he was willing."•