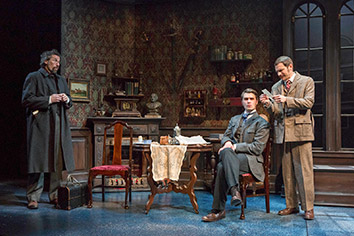 "The Hound of the Baskervilles," at the Indiana Repertory Theatre through March 15, isn't one of those literary adaptations that offers a drastic reimagining of the original material. For those who want that, there's a wacky three-actor version of "Hound" kicking around.
And the IRT production isn't one that updates—a la the outstanding BBC series "Sherlock" starring Benedict Cumberbatch—or imagines new adventures—as in the Robert Downey Jr. movies.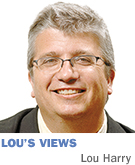 No, this adaptation, by R. Hamilton Wright and David Pichette, largely takes Sir Arthur Conan Doyle at his words, honoring his best-known Holmes adventure with a patiently paced, witty-but-not-silly script. I tend to have a problem with mysteries because of my inability to hold onto too many character names in my head, but I had no trouble here, only finding myself in the dark when the writers seemed to want me there.
Anticipating a clear divide between the audience that has seen or read this tale multiple times and those completely ignorant of its plot machinations, I'll refrain from revealing too much. Suffice it to say that Sherlock Holmes is
looking for a case to excite him, strange doings on the moor are brought to his attention, and soon it's clear that a murderous game is afoot.
The IRT gives "Hounds" one of the most elaborate—yet smoothly run—productions I've seen on its stage, no small accomplishment with so many scene changes. Transitions from mansion to moor are efficient, and video projects integrate nicely with the set pieces. A suitably atmospheric score and sound design add a cinematic feel.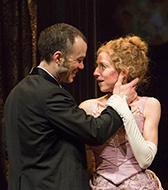 Sir Henry Barrymore (Eric Parks), Beryl Stapleton (Christina Panfilio), and everyone else is on the suspect list in "The Hound of the Baskervilles." (Photo courtesy of Indiana Repertory Theatre/Zach Rosing )
The supporting company, playing multiple roles each, mostly consists of familiar IRT faces doing solid work with none having to do much heavy lifting. The sleuthing duo at the show's center has been cast on the youngish side, with Holmes (Marcus Truschinski) coming across a bit like an entitled grad student. His relationship with Watson (Matthew Brumlow) is fun, but unfortunately gets lost in the largely Holmes-free second act. There, Watson has to carry much of the narrative weight. Thankfully, Holmes is back in full swing in the third.
Yes, as with old-school theater, there are three acts, yet the show never overstays its welcome. "Hound of the Baskervilles" may not be everyone's cup of English tea, but Holmes purists, mystery lovers, and those looking for elegant, smart, satisfied-to-be-simple-entertainment should be well satisfied.•
__________
This column appears weekly. Send information on upcoming arts and entertainment events to lharry@ibj.com.
Please enable JavaScript to view this content.