Hoosier businesses and consumers face a dynamic not seen in a generation—a dollar significantly more muscular than many competing currencies. Experts predict the dollar's clout and the pros and cons of that power will endure for a year and possibly as long as three.
As was the case in 1985—the last time the dollar showed similar strength against other major currencies—consumers generally are benefiting and businesses are managing a mixed bag.
A strong dollar helps consumers by keeping a lid on the cost of products and services purchased from other countries—in effect increasing disposable income and suppressing inflation.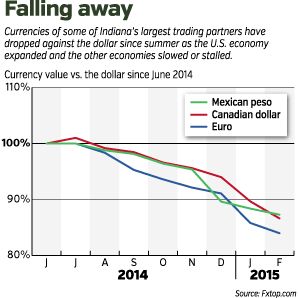 Businesses can be helped or hammered.
Like consumers, companies that buy imports from other countries benefit. Those savings drop to the bottom line.
However, companies relying heavily on export sales tend to get hurt. When the dollar is high, customers in other countries must pay more for American goods and services, which usually forces exporters to accept weaker sales or cut prices to prop up demand. Either way, profit suffers.
"It's a Rubik's Cube, depending on who you are and who your markets are," said Indiana Manufacturers Association President Patrick Kiely.
The dollar has strengthened dramatically since summer.
Canada, the state's largest trading partner, has seen its dollar weaken from parity to about 80 percent of the U.S. dollar. A similar dynamic is at work in the state's No. 2 trading partner, Mexico; the peso is worth 11 percent less than the dollar.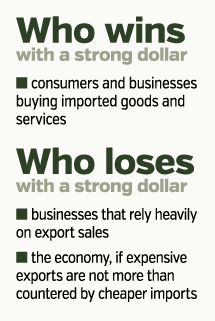 Against the euro, the dollar has risen from about 73 cents to 87 cents, its greatest value in a decade. And the dollar has made similar gains against the British pound.
China pegs its yuan to the dollar, so fluctuations in the dollar are followed by the yuan, largely negating any impact.
Driving the dollar's rise are imbalances among the world's major economies, said Andreas Hauskrecht, an economist at Indiana University's Kelley School of Business.
The U.S. economy, while not robust, nevertheless is growing at a time Europe is stagnating and Japan is sluggish. Even China is slowing. Foreign investors shifting to the United States push up bond and equity prices.
Jerry Langley, who teaches at the University of Notre Dame's Mendoza College of Business, agreed that a rising dollar is a good sign for the domestic economy.
Growth attracts investment, and the United States is one of few major economies showing much spunk, said Langley, who formerly led international finance at McDonald's Corp. and international banking at the former American National Bank & Trust Co. in Chicago. It's a sign the United States is winning.
Making matters even better for consumers and the companies buying imports from abroad is cheap oil. The expensive dollar has driven down oil prices, as it has off and on for decades. But oil also has been cheap the past few months because of a supply glut caused by Saudi Arabia launching a price war against other oil-producing nations.
Not only do commuters benefit, but so do companies that use oil for everything from delivery-truck fuel to plastics feedstock.
"This is almost like a stimulus package for the U.S.," Hauskrecht said.
In terms of the balance of trade, the drawback of expensive exports is slightly outweighing the benefit of inexpensive imports, he said.
The net deficit in trade of goods and services in 2014 likely will be $505 billion, Hauskrecht said. While that sounds like a lot, the figure amounts to only about 3 percent of an economy churning out $17 trillion a year.
Cheap oil will more than compensate for downsides of a robust dollar, he said.
Langley said the strong dollar might be a temporary drag on the gross national product—the sum of all goods and services sold—to the tune of about half a percentage point. In the long run, though, he joined Hauskrecht in saying the strong economy will more than compensate for the impact on lower exports.
Eventually, Hauskrecht added, currencies will rebalance and the United States will dominate global trade through such intellectually driven sectors as investment banking, consulting, legal services and software. Meanwhile, the United States will import less and less energy, further stoking the economy.
Tough for exporters
For now, Eli Lilly and Co. and Batesville-based Hill-Rom Holdings Inc.—both big exporters—are among the Hoosier companies suffering from the strong dollar.
Lilly attributed four points of the 12-percent revenue contraction it suffered in the fourth quarter to "unfavorable" exchange rates.
Hill-Rom, which makes hospital beds and other health care equipment, said that, because of the strength of the dollar, revenue in its latest quarter rose 18 percent rather than 21 percent.
Both companies also revised 2015 growth projections downward as a result of the dollar.
Lilly said in the fourth-quarter earnings report that revenue this year would range from $19.5 billion to $20 billion rather than the $20.3 billion to $20.8 billion it anticipated earlier—"solely to reflect the recent strengthening of the U.S. dollar compared to several other currencies." The decline amounts to about 4 percent.
Hill-Rom also predicted the dollar will pull revenue down 4 percent this year. However, the company added, organic growth will more than offset the currency problem to result in a year with overall growth of 11 percent to 12 percent. That would lift revenue to $1.9 billion.
Determining whether states are net winners or losers takes educated guesswork, because, while the government tracks exports closely, much less is known about imports.
Indiana is probably hurt more than helped, said Jerry Conover, who directs the Indiana Business Research Center at IU. That's because the state ranks 12th in dependence on exports—10.8 percent of all goods and services produced in 2012. Vehicles, pharmaceuticals, machinery and other manufactured products that dominate the state's exports become more expensive to international customers when the dollar is high.
Bright future
The dollar will hold strong for at least a year, Hauskrecht and Langley said, with Hauskrecht adding that as many as three years might pass before the world's major economies return to something resembling equilibrium.
However, the dollar won't stay strong long enough to affect corporate decisions about "reshoring" labor currently hired overseas, the experts said. The vast majority of decisions about where to operate are influenced by longer-term factors like wage rates rather than currency fluctuations.•
Please enable JavaScript to view this content.