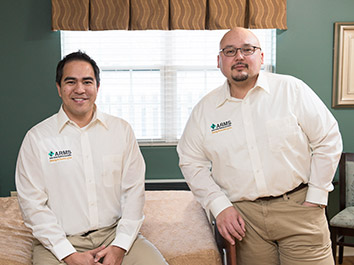 FINALIST: Physician
A. Adam Andres, MD, and Jeremy Kirk, MD
Co-Owners/Co-Founders, ARM Specialists LLC
Good doctors make life better, and often longer, for their patients. And some invent entirely new models of care that will benefit people they'll never meet.
That is the case with Dr. Adam Andres and Dr. Jeremy Kirk, hospitalists at Hendricks Regional Health who were thrown into what some would consider a bad situation.
Dr. Adam Andres (left) and Dr. Jeremy Kirk (IBJ photo/Eric Learned)
Rather than shrink from the challenge, they turned it into an opportunity to improve care in what Andres calls the third realm of health care. That's the time between being an inpatient and an outpatient. It's often spent in the rehab units of nursing homes and other transitional facilities.
It was 2012 when the two doctors were approached by their boss, John Sparzo, then vice president of medical affairs at Hendricks, about an idea he had. The federal government was about to begin instituting Medicare penalties for hospitals with high numbers of readmissions, and Hendricks needed to find out what was happening after discharge to its patients who weren't immediately going home.
Andres, now 38, and Kirk, 41, went to Danville Regional Rehab Center to find out. What they found was an environment much more challenging than they were used to in the hospital.
"We had the brazen mentality that we were going to go in and see the patients we had discharged," Kirk said. "We thought it would be seamless, but we realized this is a completely different environment. It was hard to find patients. Hard to find charts. That was the shock-and-awe moment."
Andres said, "We wanted to stop one week after we started."
But they didn't back down from a reconnaissance mission that has grown into a promising young company, Acute Rehab Medicine Specialists. ARM's model for improving patient care is now being used in three additional Hendricks County facilities and another in Greenwood. Last year, Andres and Kirk hired Sparzo away from Hendricks Regional to be the company's CEO.
After their rocky start in Danville, the turning point came quickly, said Andres, thanks to one dedicated nurse who made them see that collaborating with the staff could really work.
That nurse, Casie Roseboom, has been at Danville Regional Rehab 13 years. She said she stepped in to help the doctors simply because she saw them struggling, but she quickly saw the upside of some of the organizational changes they were trying to make.
She saw how available Kirk and Andres were and how they were able to relate to patients and families.
Roseboom is now their physician liaison, a position they've established at all the facilities ARM is working with.
"They're amazing. I've learned so much. They've educated all of us, and they're so awesome to work with," she said.
Andres said almost all the improvement ARM brings to its facilities revolves around organization and communication, which helps the hospitalists who do rounds at the facilities be more effective. "We want to keep our doctors focused on taking care of patients, not tracking down information."
Integrating hospitalists like Andres and Kirk (who still work at Hendricks Regional) into transitional care settings has reduced hospital readmission rates and brought desperately needed expertise to such facilities. Without intervention, it is not uncommon for one doctor to cover three or four facilities, Andres said. That doctor has to keep track of roughly 500 patients, and the answering services that take over at night routinely send patients to the ER.
Roseboom is a big believer in Andres and Kirk and the model they're trying to spread. "They're doing good things for our health care system. I'm so glad that I've gotten to be a part of it."•
Please enable JavaScript to view this content.