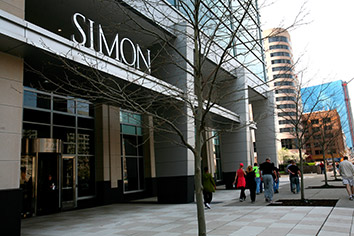 Simon Property Group Inc., the largest U.S. mall owner, has approached Macerich Co. about an acquisition after taking a stake in the company last year, according to the Wall Street Journal.
Simon, based in Indianapolis, made a takeover approach in the past few weeks after a previous one late last year, the Journal reported Wednesday, citing people familiar with the matter. It hasn't made a formal offer, the newspaper said.
Macerich, with a market value of $13.3 billion, has a high concentration of West Coast properties. It is the third-largest shopping mall owner when measured by market capitalization.
Les Morris, a Simon spokesman, declined to comment on the report. A voicemail left for Thomas O'Hern, Macerich's chief financial officer, wasn't immediately returned.
Simon said in November that it had accumulated a 3.6-percent stake in Santa Monica, California-based Macerich and may try to buy more, sparking speculation of takeover plans. Simon said at the time it may seek to have the real estate investment trust waive a provision that restricts ownership to 5 percent.
Simon has 190 properties and a market value of nearly $60 billion. Macerich has a portfolio of 59 shopping centers concentrated in California and Arizona.
Macerich shares have jumped 20 percent since Simon disclosed its stake on Nov. 19. The stock gained as much as 5.3 percent in after-hours trading, to $88.20 per share.
Simon shares fell 1 percent Wednesday, to close at $187.56, before news of the possible acquisition became public.
Please enable JavaScript to view this content.