Proponents of a nursing home construction ban pending in the Legislature say a building boom is hurting their occupancy.
Opponents of the ban say their newer facilities are expanding the market for nursing home care.
Turns out, they're both right.
An IBJ analysis of occupancy data from nursing homes built since 2012 and open at least one year found that newer facilities are filling their skilled-nursing beds at a lower rate than established nursing homes statewide.
But the difference is modest and shrinks as the new facilities mature.
In addition, the newly built facilities are filling more beds than are going unfilled at established nursing homes nearby—although nearby facilities still suffered an average occupancy decline of about 3 percentage points.
Those findings could be significant as Senate Bill 460—which would ban construction of new skilled-nursing facilities for three years—comes up for debate in a House committee on March 9.
Lower occupancy spurs higher spending by state government because lower occupancy triggers higher per-patient payments from the state Medicaid program. But estimates so far on the fiscal impact of the three-year ban peg the state's savings at less than 1 percent of the nearly $500 million it spends each year on nursing home care.
Frank Howland, an economist at Wabash College who has been following the debate on the nursing home ban, said the modest impact on occupancy by newly built facilities—and the small hit to state finances—don't justify a construction ban.
"I think the case has to be stronger before Indiana shuts down innovation in nursing home care. There may be a good case, I just haven't seen it," Howland wrote in an email after reviewing IBJ's analysis.
But leading Republican legislators appear ready to pass a ban. Rep. Ed Clere, whose House Public Health Committee will debate SB 460, said he expects it to pass right away.
The bill then would go to the House Ways and Means Committee, where its fiscal impact would be debated. That committee's chairman, Rep. Tim Brown, said the construction ban is needed to help the state shift more patients away from nursing home care, which requires expensive levels of staffing at all times, so they can instead receive care in their homes or in assisted-living facilities.
Indiana's Medicaid program spends 68 percent of its long-term-care dollars on nursing home care—as opposed to home-based care—ranking higher than all but three states nationally.
"If we can keep the growth down and decrease dollars going to long-term-care institutions, then there could be more dollars for home and community-based care," Brown said.
Statewide, the recent building boom appears to have been preventing the state from making this shift. Whereas the total number of Hoosiers staying in nursing homes held steady at just more than 50,000 from 2011 to 2014, nursing home companies built 24 facilities that included nearly 2,600 new skilled-nursing beds.
The combination of those two factors—flat patient stays and new building—caused nursing home occupancy statewide to drop from 80 percent in 2011 to 76 percent last year, according to a December analysis by accounting firm Myers & Stauffer.
"When new facilities are being built, then they're just moving around existing residents," said Scott Tittle, president of the Indiana Health Care Association, one of three nursing home trade groups pushing for the construction ban.
What's hurting occupancy?
Not everyone agrees that the statewide drop in occupancy is directly caused by the new facilities.

Turner
Zeke Turner, CEO of Carmel-based developer Mainstreet, which has been the most active recent builder of nursing homes, argues that the two factors are entirely unrelated—with occupancy dropping in some counties where no new building has occurred and rising in some counties where new nursing homes have opened.
To test these competing ideas, IBJ's analysis compared each new facility built to the nearest established nursing home, using occupancy data from the Indiana State Department of Health.
The Health Department does only sporadic spot checks of occupancy when its personnel visit a nursing home to investigate a complaint or during an annual recertification review.
To smooth out the irregularity of those occupancy surveys, IBJ averaged the two most recent occupancy checks for every facility in its analysis to calculate a current occupancy rate.
For established facilities, IBJ also calculated an average occupancy from the year prior to the date a new nursing home opened nearby. IBJ then compared that pre-competitor occupancy to the current occupancy to determine any change.
IBJ found that the established competitors suffered an average hit to their occupancy of 3.2 percentage points—falling from an average of nearly 75 percent before a new facility opened to less than 72 percent now.
The 17 new facilities built since 2012 also have occupancy of 72 percent.
Among 17 established competitors for which data were available, 10 facilities suffered occupancy declines after the new facility opened nearby, five actually saw an increase in occupancy after a new facility opened nearby, and two saw no meaningful change.
All told, nearly 60 extra beds went unfilled at the established competitors—out of more than 1,960 beds among them.
But those extra empty beds were dwarfed by skilled-nursing beds added at newly constructed nursing homes, according to IBJ's analysis. Among the 17 new facilities for which a competing facility's data was available, 1,365 beds were added.
"If you believe the arguments for the moratorium, [the occupancy declines] should be 1-to-1 [with the number of new beds being built] because they believe it's zero-sum," Turner said, noting that overall occupancy has gone down simply because hospitals and health insurers are steering patients and money to facilities, like his, that help patients get better faster and go home sooner.
"We believe very strongly that the new products are creating demand even though the old products are losing their supply."
Hurting rural nursing homes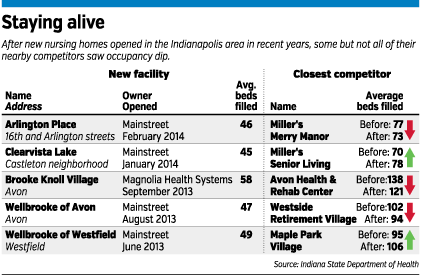 While the new facilities probably also sparked occupancy declines at other nursing homes farther away, the impact would likely be less than for the nearest competitors, noted Howland, the Wabash economist.
However, nursing home operators said the opposite is true. Their rural facilities have been losing occupancy faster than their facilities in metropolitan areas during the recent building boom.
"It's not so much the facility across the street, it's in the facilities 10 to 15 miles away. People will go to some of those big hospital systems, and then they don't come back" because they get referred to a nursing home near the hospital, said Pat Boyle, CEO of Warsaw-based nursing home chain Miller's Health Systems.
Miller's is a good test case because it has faced the most direct competition from Mainstreet's new construction. Mainstreet has built facilities very close to Miller's facilities in Marion and Wabash, as well as right next door in Indianapolis' Castleton neighborhood and one block away on Indianapolis' east side.
Among 24 nursing homes Miller's operates in rural areas, occupancy has declined an average of 4.8 percentage points since 2012, according to state data.
Still, while new facilities have added nearly 300 beds since 2012 near Miller's nursing homes in metropolitan areas, Miller's occupancy rates in those communities and in all its rural communities have fallen by only 115 beds since 2012.
Mainstreet has built 10 new nursing homes statewide since 2011 that have been open at least a year. Their average occupancy is 67 percent, which is below the state average. But its facilities that are more than two years old have occupancy of 81 percent, which is better than average.
Mainstreet's Turner said that, because his company's facilities focus mainly on short-term rehab patients, rather than long-term residents, their occupancy will never be 100 percent—just like hotels never run completely full all the time.
But Tittle, the trade group president, said the below-average occupancy at Mainstreet's facilities shows there's been too much building recently.
"If there was truly a demand for all these brand new products, these would all be full," Tittle said. "And they're not."•
Please enable JavaScript to view this content.