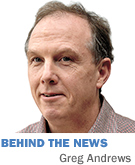 Back in 1999, Jim Hallett teamed with auto dealer Jerry Pedigo to buy the Indianapolis Ice, which went from last place that Christmas to league champion by the time the season wrapped up that spring.
That foray into the game Hallett grew up loving in Canada ultimately didn't work out. High travel costs in the far-flung Central Hockey League led Hallett and Pedigo in 2001 to sell the team back to the former owner, Chicago businessman Horn Chen.
But now Hallett is back in ownership—he launched the East Coast Hockey League's Indy Fuel in the renovated Fairgrounds Coliseum in October. And this time, Hallett said, he's in it for the long haul, as evidenced by his 25-year coliseum lease. The 61-year-old wants the Fuel—run by his son Sean Hallett—to be one of his legacies.
Striking such a long-term deal (an initial, 10-year term costing more than $9 million, plus three five-year options) might seem audacious considering hockey's checkered history in Indianapolis. At least six teams have ceased operations here since the 1930s.
But anyone who tries to get Hallett to fixate on the risks is in a losing battle. The man is unflinchingly upbeat. Given that mind-set, he can't help but dream his new team is on the same championship trajectory as the Ice were in the first season he owned that team.
 

Hallett
Like those Ice, the Fuel were last at Christmas. But since mid-January, they have won 17 of 21 games, a tear that has put them on the cusp of qualifying for the playoffs. Hallett can't help but wonder, is a league title too much to ask?
"I am being an optimist," he said. "I don't know how to think negatively."
The power of positive thinking has served Hallett well in his day job as CEO of KAR Auction Services, one of North America's biggest operators of used-car auctions. The Carmel-based company has 12,600 employees, and its market value has tripled, to $5.2 billion, since its 2009 initial public offering.
Hallett said his confidence that the Fuel have staying power is built upon a solid business plan. What separates the Fuel from franchises that faltered, he said, is the long-term coliseum lease, which provides certainty as to operating costs years into the future, and a showpiece venue, which is well-suited for hockey after the interior was gutted in a $63 million renovation.
The venue deal came together in a flash. After fairgrounds officials in the summer of 2013 got wind Hallett was considering building his own arena in the Indianapolis area for hockey and other events, they contacted him to ask if he would be interested in using the coliseum instead.
At a meeting at the 2013 State Fair, State Fair Commission Chairman Andre Lacy asked Hallett point blank if he could have a team ready to play for the 2014 season, which would start just 14 months later. Though Hallett had no agreement for a team, "I immediately said yes," he recalled.
That fall, Hallett upped the ante, agreeing to take on finding a naming-rights sponsor for the coliseum in return for keeping all the revenue from a deal. In return, the fairgrounds upped the Fuel's annual rent from $550,000 to $900,000, an increase reflecting that fair officials had ballparked naming rights would bring in $350,000 a year.
The bet paid off for the team, which, through an outside agency, sold the naming rights to Carmel-based Indiana Farmers Mutual Insurance Co., which will pay $600,000 a year for 10 years—a total of $6 million.
The arrangement also worked for the State Fair Commission, since it eliminated uncertainty over the revenue stream it could count on to help meet annual payments on the bonds issued to pay for the renovation, Lacy said.
Hallett's dealmaking "reflects something that is very much a part of his character: He is an individual who has a lot of confidence in what he believes in and what he can achieve," Lacy said.
And he doesn't sit around wringing his hands over whether to pull the trigger. "That's his MO—he is very forthright and decisive," Lacy said.
The lease gives the Fuel all the sponsorship revenue throughout the venue, which is used 125 days a year. The franchise also gets all ticket, parking and merchandise revenue for its more than three dozen home games, while splitting concessions.
So far, attendance in the 6,500-seat coliseum is averaging about 4,000 a game, with sales higher on weekend nights but sagging for weeknight and Sunday afternoon games. Hallett is confident ticket sales will climb over time, as awareness grows and more people see their first game—and have a great time.
Mark Massa, an Indiana Supreme Court justice who is among about 1,500 season-ticket holders, shares Hallett's optimism. He said there's nothing like seeing a hockey game in person and hearing the sound of skates cutting the ice and players slamming into the glass.
"The best way to make someone a hockey fan is to take them to a game," Massa said. "The in-person experience is unlike anything else."•
Please enable JavaScript to view this content.