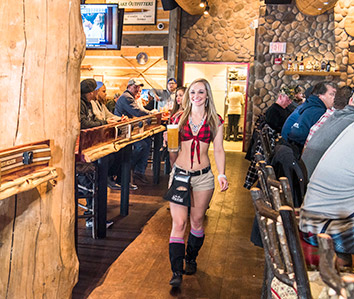 Like its sisters-in-dining Hooters and Tilted Kilt, Twin Peaks (6880 E. 82nd St., 913-0992) begs the question: Who besides weary male travelers temporarily housed in nearby hotels is likely to go to a breastaurant—er, restaurant—where the defining elements are the physical attributes of the wait staff?
Well, lots of people, judging from the crowded parking lot on an icy late Saturday afternoon. Inside, the well-populated interior included the expected solo guys and guy gaggles but also families with kids. And couples.
Pure speculation here, but I'm guessing the common denominator is that none of the people here took a women's studies course in college. That being said, the place is designed in such a way that anyone wanting to study women can saddle up to the rail, offering a prime view of the comings and goings of its army of Daisy-Mae-clad waitresses, all of whom look like they walked out of a circa-2005 Tim Durham party.
The place's former Loon Lake Lodge trappings have been adapted for the new owners, a chain with a surprisingly limited menu for such places. The dishes largely fall under labels with such thinly veiled innuendos as Teasers, Well-Built Sandwiches, Smokin' Hot Dishes and Sweet Things (alas, nothing clever could be generated in the salads and soup category).
We—for the record, my wife went with me—maximized the teasing with the Peaks Sampler ($12.25) in which too-soft fried pickles, sauce-dominant Buffalo tenders and relatively flavorless mozzarella bites shared space. Beer cheese and honey mustard dipping sauces didn't justify the high price for a Hand-twisted Soft Pretzel ($4.95).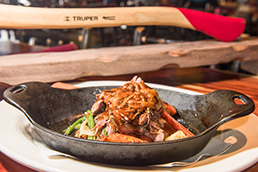 Mom's Pot Roast is part of a limited menu at Twin Peaks. (IBJ Photo/ Eric Learned)
Entrees were better by such eatery standards. The Hangover Burger ($9.50) plopped a fried egg, crisp bacon strips and red onions on a medium-size burger for a satisfying, manageable sandwich. The sided Fire Fries were less distinguished. Mom's Pot Roast ($14.75), served in an iron skillet, placed its tender meat between green beans and potatoes/carrots, all in a brown gravy that might not compete with your mom's but held its own.
Of the two desserts (the other being a Twin Peaks Sundae), we tried the Bread Pudding ($3.25), a mound of sharability with Buffalo Trace bourbon sauce and a side of vanilla ice cream. No complaints.
Through it all, we were taken care of by a waitress who, confident in her micro-outfit, mercifully hadn't been trained to overtly flirt. Chatty, she wasn't shy about talking about her husband, her kid and her fellow waitresses, so clearly she wasn't working from a "be vague and pretty and appear available" script. But she had the "get to know your customers without asking too many questions" approach down pat.•
—Lou Harry
Please enable JavaScript to view this content.