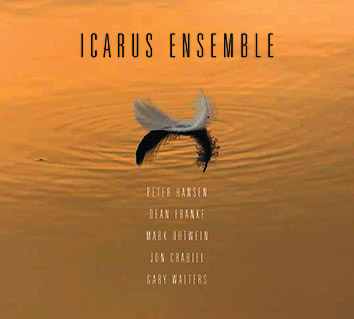 Listening to Icarus Ensemble's new (and, surprisingly first) CD took me back to 2008. That's when the Indianapolis Symphony Orchestra came up with the smart idea of offering post-concert entertainment after crowded Symphony on the Prairie concerts.
During an amphitheater exodus, while coolers were carted and too-tired kids whined their way onto parental shoulders, those who weren't in a hurry stuck around and were treated to the sounds of a year-old combo of local musicians, including some ISO members.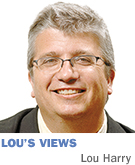 I can't tell you specifically what Icarus Ensemble played that night. But I still recall the clarity and playfulness of the sound, set beautifully against the summer night. I applauded both the post-show-music policy and the lively, spontaneous feel of the group's mini-program. After a predictable (albeit high-quality) ISO Fourth of July program, Icarus Ensemble provided an unexpected dessert.
The five-player ensemble—bassist Peter Hansen, violinist Dean Franke, percussionist Jon Crabiel, pianist Gary Walters and Mark Ortwein on horns—has been active ever since. Finding the group, however, can be tricky. Originally brought together to play for Peter Hansen's University of Indianapolis faculty recital in 2007, the individuals in the quintet have had to work around busy academic and performance schedules, which means Icarus plays publicly together only about a dozen times a year, primarily at The Jazz Kitchen.
That's where the group was scheduled to launch its self-titled disc on March 8, a recording that displays its members' professionalism, playfulness and musical chops both as players and composers.
Gary Walters' first track, "IzzyBaby," recalls the breezy sound of Claude Boling's popular 1970s recordings (a la "Suite for Flute and Jazz Piano") and sets a light, smile-inducing tone for most of the disc. Even the stopping and starting of the perhaps-too-obviously named "Schizoid" by Mark Ortwein or the what's-going-on-here opening of Hansen's "Buffalo Shuffalo" doesn't break the overall pleasant mood.
Other highlights include Ortwein's as-appetizing-as-it-sounds "Pepperoni Grande con Queso Mas" and "Widows Walk" by Rick Margiza, with an arrangement by Ortwein that takes the drumming down to a whisper before building back up to a satisfying musical conclusion.
"Icarus Ensemble" is available through iTunes and CD Baby.•
__________
This column appears weekly. Send information on upcoming arts and entertainment events to lharry@ibj.com.
Please enable JavaScript to view this content.