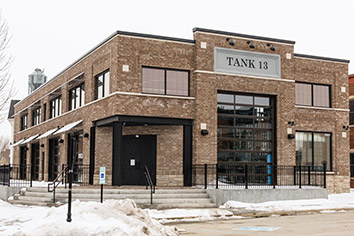 Beer and pizza—a classic combination and a pairing that might help revive the retail portion of the Village of West Clay in Carmel.
Commercial development in the upscale neighborhood hasn't fully materialized, with legal battles forcing some businesses to close.
There's also the factor of location—the heart of the retail space is nestled behind rows of houses between Main Street and Towne Road—unnoticeable to vehicles passing through the borders of the neighborhood and far in the distance for those traveling on U.S. 31 and U.S. 421.
The community design was based on traditional small towns from the early 20th century, with residents having the ability to walk down the street to offices, restaurants and shops.
"They've done a beautiful job," Carmel Mayor Jim Brainard said of Brenwick Development Co., which started developing the "new urbanism" neighborhood in 1999. "It's just that the downtown area never worked."
A few insurance agencies, fitness centers and a dry cleaner occupy space in The Village Center Shoppes, considered the neighborhood's "downtown," but the businesses haven't been enough to attract a steady flow of visitors.
The recent openings of Danny Boy Beer Works, Pizzology Craft Pizza + Pub and Greek's Pizzeria have city officials and developers believing the downtown retail sector has reached a turning point and more restaurants and stores could follow. (There's even talk of a market/deli or a coffee shop.)
"It seems like it's finally coming together," Brainard said. "There's no reason it shouldn't continue."

Brainard
Roadblocks
Legal issues of former West Clay property owners are a big reason for the lack of retail success, according to developer Steve Pittman.
In February 2013, the owner of several Village of West Clay buildings, including the Brenwick Building on East New Market Street, faced allegations of securities fraud from the Indiana Secretary of State's securities division.
CFS Inc. controlled three buildings in The Village Center Shoppes at that time, and the accusation led to the closings of high-profile tenants Pamfilio's Italian Restaurant, Harvest Fresh Market and Chappie's restaurant.
Pittman admits the retail vacancies have caused prospective businesses to express concerns about locating to the Village Center, wondering, "If that business wasn't successful there, why would mine be any different?"

"They didn't shut their business down necessarily because their business failed," Pittman explained.
Pittman's company, Pittman Partners, and partner Hageman Group acquired the Brenwick Building about a year ago.
The 25,000-square-foot structure has about 12,000 square feet available, but Pittman said the building's owners are being selective choosing tenants. He wouldn't specify what they're looking for, but said they want to "complement" Pizzology, which filled the vacancy left by Pamfilio's.
Another challenge was a legal dispute between Brenwick Development Co. and its lenders, BMO Harris Bank and Wells Fargo Bank, that brought residential lot sales to a halt. Retailers in West Clay heavily rely on local residents, so a lack of new homeowners also meant a lack of new customers.
Tucked away
Brainard thinks the biggest reason retailers have struggled in the Village Center is its hidden location.
"I wish in retrospect we had moved all the retail out to Main Street," Brainard said.
Kevin Paul, co-owner of Danny Boy Beer Works, is confident that won't be a challenge for his craft brewery and taproom.
He said he could have opened in an industrial area, where rent likely would have been cheaper. But he'd still worry about succeeding.
"You have concerns any time you open a business. If you build a good product, people will find it," Paul said. "The Village has to embrace what it is. … I think people will find it."
Brainard said the city intends to help West Clay boost awareness of its businesses. He mentioned the possibility of adding West Clay to destination signage that already directs people to City Center and the Palladium, for example.
Momentum, at last
Nearly two years ago, Brenwick President George Sweet believed momentum was building in commercial development.
Interviewed by IBJ in the summer of 2013, Sweet knew a brewpub was in the works for The Village Center Shoppes. It just didn't happen until early this year, when Danny Boy Beer Works opened its doors on Meeting House Road.
In the meantime, while plans were finalized for the microbrewery, Greek's Pizzeria opened in the Sterkx Building across the street and Pizzology filled empty space in the Brenwick Building.
Danny Boy's Paul said his business has done well so far, though he still considers it to be in its opening phase, with the kitchen not yet in full operation. Paul, who has 12 employees, hopes to add a rum and vodka distillery to the 5,200-square-foot site later this year.
"We're going to have some fun with some different things," Paul said.
The arrival of the brewery and two pizza restaurants appears to bode well for increased activity. "I think there's new life coming into the Village of West Clay," Pittman said.
Now, attention turns to attracting more daytime and outside traffic.
On a recent Monday afternoon, the streets throughout Village Center had almost no pedestrian traffic and the sidewalks were buried under snow.

Pittman
A few vehicles circled the retail area, which surrounds West Clay's meeting house, but few people came or went from the businesses.
Paul, who moved to West Clay in 2001 with his wife, Lainie, loves the concept of the community.
Brainard suggested if more offices opened in Village Center, more residents could live and work there, like Paul and his wife. He said more offices also could help build a lunchtime crowd and get employees to stick around after work for dinner.
The other goal is making the downtown a destination for outsiders, an effort the brewery could bolster.
Danny Boy's brews, like Training Day and Black IPA, are already sold throughout the Indianapolis area, which Paul said helps attract outsiders—once drinkers enjoy a craft beer, they tend to want to see where it's made.
He said Danny Boy has had visitors from Zionsville, Avon, Broad Ripple and other parts of Carmel.
"The business won't sustain with just the 1,800 households in two miles," Paul said.•
Please enable JavaScript to view this content.