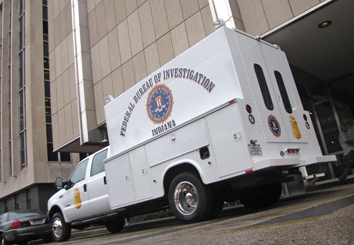 Former Indy Land Bank director Reggie Walton wasn't the initial target of an undercover FBI agent who came to town in 2012.
But Walton, 31, managed to talk himself into a federal indictment that could put him in prison for 20 years if a jury finds him guilty on nine felony counts of wire fraud, bribery and conspiracy to commit money laundering.
His trial before U.S. District Judge William T. Lawrence started last week and is expected to continue through March 20.
The undercover agent, who testified late last week using the name Jay Foreman, recorded Walton talking about his side deals while working for the city including "kickbacks" he received for steering city-owned properties to private investor partners.
And later, jurors heard the two men talking for several minutes leading up to the point when Foreman paid Walton an alleged bribe in exchange for a nonpublic list of Land Bank properties that could be quickly flipped for big profits if a federal grant came through as expected.
"I told ya I'm cheap, you know, you know, when I get you loot, that mean you dancin' with the devil. You ready to dance with the devil?" the undercover agent asked Walton, according to a transcript, before counting out $500 in cash and promising there was more to come if Walton helped him buy the properties.
"Yeah, yeah," Walton said.
"The devil dance fast, though," the agent warned, after handing over the money.
"Yeah, I got you, bro'," Walton answered.
The Land Bank, and Walton, were not the FBI's initial target. The undercover agent, who entered and exited the federal courthouse through private entrances, acknowledged Thursday during cross-examination by Walton's attorney that he had come to town on a separate case that "went in another direction."
The agent, posing as a private investor, had come to Indianapolis as part of a public-corruption task force to investigate a tip about alleged bribes tied to an energy deal at the Indianapolis International Airport.
Foreman was introduced to businessman Gene McFadden, one of the high-profile partners in BHMM Energy, which in 2006 won a 10-year contract in partnership with Citizens Energy Group to operate an energy plant serving the airport's new midfield terminal.
The other principals in BHMM: Vicky A. Bailey, former president of PSI Energy Inc.; Barrett Hatches, former CEO of Northern Indianapolis Public Service Co.; and the late Indianapolis business leader William G. Mays, of Mays Chemical.
(The airport canceled the deal and sought new bids in 2012. The contract was rewarded to to Johnson Melloh Solutions, an airport spokeswoman said in an email. A phone number listed for McFadden was disconnected.)
The government's investigation into the airport deal went nowhere and was dropped. No one was charged.
But McFadden suggested the eager-for-deals undercover FBI agent meet Walton, a city employee he described as well-connected and capable of making things happen for investor partners.
In a Feb. 14, 2012, meeting with McFadden, Walton and the FBI agent, Walton admitted his government position had allowed him to get paid a little extra on the side.
"I've been working with a few other groups on some, um … governmental consulting on how to get things done," Walton said, according to a transcript. "And, as a result of that, some folks are like, 'Here's some kickback for helping us get through the process, 'cause it would have taken us forever if we would have did it ourselves.'"
Walton talked up his influence within the city and even the police department.
"…with influence and connections that I have, I'm trying to be more investment-oriented, because, you know, working for the city, there's more work than there is pay," Walton said. "And, so, I'm supplementing my income that I would have in the private sector with ones and two'sies."
Walton also bragged about his collection of 56 watches, a motorcycle he had bought with cash from side deals, and five properties he had sold to the comedian Mike Epps, whose brother Aaron Reed partnered with Walton on several deals but kept Walton off the paperwork.
Reed, a co-defendant who agreed to plead guilty in a deal with federal prosecutors, took the stand Friday and continued testifying this week.
Assistant U.S. Attorney Bradley Blackington asked Reed about several deals in which he had partnered with Walton. The common thread: Walton didn't invest any cash or participate in the deals other than, Reed said, "he pushed the property through his department, brought the property to the table."
Asked why Walton didn't want to be a named partner, Reed said, "I assumed it was because he wasn't allowed to make money on the side."
In one lucrative deal, the pair flipped two properties on Delaware Street from the Land Bank for an immediate profit of $60,000, a windfall they hid by filing false sales disclosures. Walton got $27,500 in cash, which he placed in a safe-deposit box to hide from his wife, Reed testified.
Reed took a larger share, $32,500, because his Naptown Housing Group would report a small portion of the sale proceeds in tax filings.
Attorney Michael Donahoe, who represents Walton, has argued his client is guilty of "very poor judgment" and "ethics violations" but is not guilty of any crime. Donahoe described Walton's claims in conversations as braggadocio as he tried to impress a potential business partner.
Donahoe, an assistant federal defender in the Indiana Federal Community Defender's Office, noted on cross-examination of the undercover FBI agent that Walton never asked for money, and never proactively reached out to the agent.
Two other defendants besides Reed—real estate investor Randall K. Sargent, and former city employee John Hawkins—agreed to plead guilty before trial in deals with federal prosecutors.
A fifth co-defendant, Indiana Minority AIDS Coalition Executive Director David Johnson, is facing five felony counts of wire fraud and conspiracy to commit money laundering, six of which overlap with Walton's charges.
Johnson, who is facing trial with Walton, is accused of using his not-for-profit as a pass-through for Land Bank property sales to private investors, taking a cut himself and paying kickbacks to Walton.
This story has been updated from its original version with information from the Indianapolis International Airport, and corrected to reflect the accurage age of Reggie Walton.
Please enable JavaScript to view this content.