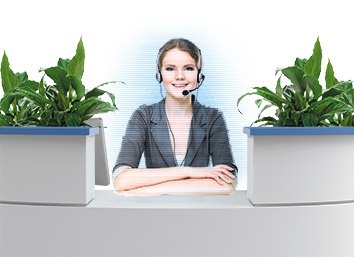 Walk into a Salin Bank branch, and you might not see spacious counters, tellers behind them or lines of waiting customers.
Instead, you'll find so-called interactive teller machines and sanitizing wipes.
The machines allow customers to conduct transactions with remote tellers via real-time video, including making withdrawals down to the penny. It's all part of Salin's nearly 2-year-old effort to turn the costly, traditional teller-line model on its head as it crafts its branch of the future.
Salin is up to 26 live machines, and Senior Vice President of Marketing Jim Badger said, "Most of the locations have had their teller lines removed."
"Branch of the future" is a hot phrase in banking circles, as technological changes and consumer habits prompt executives to rethink how much space and employees are needed at branches. Interactive teller machines are increasingly part of those conversations in Indiana, but industry observers say it's too soon to tell if they'll be commonplace or fringe offerings.
"People increasingly want to interact with their banks on their own terms, and I think this technology will definitely play a role in that regard," said Kevin Sullivan, senior vice president of distribution strategy at Cincinnati-based Fifth Third Bancorp, which has more than 130 Indiana branches. "The question is—and the customer interaction will decide—how ubiquitous does this become?"
Banks are certainly mulling what branches should look like.
Chase Bank, which has the largest market share of Indiana deposits, told investors a few weeks ago that it's shifting branches from "transaction centers" to "advice centers." It noted that in 2014, more deposits took place via ATM (48 percent) than by a bank teller (42 percent).
Chase officials didn't disclose specifics about video teller machines, but other banks with a Hoosier footprint have already rolled them out.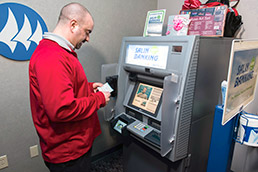 Salin Bank rolled out the first of its remote teller machines two years ago. (IBJ file photo)
Salin bills itself as the first to debut the technology, in 2013, and will have them at 13 of its 19 banking centers by the end of March. Madison-based River Valley Financial Bank opened a branch in Jeffersonville last summer with a drive-up interactive teller machine. And Alabama-based Regions Bank debuted a "Concept Branch" with the machines in West Lafayette in October.
Cincinnati-based Fifth Third Bancorp and Chicago-based BMO Harris Bank are beta-testing the machines, and officials at Pittsburgh-based PNC Bank said they are
eyeing video teller functionality. Industry analysts suspect more testers will follow as consumer habits drive banks to reconsider ATMs.
"There are a lot of things happening in the ATM world that make the ATM kind of the new face of the bank for people who don't go into branches," said Ed O'Brien, a director with Massachusetts-based Mercator Advisory Group Inc.
"And in some ways, having video capabilities allows an actual face to be there, too."
Win-win?
Interactive teller machines offer several benefits.
Customers get extended banking hours. Salin drive-up hours range from 7 a.m. to 9 p.m. Regions has a 24/7 lobby with video tellers available most waking hours all week, including some holidays. When the video teller isn't available, the machine serves simply as an ATM.
Some banks and credit unions around the country are staffed by video tellers 24 hours a day.
Mark Schwanhausser, a director at California-based Javelin Strategy & Research, said other potential benefits include language flexibility, splitting deposits into different accounts, and paying down loans or lines of credit.
"And if you forgot your card, you could still make a withdrawal because you could talk to the teller … and verify who you are," he said.
The other benefit is cost savings for banks. Schwanhausser said teller transactions cost banks about $4.25, but ATM transactions cost about $1.25. The firm didn't have statistics on relatively new video-teller transactions, but Schwanhausser suspects it's somewhere between the two.
Interactive teller machines also pave the way for banks to establish a quasi-human presence in places where it isn't feasible to dole out millions on a branch. Those places could include rural areas. Fifth Third's Sullivan said the bank plans to roll out video teller functionality in 2016 and envisions them at non-branch locations.
Banks can also streamline workforces, as the remote tellers won't be limited to serving traffic at just one location. Banks that do away with on-site tellers can free up managers for more lucrative interactions.
"The other thing about them is, they're safer," said Salin's Badger. "No one's going to come in and stick a gun on a machine."
Slow adoption
Despite the benefits, financial institutions aren't racing to deploy the machines, which some analysts say cost in the five-figure range.
Reasons for the slow adoption run the gamut, but some experts say banks have other priorities as expenditures on bank compliance wind down.
"So now there's some money being freed up for process improvement," said O'Brien, the Mercator analyst. "But I think in some ways each bank is looking at, 'Do I deploy new ATMs or do I try to get the latest, greatest version of mobile banking?'"
"So I think it may be level four as a priority in some cases and it may be level one or two in others."
It appears it was a priority for Bank of America, which rolled out its "Teller Assist" in Boston in 2013. It now has 543 devices in 21 metro areas on the East Coast, West Coast and in Texas. Its only Midwest location is in Chicago.
Some officials don't see the pace as slow, but as expected for any large-scale deployment. Fifth Third officials, for instance, said they're testing the video tellers, weighing vendors and considering market needs.
"We are being very careful to do a very thoughtful and purposeful deployment," Sullivan said.
Some banks haven't embraced the concept. Officials of Evansville-based Old National Bank say they're comfortable with in-person transactions for now.
Gary Hentschel, central Indiana president for Key Bank, said the bank is constantly reviewing technology options, but interactive teller technology isn't on the short list. "I learned that regarding live tellers, we are not using this technology at this time and have not prioritized this as something our clients are looking for."
Future of video
Even after exhaustive due diligence and a measured rollout, the machines might not become a mainstream hit.
Some customers may be turned off by having to speak to a video teller in a vestibule, even via telephone. As mobile banking capabilities continue to grow, it may weigh on the need to interact with tellers in any manner—in person or over video. Chase told its investors that, as its branches evolve, staff reductions will eliminate the need for assistant branch managers.
Regions is testing the waters, but its concept branch replaces teller lines with "universal bankers" who can help with everything from cashing checks to discussing long-term financial goals.
"We ourselves are still in a test-and-learn environment," said Michael Theodoras, Regions senior vice president for branch and ATM delivery.
No matter what happens with video tellers, industry observers anticipate video playing a key role in banking services. Video conferences can be held to close mortgages, for instance, or connect a commercial banking customer with expertise that's not on site.
"It's not economically feasible for any bank to put a mortgage loan officer and an investment specialist and an insurance specialist in every branch," Sullivan said.
And Schwanhausser said it's not far-fetched for banking customers to engage with bankers on their smartphones via video. He's bullish on the future of video tellers, particularly in serving customers who speak different languages. But he doesn't think they'll replace all standard ATMs.
"We'll have to wait and see," Schwanhausser said. "I don't think every ATM has to have a face there."•
Please enable JavaScript to view this content.